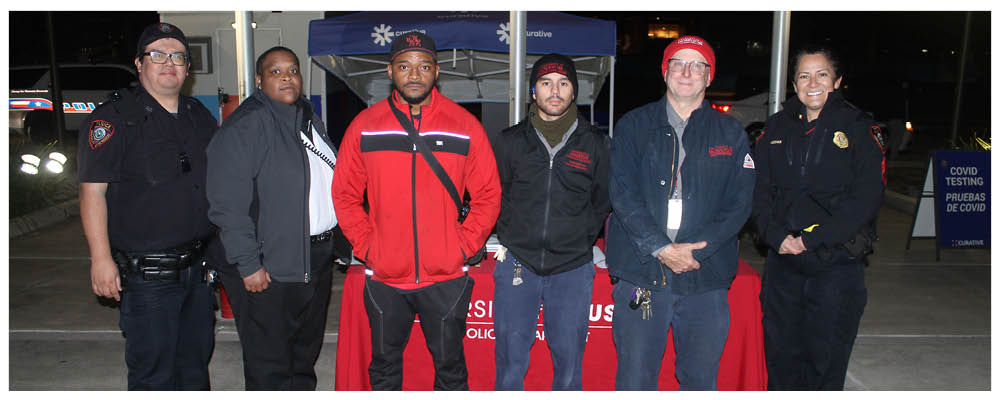 The University of Houston Police Department welcomed members of the campus community, including faculty, staff, and students, to their annual Walk in the Dark community event on November 16. 
For this event, community members walk the university at night alongside campus staff members to locate areas that may benefit from increased lighting or other safety improvements. 
This year's walk proved one of the most successful in recent history. 
"We had a great turnout for this Walk in the Dark," said UHPD Sergeant Dina Padovan. 
UHPD was joined by Student Government Association leaders, Justin Dart Jr. Student Accessibility Center staff, Facilities/Construction Management's Power Plant electricians, Fire Life & Safety staff and Parking and Transportation staff. 
Walk in the Dark used to be part of National Night Out, but Padovan said they opted to separate the two events to give Walk in the Dark the undivided attention it deserves. The walks have always occurred during the fall semester after Daylight Savings Time. 
During the walk, participants identified parts of campus that could use additional lighting. Some of the locations identified included Agnes Arnold Hall, behind Roy G. Cullen near the fountains, and behind the ongoing construction at the Hilton Hotel. 
SGA President Josh Martin said one of the concerns he frequently hears from students is about campus safety, adding that the Walk in the Dark event is the perfect opportunity for students to voice their concerns. 

Martin promoted Walk in the Dark to the student body and urged them to take this opportunity to speak and share their concerns with UHPD. 
"I think that just by them [UHPD] listening to what students have to say, that really means the world, and I'm greatly appreciated of them," said Martin. 
Senior Caitlyn Frost was one of the students that walked with UHPD noting that students should join future Walk in the Dark events to better assist UHPD in making the campus safer for the community. 
Lonnie McWilliams, a UH power plant electrician, was among the many that walked with UHPD. McWilliams said he enjoyed walking with the students "because they asked a lot of questions." 
McWilliams appreciated all the questions and comments as they made him see the campus in a different light. 
Following the event, recommendations on improvements are provided to Facilities and Construction Management to work with UHPD to evaluate and prioritize implementation.