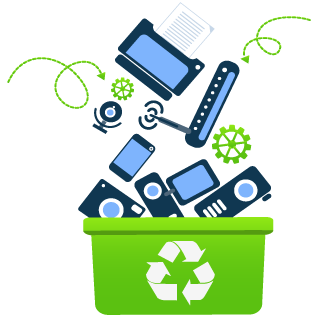 University of Information Technology encourages you to think green by focusing on computing in environmentally sustainable ways. 
This can be accomplished by reducing paper usage, conserving electricity, and properly discarding electronic waste like computers and cellphones. 
Electronic products are made from valuable materials which require energy to mine and manufacture. Recycling electronics conserves our natural resources and avoids air and water pollution, as well as greenhouse gas emissions that are caused by manufacturing virgin materials. 
For example: 
Recycling one million laptops saves energy equivalent to the electricity used by more than 3,500 US homes in a year.

 

For every million cell phones we recycle, 35 thousand pounds of copper, 772 pounds of silver, 75 pounds of gold, and 33 pounds of palladium can be recovered.

 
Before Recycling Your Used Electronics 
For your computer, consider upgrading the hardware or software instead of buying a brand-new product.

 

Delete all personal information from your electronics.

 

Remove any batteries from your electronics, they may need to be recycled separately.

 
On April 27, from 8am to 1pm at the Student Center South - Circle Drive, the Student Centers, are offering an Electronic Waste Drive at the Student Center. The UH community is invited to bring any acceptable e-waste – except for UH tagged equipment – to dispose of it in the most environmentally friendly way.  
Cougar family let's come together to reduce our carbon pawprint! 
 E-Waste Recycling Drive is Sponsored by: University of Houston Student Centers 
Pre-registration Required for COVID contact reduction.  
Please click here  to complete the form. Under additional information please type  "E-Waste Drive" along with any additional notes you have. 
University tagged computer items are not eligible for this event. 
What Can Be Recycled 

Computers & Accessories  

Cables & Accessories 
Circuit boards 
Desktops 
Hard Drives 
Integrated Circuits 
Keyboards & Mice 
Laptops 
Media Speakers 
Memory 
Monitors 
Network Devices 
Power Supplies 
Servers 

Data Center Equipment 

Cable/Wire 
Mainframe Computers 
Networking Equipment 
Power Distribution Units 
Racks 
Routers 
Servers 
Storage Arrays 
Switches 

HHH

KKK

Personal Electronic Devices  

Cameras 
Cell Phones 
Gaming Devices 
MP3 Players 
PDAs 
Tablets 

HHH

HHH

HHH

 

Testing Equipment 

Commercial Equipment 

Cable Equipment 

Cable Boxes (analog, digital, satellite) 

*All donations must be dropped off via vehicle drive-through due to COVID event restrictions. Volunteers will remove items from the trunk of vehicle in full PPE* 

*University-owned equipment, household appliances, and televisions will not be accepted.*