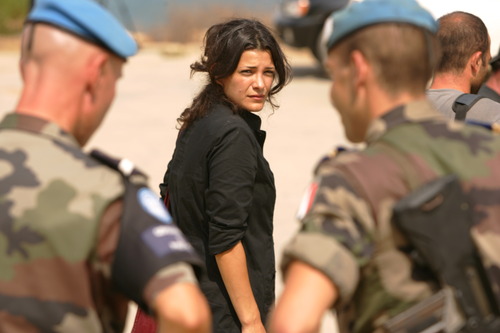 The Arab Studies program and Arab Student Union (ASU) at the University of Houston (UH) will co-sponsor a public screening of  "Under the Bombs," an award-winning Lebanese film depicting a fictional story set against the backdrop of a real war between Israel and Lebanon, at 1 p.m., Friday, March 22 in the Social Work Building, room 101. The event is free and open to the public. 
According to Emran El-Badawi, director of the Arab Studies program and assistant professor of Arabic language and literature at UH, the purpose of the film is to promote film and culture as an integral part of language study.  He believes students studying Arabic should be exposed to Arab culture as well. El-Badawi said the screening allowed for a great opportunity for Arab Studies to partner with the newly formed Arab Student Union. 
"Film is an ideal venue to promote awareness about the Arab world to the student body, as well as the public," said El-Badawi. "Teaching culture in language classes by using film or literature enhances language acquisition, especially with such hard languages as Arabic."
"Under the Bombs" was nominated for a grand jury prize at the Sundance Film Festival. The film also is a winner of the Altre Visioni and Human Rights Film at the Venice Film Festival, the Critics Award at the Eurasia Film Festival, Grand Jury Prize Namure at the International Francophone Film Festival, and Golden Pony Award for best actress at the Dubai International Festival.
Erik Davis writes in Sundance Review, "In July 2006, war broke out between Israel and Lebanon. Unable to adequately process what was happening to his home country, Lebanese director Philippe Aractingi decided to pick up his camera and start shooting ten days in, with no script and only the vague nugget of a story in his head. The end result is, 'Under the Bombs,' a fictional tale set against the backdrop of a very real battle.  Amazingly, there are only two actors in the film; everyone else (citizens, soldiers, journalists) play themselves. When there's a bomb going off in the distance, it's not some expensive special effects shots. Yes, it's a real bomb. The carnage, the destruction, the sadness, the death - - none of its staged, none of it is part of some elaborate set. It's all real. And then somewhere in the middle is our story, which follows a mother searching for her sister and son."
The event is co-sponsored by the Arab Studies program and the Arab Student Union at UH
 

WHAT:

Arab Studies and Arab Student Union Co-sponsor "Under the Bombs,"

a public film screening with English subtitles.

Middle Eastern food will be served and a talk will follow the film by Latif Adnane. 

WHEN:

1 - 4 p.m. p.m., Friday, March 22

WHO:

Free and open to the public.

For more information, please contact UH Arab Studies director

Emran El-Badawi at 713-743-3044 or eelbadaw@central.uh.edu
WHERE:

University of Houston, Social Work Building, room 101

http://www.uh.edu/maps/buildings/?short_name=SW

Off Calhoun Road, Entrance 1 - Parking in UH Welcome Center Garage
# # # 
---