Top Stories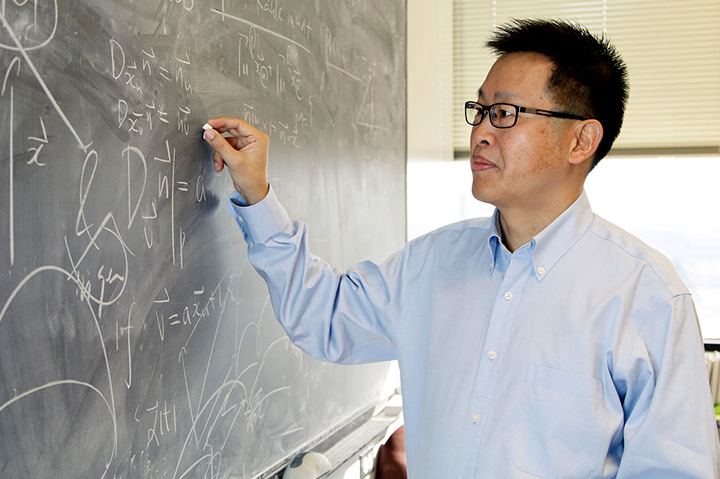 Ru Elected as Fellow of the American Mathematical Society
Min Ru, professor of mathematics in the UH College of Natural Sciences and Mathematics, was elected as a Fellow of the American Mathematical Society, for his distinguished contributions to complex analysis and geometry, particularly Nevanlinna theory and the theory of minimal surfaces. Read more …
---
The Perfect Movie: Recommendations to Suit the Mood
Sudipta Kar, a Ph.D. student in computer science in the College of Natural Sciences and Mathematics, is working on a system that incorporates movie synopses with user reviews, in order to offer a more holistic recommendation based on a movie's plot, as well as its emotional response. Read more …
---
UH School Spirit Rings True at Bauer
Congratulations to the Bauer Undergraduate Business Programs office. They were the winner of the UH Homecoming Spirit Bell Challenge, sponsored by the UH Staff Council. The annual competition recognizes the faculty and staff who show the most Cougar Spirit by decorating during Homecoming Week. Read more …
---
H-E-B Donates $250,000 to UH College of Medicine
A generous $250,000 donation from H-E-B will help the UH College of Medicine build healthy communities in Texas – a mission shared by both organizations. H-E-B is committed to the overall wellness of Texans and offers health screenings and tests, vaccinations, immunizations and physicals with a focus on preventive care. Read more …
---
News Releases Emergency Communications Calendars & Events UH News Mailing Lists & Subscriptions UHS Board of Regents Approves College of Medicine Building Location On Campus
The UH System Board of Regents approved a new UH College of Medicine building to be constructed on campus. The approximately 150,000 square foot medical school building will be located at the "MacGregor site," a 43-acre tract of undeveloped land the University purchased in 2008 near MacGregor Park on Martin Luther King Boulevard at Old Spanish Trail. Read more …
---
On Campus
The Cyvia and Melvyn Wolff Center for Entrepreneurship at the UH C.T. Bauer College of Business was ranked No. 2 in the United States on a list of Top 25 Best Undergrad Programs for Entrepreneurs in 2019, released by The Princeton Review. WCE has been included in the top 10 every year since 2007. Read more.
It's the 10-year anniversary of Finals Mania – and volunteers are needed to help provide a delicious evening "breakfast" for UH students needing a break from studying for final exams. Festivities take place 8 p.m. to 10 p.m. Monday, Dec. 3, in the Elizabeth D. Rockwell Pavilion in the M.D. Anderson Library. Register now.
The 2018 Staff Council Sock & Blanket Drive, benefiting Star of Hope Mission and Harris County Protective Services Guardianship Program, is officially underway and runs through Dec. 1. The Staff Council site has a complete list of new and gently used items which are needed as well as a list of drop off locations. Read more.