Top Stories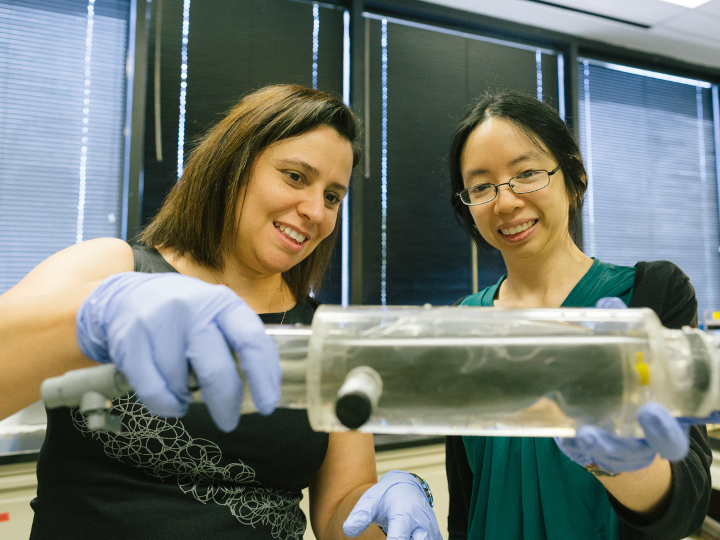 Can Nanoparticles Be Used to Lower Antibiotic Resistance?
Cullen College of Engineering faculty members Debora Rodrigues (left) and Stacey Louie are using a reactor built to simulate the intestines of a pig to study ways to combat antibiotic resistance, one of the world's most serious threats to public health. Read more …
---
A UH Engineer is Developing a Low-Cost Water Testing Kit
Yandi Hu, assistant professor of civil and environmental engineering, has developed an inexpensive test kit to check for lead in tap water. The kit can detect lead at levels just above 15 parts per billion and it will cost as little as $2 per test. Read more …
---
Environmentally Friendly Polymers Bring Spotlight To Cullen College Professor
Megan Robertson, associate professor of chemical and biomolecular engineering in the Cullen College of Engineering, earned the 2018 Sparks-Thomas Award from the Rubber Division of the American Chemical Society. The award honors her research identifying vegetable oil and fatty acid-based materials that could replace petrochemical products in the manufacturing of elastomers. Read more …
---
On Campus
Smart Bins have replaced the older trash cans that once served Lynn Eusan Park. In addition to being more aesthetic, the Smart Bins send solar-powered Wi-Fi alerts to inform UH Solid Waste when it needs to be emptied. Go green!
Did you know that you can find free online access to rare historical audio and video items from UH Special Collections at our audio/video repository? Find out more.
UH Dining Services remains in compliance with the Food and Drug Administration's menu labeling law, which went into effect May 7. The caloric information on printed menu boards at campus retail dining locations, and expanded information in the Moody Towers Dining Commons and Cougar Woods Dining Commons contributed to the University earning the FDA compliance. Learn more.
Several fundamental seismic research projects in the Department of Physics at UH are identifying challenges in that arena and delivering new capabilities and effective solutions. Read more.
UH had a large presence in the Houston Pride Parade including current students from the Spirit of Houston, UH Alumni, the LGBTQ Resource Center and members of the Student Government Association. They joined more than 700,000 people for one of the largest city-organized events in the country. Discover more.
UH Facilities and the Office of Sustainability are in the process of creating an inventory of trees on campus. Every tree with a diameter four inches or greater will be noted, inventoried and safely tagged. To conduct the survey, the department is using drones and ground vehicles utilizing light retention and ranging (LiDAR) surveying applications, carts with cameras, and walking through the Campus tree-by-tree, step-by-step. Read more.