Top Stories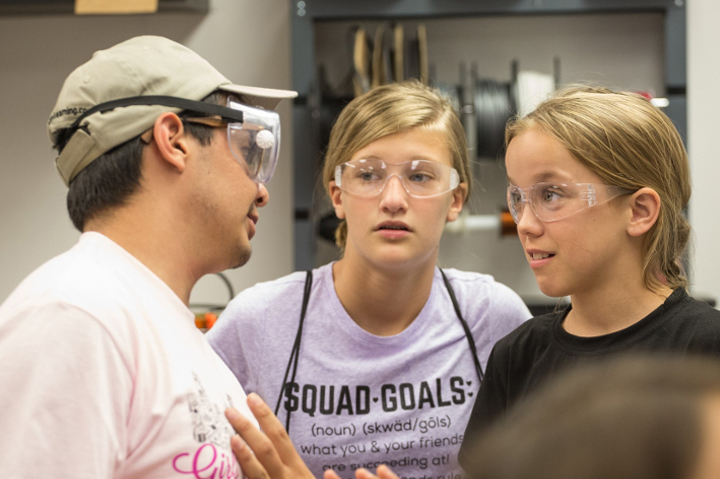 'Girls Engineering the Future' Takes Over UH Saturday
Faculty and students from the UH Cullen College of Engineering will lead more than 1,000 girls in grades 4 to 8 in hands-on activities designed to introduce them to engineering during the 3rd annual "Girls Engineering the Future." Read more …
---
How Will Robotics, Artificial Intelligence Change the Energy Industry?
Advances in artificial intelligence, machine learning and other technologies have disrupted a wide range of industries.The 2017-18 Energy Symposium Series on March 22 will consider what the trend means for the energy industry.  Read more …
---
Faculty & Staff News
Saleha Khumawala, the Robert Grinaker Professor of Accounting in the C.T. Bauer College of Business and founding director of the SURE program, was among a select group of educators invited to speak at SXSW EDU 2018 Conference & Festival in Austin this month.
Keith Kowalka, assistant vice president for student affairs, was selected as a namesake for Cub Camp 2018. The honor of namesake is given to a UH faculty, staff or alumnus who has positively impacted student success.
UH engineer Yan Yao, an associate professor of electrical and computer engineering at the UH Cullen College, and his research partners are known for their work to create better, safer and longer lasting batteries in the energy storage field. Recently, he won a Scialog award for his work with batteries.
UH Assistant Professor Andrew Renshaw and Professor Ed Hungerford are leading a team of physicists from the College of Natural Sciences and Mathematics in the DarkSide program, an international research collaboration seeking to detect dark matter in the form of weakly interacting massive particles (WIMPs).
Jan-Åke Gustafsson, second from right, and Margaret Warner, far right, are advancing the understanding of autism. The researchers are exploring the link between autism spectrum disorders to defects in a nuclear receptor inside the brain.
Debora Rodrigues, associate professor of civil and environmental engineering, is part of an effort to learn more about how bacteria and fungus interact in soil, work that could lead to advances in bioenergy.
On Campus
As a result of this year's 

Frontier Fiesta, parking lots around the Campus Recreation and Wellness Center will be impacted from Saturday, March 10 through Sunday, March 25. Plan now.
The UH System Board of Regents approved new parking permit rates for the next two academic years at its March 8 meeting. In addition to the new permit rates, several other major changes are coming to Parking and Transportation in the 2018-2019 academic year. Discover more.
UH Parking & Transportation is hosting a range of outreach events in the upcoming weeks. After these events, permit sales for faculty and staff are scheduled to begin April 3 and permit waitlists for students are expected to open April 10. Discover more.
Registration is now open for the 2018 Cougar Cub Summer Camp with early bird rates available through March 30. Plan now.
The food truck pad that serves the UH campus along Entrance 14 will be closed for the remainder of the spring semester. Discover why.