Top Stories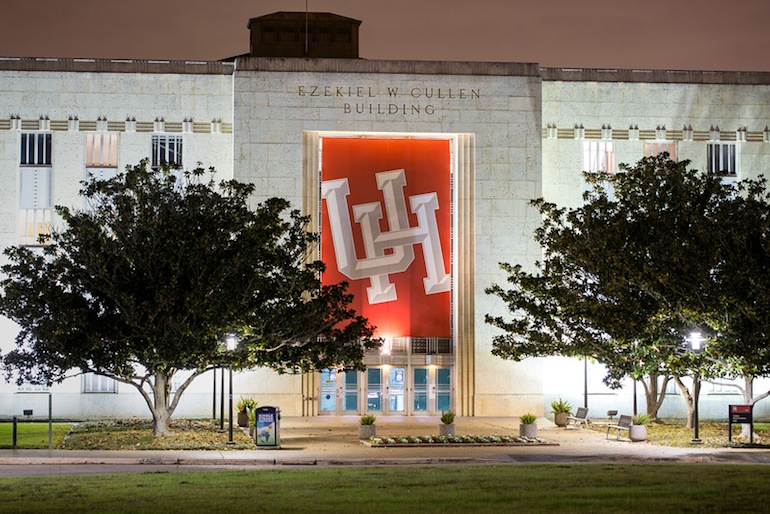 Changes to Parking and Transportation Services Are Coming in the Fall
In addition to the new parking permit rates that were announced a few weeks ago, the UH community can expect a number of changes when it comes to parking and transportation services on campus next academic year.  Read more …
---
Obscure and Exposed: Art Installation Uses UH Campus as Canvas
Look up, look down, look all around and you can't miss the bright yellow vinyl panels with text plastered all over campus. "Coog's House" is transforming into a canvas for a public art installation titled "The Miraculous: Houston" for the CounterCurrent17 Festival April 18-23.  Read more …
---
On Campus
The 39th Master of Fine Arts Thesis Exhibition will be on display at the Blaffer Art Museum April 8-22.
Faculty & Staff News
Free workshops in Access 2013, Adobe Acrobat Pro, After Effects CS6, EndNote, Excel 2013, HTML and CSS, Illustrator CS6, InDesign CS6, Photoshop CS6, Premiere Pro CS6, RefWorks and SPSS are being held in April.  Workshops are open to faculty, staff and students. Read more ...
Human Resources is accepting applications for the Summer 2017 Staff Tuition Scholarships through Monday, April 24. Read more ....
Suzanne Ferimer, director of learning resources at the College of Optometry, is a 2017 recipient of the prestigious Medical Library Association's President's Award. The award recognizes her work in reviewing, simplifying and revising the association's bylaws.
The Art for Your Health Walks, a weekly initiative that allows the UH community to improve their health while learning more about campus art, will continue during the spring semester. The walks are scheduled to take place Fridays from noon to 12:30 p.m. through April 21. Read more ...