Top Stories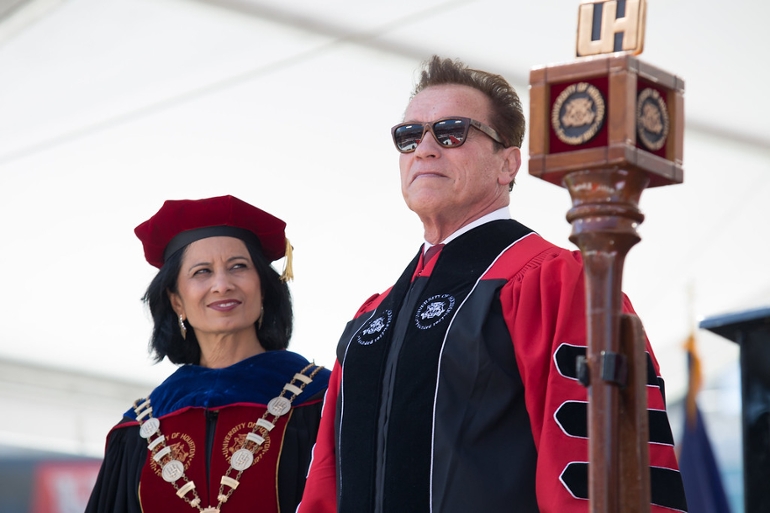 Arnold Schwarzenegger Gives Sage Advice to Gradutes at Commencement
Shasta La Vista, Baby – President Renu Khator presented an honorary doctorate to actor and former Calif. governor Arnold Schwarzenegger at the university-wide commencement Friday. Schwarzenegger, who delivered the keynote address, advised graduating students to be grateful to family, friends and supporters, to have a great vision and to help others.  Read more …
---
UH Offers Summer Flex Time
UH's summer flex time work schedule begins May 31 and ends Aug. 8 for nonexempt employees. For exempt employees, the schedule begins June 1 and ends Aug. 11.  Read more …
---
On Campus
Free workshops in Adobe Acrobat Pro XI, After Effects CS6, Excel 2013, Google Docs, Photoshop CS6, PowerPoint 2013, Premiere Pro CS6, Project 2010, RefWorks, Word 2013 are being held in May. The Technology Training program at UH Libraries offers technology courses to current UH students, faculty and staff. Read more ...
 The exhibition "The Art of Architecture: Drawings by Burdette Keeland Jr." is on display on the first floor of the M.D. Anderson Library through August. The exhibition by Special Collections celebrates the artistic talent of Keeland, who was a longtime faculty member of the Hines College Of Architecture and Design.  
Faculty & Staff News
Faculty and staff parking permits are now available for the 2017-2018 academic year. At the start of the fall 2017 semester, Parking and Transportation Services will introduce several program changes including new permit types and lot allocations. Read more ....
Claudia Scott, clinical assistant professor of health and human performance, has been elected the vice chair of the Nutrition and Dietetic Educators and Preceptors division of the Academy of Nutrition and Dietetics.
Demetrius Pearson, associate professor of health and human performance, contributed to the book "Black Cowboys in the American West: On the Range, on the Stage, behind the Badge," which won the Ray and Pat Browne Award for Best Edited Collection in Popular Culture and American Culture. The awards are given annually by the Popular Culture Association/American Culture Association.