Top Stories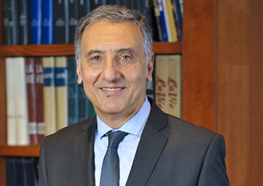 Elnashai Heads Research and Technology Transfer for UHS, UH
As the new vice chancellor and vice president for research and technology transfer, Amr Elnashai will lead UH's research operations and the rapid development of its innovation Elnashai will also oversee five nationally-funded research centers.  Read more …
---
UH System Announces Partnership with Chartwells Higher Education for Campus Dining Services
The UH System has entered into a partnership with Chartwells Higher Education that will result in a strategic transformation of its dining services. The move promises to strongly appeal to current and prospective students, alumni, visitors, faculty and staff.  Read more …
---
On Campus
New dining service provider Chartwells Higher Education has implemented exciting changes at the more than 30 on-campus food locations including creative new culinary, technological and sustainability-related enhancements. Read more...
The popular Campus Food Truck program has expanded its weekend hours to help better serve the campus community. See more...
The Blaffer Art Museum presents the first major institutional exhibition by The Propeller Group, a Vietnam and Los Angeles-based art collective. The exhibition will be on display through Sept. 30.