What's in a name?  The name "Chicano" carries with it the identity and ideology of the student militancy of the 1960s and '70s. While the term has become synonymous with its political times, "Chicano" began as something much more humble.  

The man who in 1979 wrote about the term "Chicano," its origins, usage and influence, comes to the University of Houston as part of the Center for Mexican American Studies' (CMAS) 40th Anniversary Spring Speakers Series.
"Chicano Revisited: Politicizing the Practices of Everyday Life" will feature Jose Limon, University of Notre Dame professor of American Literature.  The event is planned from 11:30 a.m. to 1:30 p.m., Tuesday, Feb. 5 in the Rockwell Pavilion in the M.D. Anderson Library. The event is free and open to the public. 
"My talk explores the tensions that can arise when political elites appropriate the everyday cultural practices of a people whom they presume to lead," Limon said.  "I was and continue to be such a political elite. I focus on the term "Chicano" as it was appropriated by the political elite of the Chicano Movement of the 1960s, but I also discuss other such cultural practices in the arts, literature and everyday language and dress."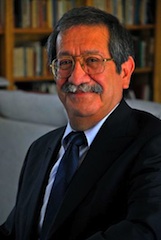 In 1979, Limon wrote the seminal essay "The Folk Performance of Chicano and the Cultural Limits of Political Ideology," which traced how the name "Chicano" moved from a nickname—or the Nahuatl shortened name for "Mexican"—to a public name associated with political ideologies.
"The speaker series commemorates the accomplishments of the center, but also reflects on the contributions of the activists and academics that evolved during that time period as they sought a place and space for Chicanas and Chicanos in American society," said Lorenzo Cano, associate director of CMAS
The Center for Mexican American Studies was established in 1972 as an interdisciplinary academic program focusing on the Mexican American and broader Latino experience in the United States. With an aim to advance knowledge, promote critical thinking and foster the value of service to the community, CMAS has a broad spectrum of public and scholarly programs—the Visiting Scholars Program, the Graduate Fellowship and the Academic Achievers Program.  It also offers students the opportunity to minor in Mexican American Studies. 
WHAT: UH Center for Mexican American Studies 40th Anniversary Spring Speaker Series
Featuring Jose Limon, University of Notre Dame professor of American Literature
WHEN:  11:30 a.m. – 1:30 p.m., Tuesday, Feb. 5
WHERE: Rockwell Pavilion, second floor of the UH M.D. Anderson Library
---