Great wealth and great poverty.  Great beauty and great ruin. The extremes describe the successes and failures of the new American West as written by Rubén Martínez, author of the acclaimed book "Desert America: Boom and Bust in the New Old West."
Martínez will speak about the disparities that are part of the evolving definition of America when he visits the University of Houston Honors College. The event is planned for 3:30 p.m., Thursday, Feb. 28 in the Honors Commons. It is free and open to the public.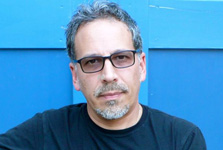 "To speak of the American desert today is to address everything that is wrong in the country at large — the cleaving of the economy between haves and have-nots, environmental crises, an epidemic of drug addiction and the violence just across the border," Martínez said. "But gazing upon the desert also summons a profound lineage of aesthetic and spiritual and ethical inquiry. In the desert it is easy to get lost—and it is also the place we must go to find ourselves."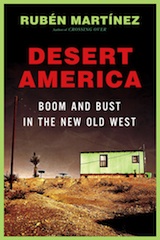 The lecture is sponsored by the UH Center for Mexican American Studies, Latin American Studies, department of English and the Center for Public History. 
"With a journalist's eye and a novelist's voice, Rubén Martínez chronicles the lives and struggles of a people who are the borderlands," said Raul A. Ramos, UH history professor. "He lends a crucial perspective to debates on immigration, citizenship and the border."
Martínez is an Emmy-award winning journalist, and hosted and co-wrote the documentary "When Worlds Collide" for PBS. He also is a former professor in the UH Creative Writing Program where he taught workshops in non-fiction writing. Currently, he holds the Fletcher Jones chair in Literature and Writing at Loyola Marymount University and is the artist-in-residence at Stanford University's Institute for Diversity in the Arts.  He's also a musician. 
For more information on Ruben Martinez visit http://rubenmartinez.la/  
WHAT:  "Desert America: Boom and Bust in the New Old West"
             A Talk Featuring Author Rubén Martínez
WHEN:   3:30 p.m., Thursday, Feb. 28
WHERE:  The Honors College Commons, second floor of the M. D. Anderson Library
For directions and parking information, visit http://www.uh.edu/maps/buildings/?short_name=L
---