Mike Harold, the M.D. Anderson Professor of Chemical and Biomolecular Engineering and chair of chemical and biomolecular engineering, has been awarded the University of Houston 2013 Esther Farfel Award. 
The honor, which comes with a $10,000 cash prize, is a symbol of overall career excellence and is the highest honor UH bestows on a faculty member. The Farfel Award is given in recognition of excellent service as a researcher, teacher, mentor, scholar, clinician and administrator. 
"It is a great honor to receive the Farfel Award especially since it rewards accomplishments beyond research. While I'm proud of my research accomplishments, I'm more proud of helping my colleagues and students succeed," Harold said. "I'm greatly indebted to my students, who do most
of the work. Hopefully, I've helped get them prepared for the real world because that's what it's all about being a professor."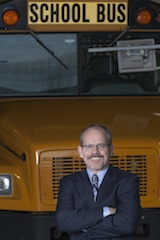 Harold was recently named chair of the Chemical and Biomolecular Engineering Department, a position he held previously at UH, and he is principal investigator of the Texas Center for Clean Engines, Emission and Fuels located in the UH Energy Research Park.
 
His comprehensive outlook on education and mentorship, his research excellence and his ability to pay attention to details while keeping the overall picture in perspective were cited as a few of his attributes as an outstanding faculty member. 
"Dr. Harold is receiving this honor for an outstanding career in research, teaching, mentoring and service at the University of Houston," said Dow Chair Professor Ramanan Krishnamoorti, the special assistant to the president/chancellor for UH Energy. "He is an exemplary intellectual leader and his academic accomplishments at UH are many. He has a deep passion for the education and dissemination of chemical engineering principles and a strong commitment to the expansion of UH as a lead institution."
Harold has developed experimental and theoretical modeling methods to understand the interactions of reaction and transport processes in catalytic reactors. He has specific interests in applications involving the environment and clean energy. He has established himself as one of the top researchers in vehicle exhaust emissions treatment, hydrogen generation and purification in membrane reactors, and, more recently, production of hydrocarbons from biomass. 
"What I've tried to do in my research is work on problems that are fundamentally challenging with solutions that could have an impact in the short term. The need to reduce emissions from vehicles is a problem we're facing here and now. One thing I learned from my years at DuPont is how to attack practical problems with a fundamental approach. I think that I've had some success with that approach, and I've had fun doing it," Harold said. 
As the principal or co-principal investigator, Harold has received grants exceeding $20 million in external research funding. He is the author of nearly 120 peer-reviewed research articles in international journals, has given more than 160 research paper presentations at national or international conferences, and has presented 95 invited seminars/invited talks, including a keynote lecture at the North American Catalysis Society meeting in 2011. Four of his papers/presentations also received best paper awards from different groups.
As an educator and researcher, Harold has mentored or co-mentored more than 20 doctoral students. He also is an outstanding teacher, teaching courses such as undergraduate transport and graduate applied mathematics, and receiving the highest student ratings while shouldering the chair's responsibilities. He also has been responsible for the development of a comprehensive new undergraduate program now being implemented in petroleum engineering that combines elements of fundamental engineering principles, geosciences, petroleum specific technical subjects along with business and economics.  
"Dr. Harold is an excellent classroom teacher, and the undergraduate and graduate classes that he has taught have always received the best reviews amongst the students – and not because they were easy. On the contrary, it's because they were rigorous and challenging and yet with the clear goal of educating the students of the most critical issues and solving the problems through analytical means," Krishnamoorti said.
Harold has also been active in the American Institute of Chemical Engineers (AIChE). In early 2012, he was named the seventh editor-in-chief in the 56-year history of the AIChE Journal, a position he now holds. He also served as member of AIChE's Chemical Engineering Technology Operating Council, chair of the AIChE Publications Committee, chair of the Catalysis and Reaction Engineering Division, and director of the Computer and Systems Technology Division. 
Harold received his Bachelor of Science in chemical engineering from Penn State in 1980 and his doctorate in chemical engineering from UH in 1985. He was on the faculty at the University of Massachusetts at Amherst and worked for DuPont before returning to UH in fall 2000 as chair of the Chemical Engineering Department. 
Harold was presented with the Farfel Award at an awards banquet Wednesday (April 24), where other faculty members were honored for teaching excellence, advising, research and scholarship. 
---