University of Pennsylvania professor Ania Loomba will speak on "Caste, Sexuality, and the Limits of Liberalism" at 4 p.m., Thursday, Sept. 20 in conjunction with a presentation of Milan Luthria's Indian film, "The Dirty Picture." A panel of film experts will conclude the program at 1:30 p.m., Saturday, Sept. 22 at the University of Houston (UH) Dudley Recital Hall. Both events are free and open to the public.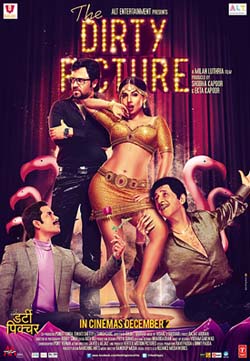 "We decided to invite Ania Looma because she is a widely respected Indian scholar who specializes in postcolonial studies, empire studies and Shakespearean studies," said Lynn Voskuil, associate professor in the department of English at UH. "Postcolonial and Empire studies are particularly import to the Empire studies group of faculty in the English department who planned the event.
We selected 'The Dirty Picture,' because it is a recent Indian film— specifically, a Bollywood film— that would attract a wide public audience and promote good discussion among viewers. A critical and commercial success, the film has won many awards in India, including three National Film Awards and six Screen Awards. The film raises interesting questions about gender issues in contemporary Indian society."
Loomba is Catherine Bryson Professor of English at the University of Pennsylvania.  She received her Bachelor of Arts, Master of Arts and Master of Philosophy degrees from the University of Delhi, India, and her doctorate from the University of Sussex, U.K. She researches and teaches early modern literature, histories of race and colonialism, postcolonial studies, feminist theory, and contemporary Indian literature and culture. Loomba is also faculty in comparative literature, South Asian studies, women's studies, and Asian-American studies.
The goal of the India Studies program at UH is to promote teaching and scholarship focused on the history, politics, economics, languages, religion and culture of India. UH began offering minors in Indian studies and comparative cultural studies in the fall 2012.
The event is co-sponsored by the UH department of English and India Studies program.
WHAT:
"Circuits of Empire: India as Metropole"
WHEN

4 p.m., Thursday, Sept. 20

"Caste, Sexuality, and the Limits of Liberalism," a lecture by Ania Loomba

1:30 p.m., Saturday, Sept. 22

"The Dirty Picture," a Bollywood film directed by Milan Luthria.

Followed by a panel of Indian film experts:

Nandini Bhattacharya, Texas A&M; Sucheta Choudhuri, UH – Downtown; and

Subramanian Shankar, University of Hawaii, Manoa

Refreshments following panel.

WHERE:

University of Houston, Dudley Recital Hall, Fine Arts Building

Entrance 16 off Cullen Boulevard (near intersection with Elgin)

Metered parking is available in lot 16B, across from the Arts Complex

HOW:
Free and Open to the Public
###
---