Which country represents the greatest international population at UH?* What are the five steps to studying abroad?*
As the nation's second most ethnically diverse research university, the University of Houston celebrates its international flavors every day. Students at UH hail from more 121 different countries and the United States, and walking across campus will bring dozens of languages within earshot.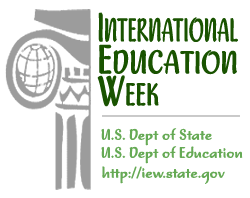 UH joins the nation in celebrating International Education Week, a U.S. Department of State/Department of Education initiative to promote and celebrate the benefits of international education and exchange programs, Nov. 12-16 at areas across campus. 
"At the University of Houston, we have the unique privilege of experiencing cultures from around the world through our interactions with international students," said Anita Gaines, director of the International Student and Scholar Services Office. "International Education Week presents special opportunities to celebrate the wonderful diversity that we have on our campus." 
This annual celebration begins at noon, Monday, Nov. 12, with an Inaugural Ceremony outside the University Center Satellite. Other events that week include "A World of Hospitality" in the south wing lobby of the College of Hotel and Restaurant Management, an "International Marketplace" on Butler Plaza and a "Study Abroad Photo Contest" on Facebook (facebook.com/StudyAbroadUH).
"We tell our students to dream, discover and develop," said Parul Fernandes, director of the Office of International Studies and Programs. "The world is still an open book. Each country and its people exhibit a unique, beautiful culture and we should try and understand it in our lifetime."
*The answer to the questions above can be found here http://www.uh.edu/ir/reports/facts-at-a-glance/index.php and here http://uh.edu/studyabroad/Instructions.htm.
For a schedule of events on the UH International Education Week visit: http://issso.uh.edu/
Follow activities on Twitter @IEW2012
WHAT: UH International Education Week
WHEN: Nov. 12-16
WHERE: Places across the UH campus
---