Lee R. Raymond, who had a distinguished career with Exxon Mobil Corporation, will give the Neal R. Amundson Lecture on Friday (Feb. 24) at the University of Houston.
Raymond's career at Exxon began in 1963, and he rose to serve as board chairman and chief executive officer of Exxon from 1993 until its merger with Mobil in 1999. He continued to hold the same positions with ExxonMobil until he retired in December 2005.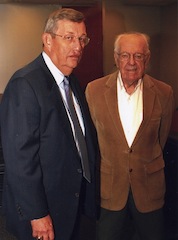 He earned a bachelor's degree in chemical engineering in 1960 from the University of Wisconsin and a Ph.D. in chemical engineering from the University of Minnesota in 1963. He is a director of JPMorgan Chase and a trustee of the American Enterprise Institute. 
Additionally, Raymond is past chairman and a member of the National Petroleum Council, a trustee of the Wisconsin Alumni Research Foundation, a trustee of the Mayo Clinic and a member of the Innovations in Medicine Leadership Council of UT Southwestern Medical Center.
The annual lecture is named in honor of Amundson, who died at age 95 on Feb. 16, 2011. Amundson was a Cullen professor emeritus of chemical and biomolecular engineering and professor of mathematics.
Widely regarded as one of the most prominent chemical engineering educators in the country, Amundson was a pioneer of chemical reaction engineering. His longstanding research contributions to the field of chemical reaction engineering included analyzing and modeling chemical reactors, separation systems, polymerization and coal combustion.
He was inducted into the National Academy of Engineering in 1970 for his pioneering research into the fundamental analysis of chemical processes as well as for his role in engineering education. In 1976, he joined UH, where he helped guide the chemical engineering program into a nationally top-ranked program during the early 1980s.
Note: The lecture is free. An RSVP to 713-743-4304 is requested but not required. 
Who: Lee. R. Raymond, retired Exxon Mobil Corporation executive.
What: Neal R. Amundson Lecture
When: Friday, Feb. 24. 5 p.m.-6:30 p.m.
Where: University of Houston Hilton Hotel. Shamrock Room. Directions to hotel: http://www.uh.edu/campus_map/buildings/CHC.php
---