University of Houston (UH) student Brenda Melgar is a talented artist. In fact, her high school artwork earned her a Houston Livestock Show and Rodeo scholarship to attend UH. 
"Painting, sculpting, cake artistry, speed painting with acrylics, street painting with soft pastels -- you name it, and I've probably done it," says Melgar.
But she's more than just an artist. In fact, Melgar decided not to study art at UH. Her art has created a path to entrepreneurship — both as a field of study in the UH C.T. Bauer College of Business and in practice as owner of a home-based cake business.
"I was directed to the business world by my parents, strongly encouraged to do it," she says. "And I did. I took a leap of faith, and I went for it. I love it."
Melgar says confirmation of her path -- both at the university and in life -- came when taking Bauer's introduction to entrepreneurship class.
"That's when I really said 'yes, I am going to be an entrepreneur,'" says Melgar. 
It is a decision that's painting a bright future for the UH student. She is part of Bauer's prestigious Wolff Center for Entrepreneurship (WCE), the number one program of its kind for undergraduates in the nation. The WCE accepts only 30 to 35 students each year. 
"I didn't want to end up the starving artist on the side of the road because of a lack of business knowledge. I wanted to be successful while doing it," says Melgar. "I figured with a business degree you can do anything."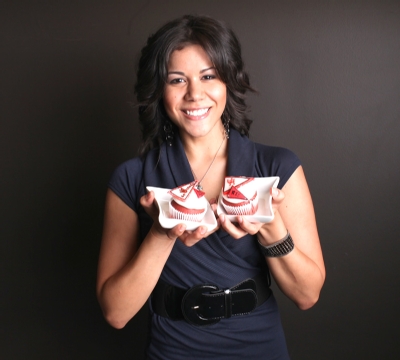 But she's not waiting until graduation to get started. Melgar began her business, EnviCakes, in April 2011. She designs custom cakes for businesses, brands and individuals.  Through the WCE, she says she's picking up the extra knowledge that will lead to a storefront bakery and cake business one day.
"In my classes we talk about the drive an entrepreneur has to have – you've got an idea, and it just won't leave you alone," says Melgar. "It's the last thought you have when you go to bed. It's the thing that keeps you up at night.  I know I have something there that I want to do, so I am going to pursue it."
Melgar is not alone. All WCE business majors bring with them a personal business idea. It's a requirement for acceptance to the rigorous program. The four-semester curriculum culminates with each student presenting their business plan to a group of venture capitalists during their final semester.
---