John Lee, a National Academy of Engineering member most recently noted for his work on oil and gas reserve regulations, has accepted a position as the first tenured faculty member in the University of Houston's growing petroleum engineering program.  He will hold the Hugh Roy and Lillie Cranz Cullen Distinguished University Chair.
Lee, who has been a professor at Texas A&M University since 1977, is arguably the most widely known petroleum engineering academic in North America. He is highly respected within academia, the engineering community and the boardrooms of many publicly owned petroleum companies.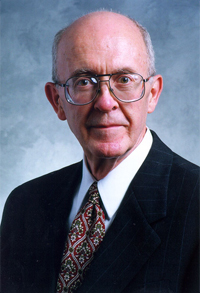 "We are honored to have such a distinguished professor as John Lee join UH. His teaching and research expertise will serve as a cornerstone for our growing program," said Tom Holley, director of UH's petroleum engineering program. "He shares UH's vision of influencing the education of upcoming petroleum engineers while building a new department in the UH Energy Research Park."
Lee is best known for his recent publications and presentations involving oil and gas reserves regulations and estimation and production forecasting in unconventional gas reservoirs. He served as an Engineering Fellow with the U.S. Securities & Exchange Commission (SEC) from 2007 to 2008, providing technical assistance to the SEC in its reserves reporting rules modernization effort.
"Professor Lee will be instrumental in building a leading petroleum engineering program here in the world's energy capital," said Ron Harrell, chair of the UH Petroleum Engineering Advisory Board.  "His presence at UH will help attract other outstanding faculty members as well as high-quality students from the greater Houston area and the region." 
In accepting the position, Lee expressed a desire to help shape UH's emerging petroleum engineering program, which is slated to become a department. He starts teaching this fall semester.
"I was motivated by the chance to help build a department and to teach all the undergrads, and maybe a good portion of the graduate students. I found this opportunity very appealing," said Lee, who held the L.F. Peterson Chair in Petroleum Engineering at Texas A&M.
UH's petroleum engineering program debuted an undergraduate degree program in fall 2009 that has grown to an estimated 150 students. The program already has a successful graduate program, which has grown some 20 percent this year.
The popular program is a component of the UH Energy initiative, a key strategic focus for research and teaching. This spring, it moved into the ConocoPhillips Petroleum Engineering Building at the UH Energy Research Park (ERP), making it the first academic program to be housed in the complex.
"John Lee will be an integral part of our effort to build a world-class petroleum engineering program, which we must have to become 'the energy university,'" said Joseph W. Tedesco, dean of UH's Cullen College of Engineering.
After receiving his bachelor's, master's and Ph.D. degrees from Georgia Tech, Lee worked for the Exxon Research Co. from 1962 to 1968. He later joined and eventually headed Exxon Co. USA's major fields study group, where he supervised integrated field studies of Exxon's largest domestic reservoirs. He also joined S.A. Holditch & Associates, Inc., a petroleum engineering consulting firm, in 1980 and retired as executive vice president in 1999.
Lee is the author of three textbooks published by the Society of Petroleum Engineers. He was elected to the National Academy of Engineering in 1993, the Russian Academy of Natural Sciences in 2006 and Georgia Tech's first class of its Academy of Distinguished Engineering Alumni in 1994. He became an Honorary Member of AIME/SPE, the societies' highest recognition, in 2001.
He received the SPE DeGolyer Distinguished Service Medal, the society's top service award, in 2004, the AIME/SPE Anthony F. Lucas Gold Medal, the societies' top technical award, in 2003 and the AIME Mineral Industry Education Award in 2002. He received SPE's Reservoir Engineering Award in 1986 and was named a Distinguished Member in 1987. He is a past member of the board of directors of SPE, has been a Distinguished Lecturer and received the Distinguished Faculty Achievement Award from Texas A&M in 1982.
---