A white lab coat and a pair of worn sneakers are almost standard-issue items for a research facility, but they don't seem to rise to the rank of museum exhibit.
Yet, that's exactly where you can find one particular lab coat and an old pair of shoes worn by renowned superconductivity pioneer Paul Chu of the University of Houston.
His belongings are part of the Institute of Texan Cultures' "Texans Head to Foot," an exhibit in San Antonio featuring the shoes, hats and accessories worn by famous and inspiring Texans such as Chu, former Gov. Ann Richards, Dell Inc. founder Michael Dell, music legend Buddy Holly and entertainer Kinky Friedman. The exhibit opened Saturday (Jan. 29) and runs through May 1 at the institute, which is associated with the Smithsonian Institute.
"Shoes and hats are more than just practical clothing items, they are three-dimensional character sketches of their owners," said Sarah Gould, the exhibit's guest curator. "These shoes and hats carry inspiring stories of leadership, talent, faith and determination."
Chu's lab coat bears the logo of the Texas Center for Superconductivity at the University of Houston (TcSUH) and a depiction of the groundbreaking atomic model he discovered in 1987 at the university.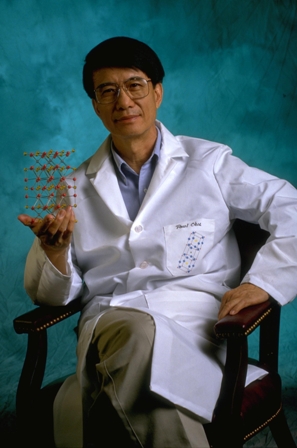 "To me, the coat symbolizes that discovery. Whether it tells the whole story, I'm not sure, but I hope it will remind people that here in Texas, there are different people doing very different things," Chu said. "I hope they can see that anyone can do anything significant, even someone like me. If you're in the right place, with the right people, you can do it. I hope that's what they come away with."
Chu gained global recognition when he and his colleagues ushered in a new era in materials science by discovering superconductivity at above 77 degrees Kelvin, the boiling point of liquid nitrogen. Superconducting materials are now being used to make devices for energy generation, transmission and storage, as well as for ultra-fast and ultra-sensitive signal detection and magnets for magnetic resonance imaging, or MRI.
Chu founded TcSUH and now serves as executive director, continuing his research into developing new materials and achieving superconductive properties at even higher temperatures.
The white sneakers Chu gave to the museum are ones he kept in his office for a while, but he couldn't part with the pair of hiking boots he has worn nearly every day for eight years. And the lab coat he dons daily is significantly more stained than the one on display in San Antonio.
While the exhibit features the belongings of a number of well-known Texans, it also has items owned by lesser-known residents, including a Texas Ranger, a school teacher and a firefighter.
"It was important to include Texans who may not be well-known, but whose lives have been fueled by passion and perseverance, and whose accomplishments have been undeniably inspirational,"  Gould said.
For more information about the exhibit and the Institute of Texan Cultures, visit: www.TexanCultures.com.
About the Texas Center for Superconductivity at the University of Houston (TcSUH):
TcSUH represents the largest multidisciplinary university superconductivity and related materials research effort in the United States, with over 240 faculty, postdoctoral fellows, graduate and undergraduate students, housed in the $22.5 million Houston Science Center and several other buildings on the UH campus. Center personnel create and develop high temperature superconducting and advanced materials and further their fundamental understanding, advanced new applications based on these materials, and disseminate fundamental and applied knowledge through extensive education and outreach programs. Strong collaborations with industry and national laboratories promote the commercialization of TcSUH research results through the TcSUH Applied Research Hub.
---