This room can definitely pass the white-glove test. Equipped with special filters, the facility is virtually dust free and anyone entering it must first don protective gear. There even are special mops and buckets used to clean this "clean room."
Officially, it's called the University of Houston Nanofabrication Facility, a state-of-the-art clean room equipped with advanced tools to create micro- and nano-scale structures, most commonly on silicon waters, for integrated circuits, microelectromechanical systems, microfluidic devices and other systems. It is available to faculty and students from all UH departments as well as researchers and businesses outside the university.
From 1 p.m. to 3 p.m. Friday (Feb. 25), UH is hosting a free open house and dedication ceremony for the facility. UH President Renu Khator will speak at the dedication ceremony, which will be held in the courtyard of UH's Science and Engineering Research Center. The official ribbon-cutting ceremony is scheduled to begin at 1:30 p.m.     
"This is a strategic investment for the university and the nano-tech community," said Joseph W. Tedesco, Elizabeth D. Rockwell Dean and Professor of the UH Cullen College of Engineering. "It further establishes UH as a major source of nanotechnology research and innovation and offers unique opportunities for collaborations with the region's nanotech community."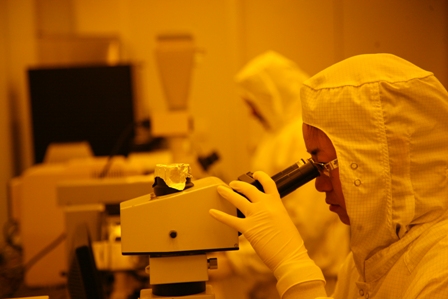 The laboratory's advanced capabilities make it an important regional resource for academia and industry. Funded research projects supported by the facility total in the millions of dollars. Additionally, the consolidation of equipment in one facility results in substantial savings to UH.
"The facility is a Tier One center that supports the growth of innovative research at UH and in the surrounding community," Tedesco said.
The clean room's cutting-edge equipment enables scientists to manipulate materials at the micro and nanoscale in an environment virtually free from dust and other contaminants that can interfere with their results.
 "On this scale, these nano-objects are so small and often packed so close to each other, one dust particle can ruin the entire system such as, for example, an integrated array of nanosensors we are developing for early cancer diagnostics," said Dmitri Litvinov, professor of electrical and computer engineering and the facility's director.
NOTE: For media wishing to cover the event, please contact Laura Tolley at ljtolley@uh.edu or 713-743-0778. The dedication ceremony will be held in the SERC courtyard on the north side of the building. For directions, visit: http://www.uh.edu/campus_map/buildings/SERC
---