The University of Houston has forged new relationships with two Lithuanian Universities. Vilnius University (VU), Kaunas Medical University (KU)/Lithuanian University of Health Sciences (LUHS) and UH signed Memoranda of Understanding (MOU) and agreed to collaborate and develop new ideas and student and faculty exchanges, especially in the area of life science.
"The signing of the two MOUs with these Lithuanian universities provides UH will have a large footprint in this small Baltic country," said Jokūbas Žiburkus, UH assistant professor of biology and biochemistry.  Žiburkus, who is native to Lithuania, initiated the MOU signings.  "UH is now one of the first American universities to develop a formal relationship with universities in the Baltic States."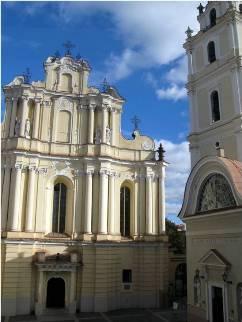 Vilnius University is the oldest and largest university in Lithuania and Eastern Europe.  Kaunas Medical University, located near VU, recently has merged with Lithuania Veterinary School and formed University of Health Sciences. Vilnius University spans a wide array of subjects and has several campuses in the Baltic capitol city. LUHS has several areas of specialty including, medicine, nursing, pharmacy and dentistry.
Stuart Dryer, professor and chair of the department of biology and biochemistry, says faculty, staff and student exchanges will be one hallmark of the agreement.  There are plans to develop UH-VU and UH-KMU joint degree programs.  The main areas of collaborative interest are joint research projects in neuroscience and cardiovascular biology.  Additionally, there are discussions for UH faculty to present a series of summer lectures for VU and KMU students. Ultimately, Dryer said, he is hopeful students from VU and LUHS will join the ranks of UH students.
 "There are so many talented and enthusiastic students in eastern and central Europe interested in fundamental life sciences research at the advanced level," Dryer said.  "We are particularly interested in students who have just completed their medical degrees and are interested in pursuing a Ph.D. in basic and translational life science research."
The first signing took place in the Rector's Quarters at the central palace of the VU, with UH represented by Dryer and Žiburkus.  Additionally, VU was represented by Vice-rector for International Affairs Rimantas Vaitkus, Vice-rector for Educational Affairs Jūras Banys, Zita Kučinkskienė, dean of the faculty of medicine, Vaiva Hendrixon, vice-dean, Osvaldas Ruskšsėenas, vice-dean of the faculty of natural sciences and a representative from the U.S. embassy in Lithuania. 
In Kaunas, Dryer and Žiburkus were welcomed by the LUHS Rector Remigijus Žaliūnas, Chancellor Vilius Grabauskas, Vice-rectors Vaiva Lesauskaitė and Renaldas Jurkevičius and the dean of international relations and study center, Žilvinas Padaiga.   
"Kaunas Medical University and LUHS have a strong desire to keep up with the modern trends of the interdisciplinary research, where academicians and clinicians work together for the common goal. The progressive thought is also reflected by the English-taught courses and a sizeable foreign student population," Žaliūnas said.    
While visiting both universities, Dryer and Žiburkus lectured science and medical students and faculty on "UH-Lithuania Science Bridge: Selected Topics in Basic and Translational Sciences."  The information outlined the main research areas at UH and briefly highlighted the work of faculty from the department of biology and biochemistry and the Biology of Behavior Institute.
---