How do people acquire and use information to make decisions? How do they test those decisions? How do they use that knowledge to act in their own self interest in the health care arena? Dr. Clifford C. Dacso and his colleagues at the Abramson Center for the Future of Health are on a quest to answer those questions and offer workable solutions.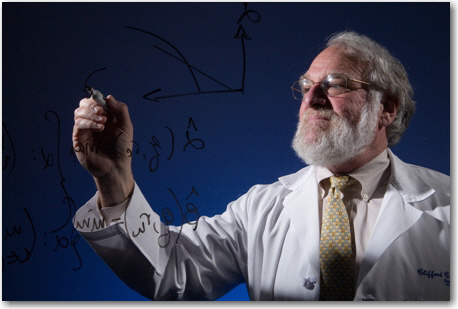 Dacso, a practicing physician with dual appointments at The Methodist Hospital Research Institute and the University of Houston, is executive director of the Abramson Center. He says the center's mission is to find ways to help individuals make good, sound judgments that work for them. He emphasizes that these solutions might not necessarily work for society, the doctor or other individuals, so the extra challenge is to find a way to improve the health of the population and continue to benefit society as a whole, while also improving the health of the individual. Another part of this equation, he says, is to figure out how people can test the decisions they finally do make and then know those are the right strategies for their particular situations.
"Regardless of education, social status or pre-existing impairments, we believe everyone is capable of making an informed judgment in their own self interest," Dacso says. "Our interest is in how we structure information in such a way that people can do that. There are a number of factors to consider, and we're able to accomplish an enormous amount through collaborations."
In addition to Dacso, who is a Hugh Roy and Lillie Cranz Cullen University Professor at UH and the John S. Dunn Senior Research Chair in General Internal Medicine at Methodist, the core group at the Abramson Center includes medical sociologist Courtney M. Queen, a research assistant professor at UH's College of Technology; Nithin Rajan, a program manager and alumnus from UH's Bauer College of Business; Luca Pollonini, a research associate with the UH College of Technology's engineering technology department; Elaine Liu, UH assistant professor of economics; and community health specialist Amy Harris.
The center also draws upon the talents of other faculty from the technology and business colleges, as well as medical personnel and researchers both locally and internationally from Rice University, Methodist Hospital, Queen's University in Belfast in the United Kingdom and the Biomedical Diagnostics Institute at Dublin University in Ireland.
Dacso says the idea of translational community medicine takes the concept of 'bench to bedside' a step further – beyond just the literal bedside and into people's everyday lives. In order to really change health – not merely health care – he says there needs to be a reorientation in the relationship between the people with knowledge and the people seeking it.
With Queen on board, the group can better understand what it means for somebody to have a blood pressure machine in their home, for instance. For some people it's empowering, for others it's just an unpleasant reminder of their frailty.
"The idea is to take a piece of technology and put it in people's hands, empowering them to make decisions on their own, and we can help them make sense of that," Queen says. "To a community member, things like biosensors are abstract. Our challenge is to take that and give it to people in a way they can understand and apply in their own health care. We want to give the 'why' behind the machines and tests involved and increase health literacy. This must be done as a collaborative effort between doctor and patient, so that health care communication becomes a two-way street."
This mirrors the collaborative approach going on within the center in that the group strives to find a way for the medical establishment to collaborate with the person who is ill or trying to avoid becoming ill. So, instead of health care being something that is handed or provided to people, they want it to be something medical personnel and patients do together.
"The interaction of emotions, context and physicality is so tightly wound together, that you can't possibly help somebody without understanding the social context of their illness," Dacso adds. "We must find a way to transfer professional knowledge to people in such a way that they can use it in order to impact the curve in morbidity, as well as bend the cost curve."
He stresses that the challenge for developed society is not just acute disease, trauma, emergencies and intensive care, but more so longitudinal diseases, such as hypertension, diabetes, emphysema, asthma, heart failure, stroke, cancer and AIDS, that occur over time.
"The medical care establishment actually has a relatively small part to play in these chronic diseases, and the responsibility rests firstly and exclusively with the person who has the condition," Dacso says. "The whole idea is to move the decision-making power to the level of the person who cares the most, which is the person with the illness."
While the group also actively invents, develops and tests various devices and technologies essential to the practice of medicine and improving health care, they are very passionate about their mission to move beyond the basic tools to see how these technologies play out in social context. Pushing medicine beyond diagnoses and therapy plans, the Abramson Center aims to also consider its interplay with societal, educational, psychological, technological and communication issues.
See related story at
http://www.uh.edu/news-events/stories/2010articles/Oct2010/10072010BlueBoxETF.php
.       
###

NOTE TO JOURNALISTS:
  High-resolution photos of the center's founder and executive director, Cliff Dacso, are available to media by contacting Lisa Merkl. 
About the University of Houston
The University of Houston is a comprehensive national research institution serving the globally competitive Houston and Gulf Coast Region by providing world-class faculty, experiential learning and strategic industry partnerships. UH serves more than 38,500 students in the nation's fourth-largest city, located in the most ethnically and culturally diverse region of the country.

About the College of Technology
The College of Technology educates leaders in innovation and global industry. With nearly 2,000 students, the college offers accredited undergraduate and graduate degrees in construction management technology, consumer science and merchandising, computer engineering technology, electrical power technology, logistics technology, network communications, human resources development and technology project management. It also offers specialized programs in biotechnology, surveying and mapping and digital media.
For more information about UH, visit the university's Newsroom at
http://www.uh.edu/news-events/
. 
To receive UH science news via e-mail, visit
http://www.uh.edu/news-events/mailing-lists/sciencelistserv/index.php
. 
For additional news alerts about UH, follow us on
Facebook
and
Twitter
. 
---