A group of students from the University of Houston School of Art plan to make some noise at this year's Houston Art Car Parade on Saturday, May 8. Ironically, they won't be driving vehicles with rumbling, roaring motors but, rather, riding bikes.
These won't be ordinary bikes, however. As part of professor Paul Kittelson's Public Art class, students developed audible art bikes. Using bells, bottles, bags and other items, the student sculptors have crafted high volume bicycles that are bound to turn a few heads during the parade, which begins at 1 p.m. in downtown Houston.
Among the bikes to watch out for are senior Stephanie Williams' Recycle Cycle, a bike covered with re-used grocery store plastic bags and dragging a host of plastic bottles.
"It makes more noise than you think it would," Williams said. "It's pretty loud. My friend was riding it around the parking lot, and people were looking around to see what was causing all of that noise."
For Williams, the Recycle Cycle marks her final project as a UH undergrad. While many of her peers will showcase their end-of-semester works in studios, she is a little antsy about the massive parade audience that will view her art bike.
"It's an exciting experience," she said. "It's like my first public art piece, so I'm hoping everything works correctly the day of the parade and that all of the bags and bottles stay on the bike throughout the parade."
While this is Williams' debut at the annual event, her classmate, master of fine arts candidate Natali Leduc, is an Art Car Parade veteran. She has designed both art cars and bikes for previous parades. This year, she worked with fellow grad student David Graeve. Together, they came up with two bikes connected to a large spinning wheel adorned with glass milk bottles and wooden clappers. As its riders peddle, the wheel spins, the bottles then are struck by the clappers making a clanking noise. Little bells are also affixed to the bike's spokes for added sounds.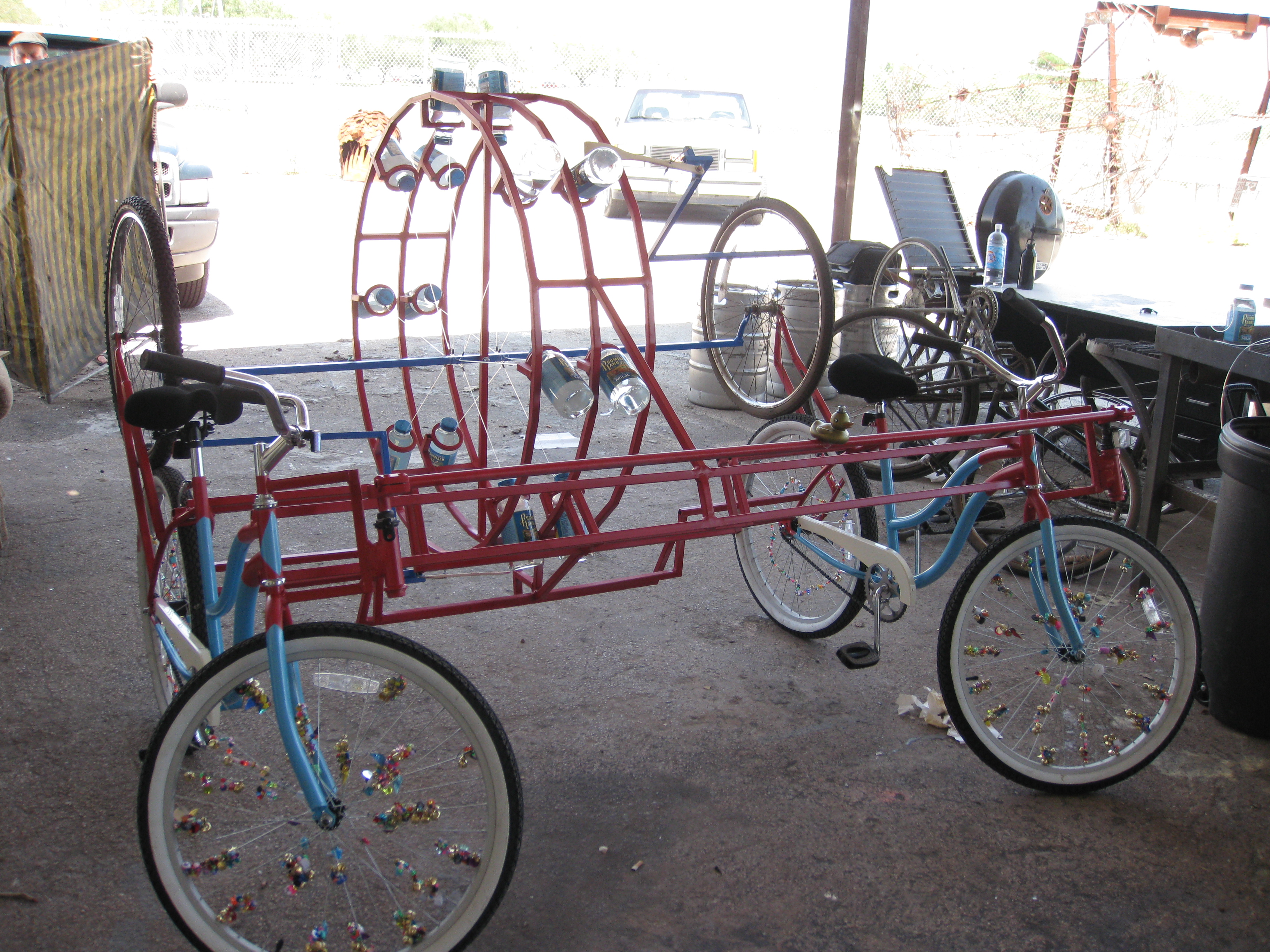 Although she is no stranger to creating art vehicles, Leduc said that there always are new things to learn from projects such as this.
"There are different kinds of lessons to learn when you make things like this," she said. "It's always about discovering solutions. For this project, it was like how are we going to make this bike, what is it going to do. As these questions come up, you focus on answering them while using your imagination."
This year's group of student artists continues the university's tradition of contributing to this popular event. Kittelson has designed art cars and has had many students over the years, who have participated in the parade.
"It's one of the many avenues that our students have to connect with the community," he said. "It provides them with an excellent outlet for their talents and is really one of the best events at which to showcase what they're learning here at the university."
For more details on the Houston Art Car Parade, visit http://www.orangeshow.org/art-car-festival/.
To view a video of the making of these bikes, click here.
---