Sophocles' "Electra" presents literature's ultimate parent-child showdown. For centuries, audiences have been drawn to this tale of a daughter and son driven to revenge - against their own mother no less.
Soon, Houstonians will experience the title character's wrath in a new performance and translation presented by the University of Houston's Center for Creative Work. "Electra" will be performed at 8 p.m., March 26, 27 and 28 at UH's Lyndall Finley Wortham Theatre (in the Cynthia Woods Mitchell Center for the Arts) and at 7 p.m., March 30 on the rooftop of Khon's Bar (2808 Milam St.). All performances are free. To reserve tickets, call 713-743-2929.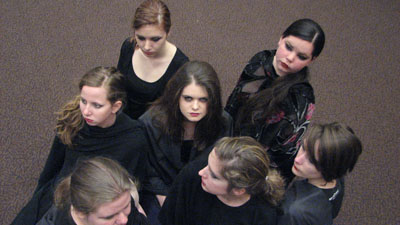 "Electra" follows the title character's quest to exact revenge on her mother, Clytemnestra, and her lover, Aegisthus, for the murder of her father, Agamemnon. Also hungry for vengeance is Electra's brother, Orestes.
"This is a family that tears itself apart," said John Harvey, director of the Center for Creative Work. "It's a fascinating story, but it's also horrifying. It is very focused on the human potential to devote one's self to justice."
Harvey is co-directing this production with Katelyn Halpern, coordinator for the Center for Creative Works. He also co-translated this version of Sophocles' masterpiece with Richard Armstrong, UH associate professor of classical studies.
"Richard really worked on making this a very faithful English translation. From there, I shaped the text for our performance," Harvey said. "My specific idea for Electra's voice was to pare her lines down, finding the right essential words for her character. As she speaks, she's always on a razor's edge."
Audiences should expect a very traditional Greek theater complete with orchestra and altar at center stage. The cast, which includes a chorus, will take full advantage of the Wortham's spacious stage through organized yet organic choreography.
"One way we're using this theater is to draw the audience's attention to the possibility of movement and to voice," he said. "These are the two basic items in bringing these ancient works to life."
Punctuating Sophocles' classic take will be a live score composed and performed by Elliot Cole. Joining him on stage will two musicians playing a range of instruments - a harmonium, vibraphone, flute with pedal board, harp, drums and laptop.
"Electra" is serving as the centerpiece for the festival "Dionysia 2010." Presented by the Center for Creative Work in conjunction with the Cynthia Woods Mitchell Center for the arts, the event will feature an art exhibition, scholarly conference, post-play talkback, and opening and closing receptions. Visit http://TheHonorsCollege.com/dionysia for a full schedule of events.
###
---