University of Houston Honors College student Erica Fletcher was a one-person film crew when she documented the stories of HIV/AIDS among Latinas. Equipped with only a handheld camcorder, she captured the many emotions, hopes and fears of three women whose lives are forever changed by this disease.
Now, she's sharing the resulting film "Marianismo" with the Houston community.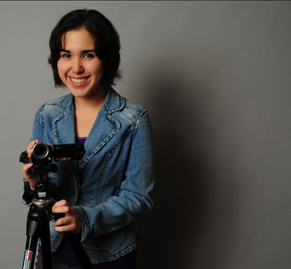 "Marianismo" will be screened as part of "Navigating the Cultural Labyrinth: Latinas' Lives Explored through Literature & Film" at Arts Houston (1001 Bissonnet St.).  This free event is presented by the museum and Arte Publico Press  begins at 6:30 p.m., March 25.  Fletcher, who is double majoring in anthropology and psychology, will introduce and discuss the film. For more details, visit www.mfah.org.
The film also will be screened as part of the Voices Breaking Boundaries series "La Voz Femenina." It will be included in a free event that begins at 5 p.m., March 28 at Café Flores (1001 Bissonnet St.). More information is available at www.vbbarts.org.
"The documentary is about the disproportionate spread of HIV/AIDS among Latinas," Fletcher said. "The intent of the film is not to stereotype Latina women into the simple category of victim, but to show the complexities of their cultural situation. Audiences should expect to see something that is very edgy and real."
Filmed last summer, Fletcher interviewed three Houston women living with HIV/AIDS. Assistance was provided by AIDS Foundation Houston, and the project was supported through a UH Summer Undergraduate Research Fellowship.
To learn more about Fletcher and her experience making this film, read this recent UH feature.
WHAT:
 "Marianismo," a documentary by UH Honors College student Erica Fletcher
WHEN/WHERE: 
6:30 p.m., March 25 - Museum of Fine Arts Houston (1001 Bissonnet St.)
5 p.m., March 28 - Café Flores (1001 Bissonnet St.)
---