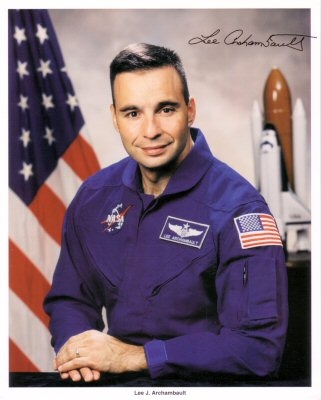 NASA astronaut Col. Lee Archambault, U.S. Air Force, will speak to area high school students about leadership at the University of Houston M.D. Anderson Memorial Library, Elizabeth Rockwell Pavilion, 11:30 a.m., Friday, March 12.
Col. Archambault, a veteran of two space shuttle missions, has been with NASA since 1998.  Originally from Oak Park, Ill., he holds a Bachelor of Science and Master of Science degree in aeronautical/astronautical engineering from the University of Illinois-Urbana.   He has logged more than 4250 flight hours in 30 aircraft including the F-111D and F-117A Stealth Fighters and flew 22 combat missions during Operation Desert Storm.  Archambault graduated first in his class from the Air Force Test Pilot School and is a distinguished graduate of the Air Force Officer Training School. 
His presentation is the keynote address for the sixth Collaborative Leadership Seminar offered by UH, a free one-day seminar for Houston area high school students.   The seminar is a partnership between the College of Liberal Arts and Social Sciences, C.T. Bauer College of Business, College of Technology, College of Education and the ROTC programs known collectively as the "Houston Corps of Cadets."   Previous speakers include former NASA astronaut Thomas Jones, UH Head Football Coach Kevin Sumlin and UH System Chancellor Renu Khator. 
More than 350 high school students from 40 local schools have attended these seminars which are designed to not only teach leadership, but also motivate students to attend college, consider a public service career, and major in science, technology, engineering and math (STEM) fields.  This seminar will also recognize the 100th anniversary of Boy Scouting.  All students attending this seminar are either Boy Scouts or Girl Scouts. 
The all-day seminar includes lessons on leadership fundamentals, characteristics of an effective leader, servant leadership, planning and implementation, teamwork and followership, diversity, and lifetime leadership learning.  Two case studies are provided including a NASA teambuilding exercise and an event which applies military planning principles to planning and organizing a high school prom. 
These are the only leadership seminars in the nation presented by ROTC units and their host university.  These events directly support the University of Houston's community outreach efforts and goal of attaining top tier status.  
To attend this event, please contact Mrs. Lisa Meza-Duran at 713-743-4932.
WHAT:
UH Collaborative Leadership Seminar hosts NASA Astronaut Col. Lee Archambault
WHEN:
11:30 a.m. - 12:45 p.m., Friday, March 12
WHERE:

UH M.D. Anderson Memorial Library, Elizabeth Rockwell Pavilion
UH Entrance 1, University Dr. & Calhoun Rd.
Map: http://www.uh.edu/campus_map/buildings/L.php

WHO:
The Houston Corps of Cadets
---