Local middle school students are abandoning their typical summer activities to dive into a two-week, fun-filled math and science camp. The ExxonMobil Bernard Harris Summer Science Camp is transforming their summer vacations by giving students the opportunity to get ahead in math and science, meet inspiring role models and experience college life. On July 19, join former astronaut and camp founder Dr. Bernard Harris, Rep. Ellen Cohen and this year's campers for ExxonMobil Media Day. 


This year, the campers will tackle the hands-on customized challenge, "Escape from Harris Island." They will build rafts from limited supplies and face off in an intense competition to test their newly acquired engineering skills. In addition to this activity, they also will participate in interactive demonstrations, learn about engineering and other science careers with ExxonMobil engineers and scientists, and hear an inspiring message from Harris, the camp's founder. 

"ExxonMobil is committed to engaging the next generation of creative minds, thinkers and developers who will keep the United States competitive," said Suzanne McCarron, president of ExxonMobil Foundation. "By partnering with Dr. Harris, we are able to reach talented students and provide them with an experience that could lead them to pursue a career in the so-called STEM fields of science, technology, engineering or math." 

Campers are taught by university faculty, attend daily STEM classes and enjoy activities that include classroom study, experiments, individual and team projects, weekly field excursions and inspirational guest speakers. As part of their educational experience, the campers also work side by side with engineers and other professionals who are accomplished in their chosen technology-related careers.

Additionally, some esteemed former campers will return as both campers and camp counselors to continue sharing the tradition of summer learning. Junior counselor Billiana Tran-Le will be available to speak about her experience taking part in the camp as both a former camper as well as her current role.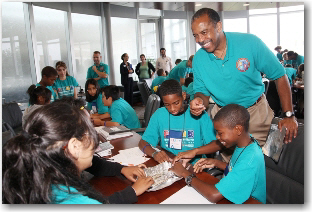 "University of Houston is honored to host the ExxonMobil Bernard Harris Summer Science Camp," said camp director Paige Evans, who also is a clinical associate professor in the teachHOUSTON teacher-preparation program, which recently took over the reins of the camp. "Not only are we providing these students with two exciting weeks on our campus and offering them the unique opportunity to experience a college campus for the first time, we also are investing in our community by encouraging the next generation of innovative problem solvers." 

Media also will have an opportunity to film B-roll and interview students as they arrive at their dorms 3:45 – 4:15 p.m., Sunday, July 18 for the start of the camp. Parking that day is available in Lot 6 off Wheeler.  (Location: Oberholtzer Hall, building No. 559 on campus map – http://www.uh.edu/maps/buildings/OB.php)
WHAT:
ExxonMobil Media Day at Bernard Harris Summer Science Camp
WHO:
Bernard Harris, the first African American to walk in space
Rep. Ellen Cohen, District 134
54 middle school youth from the Houston area
WHEN:
9-11 a.m., Monday, July 19
WHERE:
University of Houston
Philip Guthrie Hoffman Hall (PGH), Room 232
(building No. 547 on campus map – http://www.uh.edu/campus_map/buildings/PGH.php)
Please call or e-mail for media parking directions.

###
---