Houstonians will celebrate the red, white and blue during the "Freedom Over Texas" Fourth of July festival in Eleanor Tinsley Park. They also will have the opportunity to discover new green technologies from University of Houston architecture professors.
Festival-goers can experience the Solar-Powered Adaptive Container for Everyone (SPACE), a recycled shipping container transformed into a functional work or living space. Developed by UH Green Building Components (UHGBC), SPACE will be located on Allen Parkway near the entrance of "Freedom Over Texas." It will be part of the event's Red, White and Green Zone, which will showcase exhibitions focused on sustainability.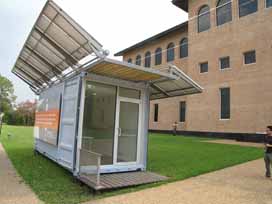 SPACE applications include use as disaster relief offices, visitors' centers, neighborhood police storefronts, cabin retreats or art studios.
"Our market for the SPACE is for field office space in remote locations or power critical situations," said Andrew Vrana, research assistant professor at UH's Gerald D. Hines College of Architecture. "From daily use in public parks to disaster relief, SPACE offers a robust source of solar power with three days of battery backup.  The interior is air conditioned and equipped for office space for up to four occupants."
Vrana will be on site to conduct SPACE tours and answer questions. Joining him will be Joe Meppelink, director of applied research at UH's College of Architecture, and Joey Romano, director of Harvest Moon Development.
"This event presents a great opportunity to demonstrate this technology to the public," Meppelink said. "We'll be able to explain how it works and show that solar technology is not unlike any other appliance in our homes."
They also will discuss other sustainable technologies that will be on display including the PV-Pod, a water-filled polyethylene vessel used for mounting solar panels. Also on view will be GroPOD, a modular raised bed gardening system.
"The GroPOD is basically a gardening system you can take anywhere," Meppelink said. "It's a perfect example of 'upcycling' or taking something in its existing state and reusing it. A GroPOD garden can be transported and used again and again."
UH Green Building Components is the College of Architecture's research initiative to design, develop and implement sustainable, renewable building components for the architecture, engineering and construction industries. This effort is funded by nearly $1 million in grants from Houston Endowment and the Meadows Foundation. 
To learn more about UHGBC, visit http://www.metalabstudio.com/category/blog/uhgbc/.
For details on "Freedom Over Texas," visit http://www.houstontx.gov/july4/index.html or the "Red, White and Green Zone," visit http://www.facebook.com/greenhoustontx.
---