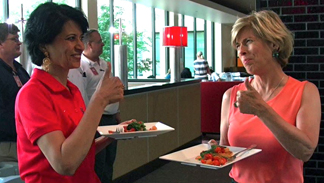 A new culinary curriculum is being offered at the University of Houston (UH) this fall- you might call it a lesson in the revolution of college cuisine. Following a state-of-the-art $11 million dollar renovation at the Moody Towers dining hall, the new Fresh Food Co. takes the idea of on-campus dining from cafeteria to cultured all-you-can-eat cuisine.
"It is not your typical cafeteria, I don't even like to use that name 'cafeteria'," said Tori Bergersen, executive chef, UH Dining Services. "It's not a cafeteria, it's a restaurant."
Fresh Food Co. at Moody Towers will open to students Friday (Aug. 20) and offer nine made-to-order stations where chefs prep and cook each order in front of diners. The stations facilitate a variety of cooking styles and tastes, from vegetarian to international fare. With a focus on fresh ingredients and an interactive atmosphere, Fresh Food Co. is expected to serve more than 2,500 guests each day, including students, faculty and staff with a UH meal plan or guests who will pay $6 to $8 at the door, depending on whether it's breakfast, lunch or dinner service.
"This concept is to bring food directly to you, right then and there. You won't see steam table pans anywhere," said Bergerson. "You will see open flames, fired ovens, a round griddle- with anything from fresh fish to Asian fare or grilled sandwiches cooking on it."
Fresh Food Co. will serve an eclectic and diverse menu- much like the UH campus community it serves. As cooks prepared for the opening of the facility, the options included everything from grilled Mahi Mahi over an Israeli couscous salad to tikka masala and oven-baked gourmet calzones with fresh vegetables and cheeses. Chef Bergersen, whose staff includes three experienced sous chefs- second in command after the executive chef, said the dining facility "will be geared to do something different, something wild."
At 33,000 square feet, the Moody Towers Fresh Food Co. location will be the company's largest in the country and the first in the Southwest United States. The idea to bring the concept to UH was cooked up more than a year ago, but has made the grade on 48 campuses along the East Coast in recent years- each with unique menus and amenities. Created by UH Dining Services partner ARAMARK Higher Education, Fresh Food Co. is making UH its flagship facility for this region of the country.
About the University of Houston      
The University of Houston is a comprehensive national research institution serving the globally competitive Houston and Gulf Coast Region by providing world-class faculty, experiential learning and strategic industry partnerships. UH serves 37,000 students in the nation's fourth-largest city, located in the most ethnically and culturally diverse region in the country.
For more information about UH visit the university's Newsroom at www.uh.edu/admin/media/newsroom
To view more videos from UH visit the university's Multimedia site at www.uh.edu/multimedia
---