Developmental Psychopathology Lab

---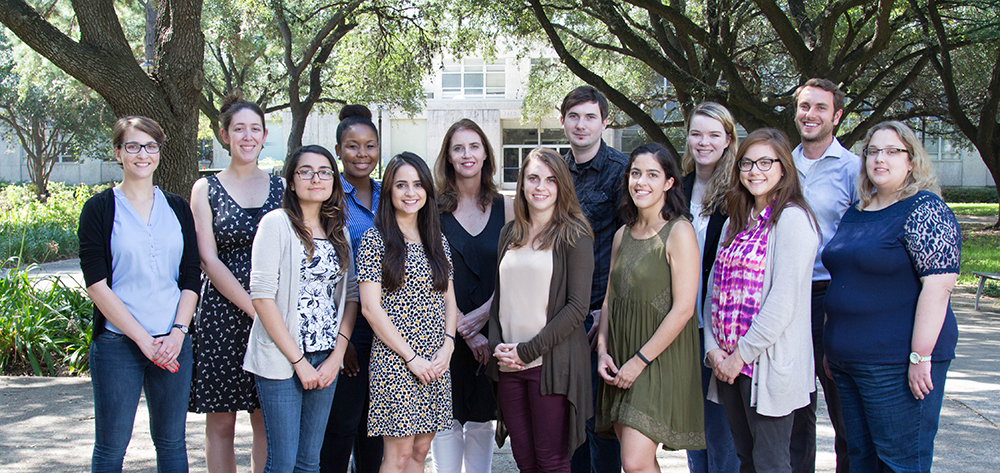 In our lab, we examine the social-cognitive basis of psychiatric disorders in youth. Our research falls most clearly under the domain of "social systems and processes" in the NIMH Research Domain Criteria (RDoC) initiative and focus on constructs such as understanding others, understanding self, and attachment. We work in Houston and in South Africa. Our research also includes a translational focus as we work towards the development of constructs and measures at multiple levels of analyses to facilitate the early identification and treatment of psychiatric disorders in youth, in addition to the development and evaluation of social-cognitive interventions for psychiatric problems and problems of behavioral health, such as HIV and addiction. We use a variety of methods in our research, including behavioral experiments, functional neuroimaging and survey methods. Our overall goal is to help strengthen communities through strengthening relationships.

The lab is run by Dr. Carla Sharp. Funding sources have included the NICHD, NIMH, the NIH Centers for AIDS Research, NARSAD, the South African Responsible Gambling Foundation, the American Psychoanalytic Association, UH Small Grants Program, UH GEAR program, and the McNair Family Foundation.
Lab News
January 2017: Congratulations to clinical graduate student, Salome Vanwoerden, who has been selected as a recipient of an American Psychological Foundation's 2016 Division 49 Group Psychotherapy Grant! This award of $1,000 is for her lab's project entitled "Group-based Systems Training for Emotional Predictability and Problem Solving (STEPPS) to Address Problems in Emotion Regulations in Adolescents."
October 2016: Congrats Claire, who passed the TSBEP Jurisprudence exam at the doctoral level.
September 2016: Congrats Claire, who passed the EPPP at the doctoral level.
September 2016: Congratulations Salome, who was nominated as the Secretary to the ISSPD. 
September 2016: Tyson opened a practice, Psychology Houston, PC, with other practicing psychologists in Houston, TX! This practice specializes in cognitive behavioral interventions. Congratulations!
August 2016: Congrats Carolyn, who accepted a position at UTHealth.
July 2016: Allison and Will began their clinical internships at Yale and MUSC!
June 2016: Congrats to Kristin for proposing her Master's thesis.
June 2016: Congrats to Salome for defending her Master's thesis.
April 2016: Carolyn successfully defended her dissertation entitled The effects of intranasal oxytocin on social cognitive functioning in adolescents with borderline personality disorder compared to a sample of non-clinical adolescents. A wonderful achievement indeed, soon-to-be Dr. Ha!
April 2016: Carla was awarded the NASSPD Mid-Career Investigator Award at this year's NASSPD conference!
April 2016: Salome was awarded the James Leslie McCary Award at the first annual clinical psychology research showcase at UH, congrats!
April 2016: Congratulations to Julia for being awarded the Laurie T. Callicutt Scholarship!
March 2016: Congratulations to Tanveer who accepted her offer to attend the clinical psychology doctoral program at the University of North Texas!
March 2016: A warm welcome to Francesca Penner who will be joining the lab as a member of the 2016-2017 class!
March 2016: Tessa accepted her offer to attend Sam Houston State University's clinical psychology doctoral program. Well done, Tessa!
February 2016: Congrats to Claire for passing comprehensive exams!
February 2016: Congrats to our 4th year students on their fantastic internship matches! Allison is going to Yale and Will is going to Charleston Consortium (MUSC).
Books Co-authored by Dr. Sharp