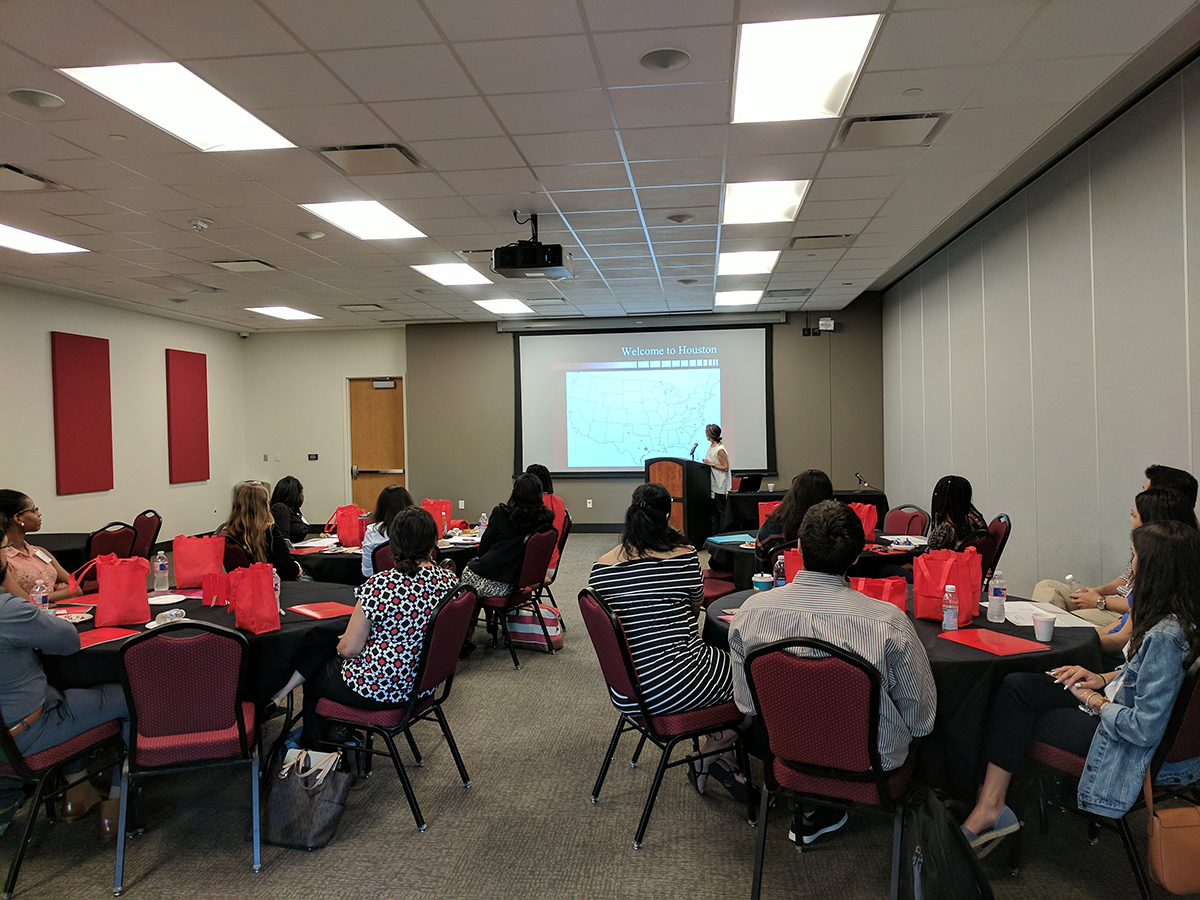 The Department of Psychology at the University of Houston recognizes that the most successful scholars and professionals come from a wide range of backgrounds, cultures, and educational settings, and that recruitment efforts targeting students from disadvantaged and/or under-represented groups increase the likelihood of recruiting the most exceptional individuals for doctoral training in psychology.
To address this issue, the department hosted an event titled, "Stepping into Graduate School in Psychology." It was a unique event dedicated to advancing and celebrating diversity and inclusion in psychology.
Prof. Candice Alfano, Chair of the Diversity and Inclusion Committee within the department organized the effort with the support of the committee and department chair, Prof. Jack Fletcher. Senior undergraduate, post-baccalaureate, and Master's students with a strong interest in conducting diversity research were invited to apply to attend the event. Twenty exceptional, prospective doctoral students from across the U.S. were selected to receive travel reimbursement to attend the full-day program where they received hands-on assistance in developing a competitive graduate school application, listened to the diverse career paths and personal stories of current graduate students, learned about diversity-focused research projects taking place in the psychology department, and participated in a diversity workshop conducted by the Center for Diversity and Inclusion.
Attendees also had opportunities to interact with faculty and graduate students throughout the day, and out-of-town attendees were provided overnight accommodations with a current doctoral student in the program matching their interests.
"I think this event was important because we need to have more diverse voices in science," says Dr. Rodica Damian, assistant professor of psychology and one of the members of the Diversity and Inclusion Committee. "As a creativity researcher, I often find in my studies that diversity is related to more creativity, the reason is that when people have diverse identities, they also have diverse ideas and that is excellent for creativity regardless of your domain of achievement. In other words, beyond social justice, diversity is actually good for science."
Following "Stepping into Graduate School in Psychology," attendees provided consistent feedback that UH now ranks among their top choices for doctoral training in Psychology.