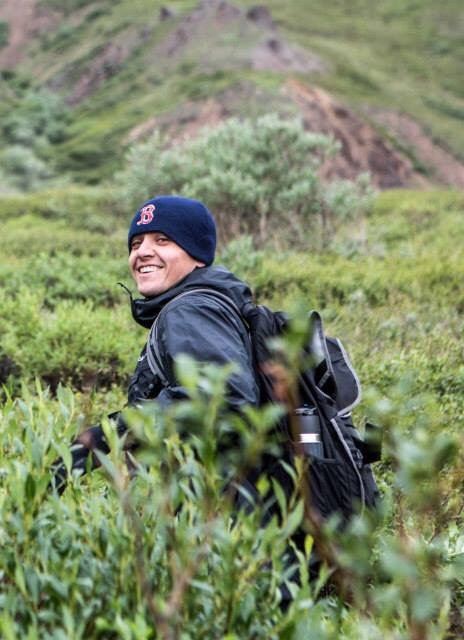 For Nathan Parker, researching how to help individuals diagnosed with pancreatic cancer is, in part, a personal quest.
After losing his grandmother to the disease, he wanted to learn all he could about pancreatic cancer. So, Parker took a position as a graduate research assistant in the Department of Surgical Oncology at MD Anderson Cancer Center while he was a graduate student at the University of Texas School of Public Health pursuing his Master's degree in Public Health.
"After my grandmother's death, it was important to me to learn more about the disease," says Parker. "Initially, my role at MD Anderson was to extract data from medical records to help maintain a database of patients who were undergoing therapy for pancreatic cancer."
Parker became increasingly interested in physical activity promotion and energy balance research throughout his Master's program and, in 2012, he began researching Ph.D. programs that would allow him to pursue his research interests.
"I found that there were excellent researchers in the department of health and human performance at the University of Houston. I met with some of the faculty to discuss my research interests and decided the Ph.D. program in kinesiology would be a great fit," says Parker. "I was excited to work on community-level projects promoting healthy eating and physical activity that professors like Dr. Dan O'Connor, professor and chair of the department of health and human performance and Dr. Rebecca Lee, adjunct professor of health and human performance, were implementing."
Parker believes this program within the UH College of Liberal Arts and Social Sciences was ideal, because he was able to work towards his Ph.D. under the mentorship of outstanding faculty while maintaining his relationship with a clinical research group at MD Anderson Cancer Center. During Parker's first few years in the Ph.D. program, these researchers became interested in developing strategies to improve patients' fitness and physical functioning leading up to surgery. Parker was able to build his dissertation project upon a developing study, led by Dr. Matthew H.G. Katz of the MD Anderson Department of Surgical Oncology, examining the feasibility of "prehabilitation" (preoperative exercise) among patients with pancreatic cancer.
"Dr. Katz knew I was interested in energy balance and cancer, so he sought my help with designing and evaluating a home-based exercise program for patients undergoing preoperative treatment for pancreatic cancer," says Parker. "My dissertation research project has involved measuring physical activity among patients participating in the program during different preoperative phases (chemotherapy, chemoradiation, and a 'rest' period before surgery) using accelerometers."
Parker also incorporated survey measures into his research to help him understand socio-ecological factors that may influence a patient's ability to exercise, like support from family and friends and neighborhood walkability.
"I have always been extremely impressed with Nate's abilities, achievements, and commitment to excellence," says Dr. O'Connor. "His innovative, translational dissertation research ties together several aspects of his training here at UH and applies the knowledge and skills to patients with pancreatic cancer."
As he neared completion of his doctoral degree, Parker was awarded a Dissertation Completion Fellowship from the College of Liberal Arts and Social Sciences. Because of the relief from research assistantship duties that the fellowship provided, Parker was able to concentrate on completing his dissertation.
"The fellowship has been a huge help in allowing me to finish my dissertation project and graduate this semester. It's allowed me to focus on processing and analyzing data and writing the manuscripts that make up my dissertation," says Parker.
After graduating this month, Parker plans to pursue additional research experience through a postdoctoral fellowship in behavioral science.
"Then, I hope to attain a professor position so that I can conduct research and teach in a university setting. I aim to foster collaborations with hospitals and community organizations so that I can continue to find ways to incorporate formal exercise programming into care for cancer survivors and to improve health and quality of life for older adults through physical activity," says Parker.
"Nate's work ultimately has real potential to influence how we provide care for patients with cancer to improve outcomes and quality of life. I am very proud to have worked closely with Nate for the last five years, and I am confident he will soon be a thought leader and prominent applied health scientist," says Dr. O'Connor.
- Monica Byars