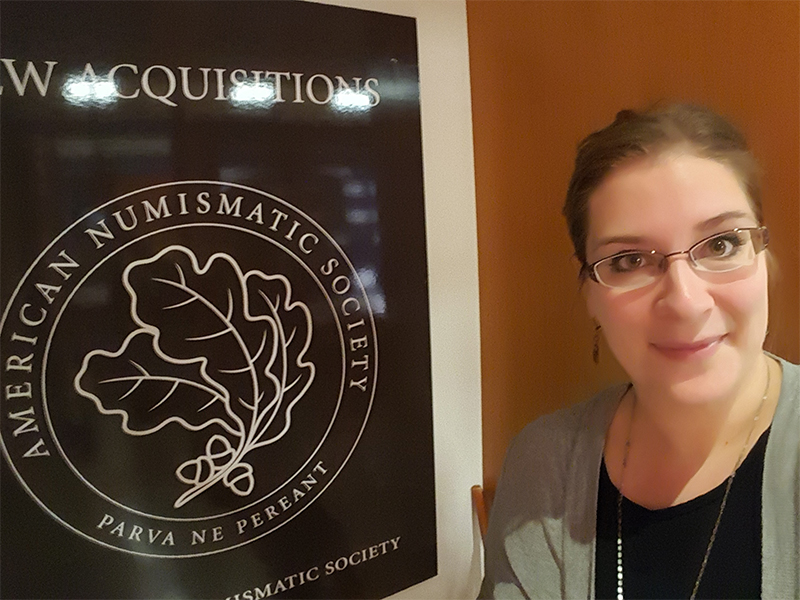 Tara Sewell-Lasater's interest in ancient history started in grade school.
"I have always been interested in Egypt," she says. "I did a project on the female pharaoh Hatshepsut when I was in 5th or 6th grade, and ever since then I knew I wanted to be a historian."
Today, Sewell-Lasater is working towards her Ph.D. in history. This summer, she had the unique opportunity to get up-close-and-personal with some ancient artifacts thanks to the Eric P. Newman Graduate Seminar in Numismatics. During her two month fellowship in New York City, she had access to coins that dated back to the 7th century (600s) BCE.
This year was the 63rd Eric P. Newman Graduate Seminar in Numismatics. Annually, the organization selects a few graduate students and junior faculty members and allows them the opportunity to work hands-on with its preeminent numismatic collections. The eight-week course introduces students to the methods, theories, and history of the discipline.
"As part of the seminar, I completed a die study," says Sewell-Lasater. "In a die study you gather all the examples of a coinage that you can find, and compare it, in order to find out how many dies were used to mint the coinage (dies are used in the minting process, they are the metal stamps that stamp the image on the coin). Figuring out the number of dies used can tell you about how many coins were produced, over what period of time, and with how much material."
Sewell-Lasater says that with that knowledge, researchers will learn about the economy of the period and the power of the issuing monarchy.
"The coinage I researched was of the Ptolemaic queen, Berenice II (r. 246-221 BCE). She is a very interesting figure, and her gold and silver coinage had never been die studied before. I had some very interesting results that I hope to publish in the American Journal of Numismatics in the next year," she says.
Here at CLASS, Sewell-Lasater is studying ancient history. She earned a B.A. in history and a second B.A. in archeology from Baylor University.
"I did my field research for the archaeology degree with the Anglo-American Project in Pompeii with the University of Bradford, UK. For that program I spent about two months working at the Roman site of Pompeii, Italy," she says.
She went on to earn an M.A. in history from the University of Texas at San Antonio. Her research for that degree focused on the Pharaonic period in Egypt.
After earning her Master's degree in ancient history, she decided to take a break before working on her Ph.D. During her break, she taught courses at small colleges around Texas.
When it came time for her to pursue her Ph.D., her desire to join UH's history program aligned with her husband's job transfer to Houston.
"It was serendipitous for us both! I knew UH had a great history program and I really wanted to work with Dr. Frank Lee Holt, who is renowned for his work on Alexander the Great and the Hellenistic period," she says.
Dr. Holt had attended the Eric P. Newman Graduate Seminar in Numismatics as part of the 1980 seminar. Sewell-Lasater says that he had great things to say about the seminar overall, so his opinion, along with encouragement from her advisor, Dr. Kristina Neumann, solidified her decision to apply.
"The seminar was beneficial for several reasons," says Sewell-Lasater. "First, I learned SO much. I learned about, not only the coinage of the period I study, but many periods, that I will use for the rest of my career. Second, I made many connections, both socially and professionally. The other students that I attended the seminar with were all wonderful people that I hope to stay friends with and see at conferences and other academic functions."
"Finally, I aim to publish the research I conducted at the seminar. That will be good for me because academics need publications on their CV, but it will also be important to my field since a die study has not been previously conducted on the gold and silver coinage of Berenice II."