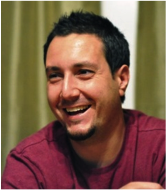 What's the next step after earning a graduate degree in creative writing?
Devote yourself to writing poetry, fiction or creative non-fiction full-time and pay the bills with part-time jobs? Use your doctorate or Master of Fine Arts to pursue a career in academia? Put your writing skills to work for nonprofits and promote worthy causes? Take your talents to Corporate America?
Giuseppe Taurino, a UH Creative Writing Program (CWP) alum and current assistant director of the program, discussed a variety of career paths for people who earn an MFA or PhD in  Creative Writing during a panel discussion at the annual conference of the Association of Writers & Writing Programs (AWP) held recently in Los Angeles.
"When a student graduates with a MFA or a PhD in creative writing, there are not many tenure track positions available," says Taurino. "I wanted to explain that there are other career options for graduating students to consider that will allow them to use their degree and earn an income."
Taurino's presentation was titled, "Mapping Collaboration between Universities and the Community." He and his fellow moderators discussed how their campus-based programs provide students with real-world experience in an effort to prepare them for life after the MFA while also fostering connections between the university and local institutions.
Taurino comes to this knowledge, in part, through personal experience. After graduating from CLASS with an MFA from the CWP, he worked in various capacities for various organizations – including as a writer-in-residence with Writers in the Schools (WITS) Houston, as Executive Director of Badgerdog Literary Publishing in Austin, and as the Manager of Capacity Building Initiatives for the Houston Arts Alliance.
 "I've had experience as an administrator, executive director and in funding for various organizations," he says. "Now that I'm at UH, I have experience and knowledge about different organizations and career options to share with students."
As assistant director of the CWP, Taurino and the staff of the CWP work to ensure the program has strong ties with community arts organizations that can provide graduate students with hands-on opportunities outside of academia to explore potential careers. Currently, the CWP partners with several Houston-area organizations including Writers in the Schools, Inprint and UH's Cynthia Woods Mitchell Center for the Arts.
In addition, CWP faculty and staff encourage students to network among professionals in their industry. One way they do that is to fund students' trips to the AWP conference each year, giving them an opportunity to meet working professionals in their field.
Taurino was one of over 40 CWP alumni, students and faculty to serve as panelists, speakers and other experts as part of the conference's agenda.  The complete listing of CWP-related AWP events can be found here.
"The conference of the Association of Writers & Writing Programs is 'the' conference for writers," says Taurino. "As a major player, it is imperative that CLASS has a large presence at this event every year. The fact that so many CLASS-affiliated individuals are invited to participate and speak at this conference speaks to the success of our CWP."
- By Monica Byars