America Jauregui – B.A. in French and Italian Studies
Double major graduate plans to become a translator to assist other immigrants to the United States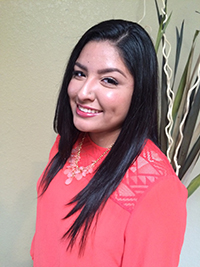 The birth of their first child prompted the parents of America Jauregui to do two things – name the baby girl after her father, Americo, and move from Mexico to the United States of America.
A year later, America and her parents were in Houston.
In her home, only Spanish was spoken. But when she entered elementary school, she quickly learned English and how to separate it from Spanish in her bilingual brain.
"Growing up I was complimented by several people on my Spanish, because even though I grew up in the United States, I didn't mix Spanish and English while speaking," she recalls.
Her facility with language continued to expand in middle school when Jauregui began studying French. Her love for and ability to speak romance languages increased in high school when she continued to study French and added Italian.
She graduated on May 15 with two Bachelor of Arts degrees in French and Italian Studies.
"I am now going to be the first person in my entire family to graduate from an American university," says Jauregui. "With Spanish being my first language and being fluent in English, I decided that studying French and Italian would help me one day to become a translator/interpreter. In the future I want to learn more languages, including Arabic and Vietnamese."
Her goal as a translator and interpreter is to ease the transition of other immigrants to the United States, especially those who arrive without all of their documents submitted and approved as she did.
In June 2012, President Obama announced that his administration would accept requests for Deferred Action for Childhood Arrivals (DACA), an initiative designed to temporarily suspend the deportation of young people residing unlawfully in the U.S. who were brought to the United States as children, meet certain education requirements, and generally match the criteria established under legislative proposals like the Development, Relief, and Education for Alien Minors (DREAM) Act.
Jauregui has submitted DACA paperwork, which allows her to address her immigration status at the same time she is graduating from college and starting her career.
"DACA changed my life for the better," she says. "It gave me the ability to get essential documents such as my driver's license. I am able feel secure in this country instead of feeling afraid."
On campus, Jauregui worked at the Language and Culture Center as a Conversation Club guide. In that role, she worked with groups of foreign students who were studying English as a Second Language. Guides ask questions to the students in order to promote speech and develop their English speaking abilities.
"Events are also held to interact with the students and build friendships with these extraordinary people who come to UH from all over the world," she says.
"America is a strong, silent person who delivers," says Alessandro Carrera, director of Italian Studies. "In class, she would be listening rather than asking, but I rarely had students who are as dedicated and hard-working as she is."
"I am now going to be the first person in my entire family to graduate from an American university," says Jauregui. "I have my roots in Mexico but a strong attachment to the United States."
- By Monica Byars