Student Spotlight: Hadill Calderon, Political Science major
Study-away programs and on-campus opportunities enrich her Calderon's classroom education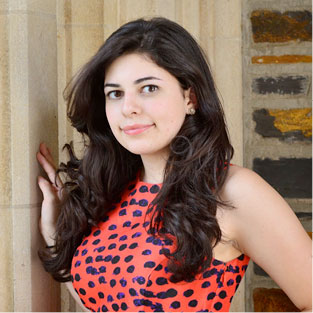 As a political science major, Hadill Calderon is learning almost as much off campus as she is on campus.
She spent last semester in Austin, participating in the Texas Legislative Internship Program at the Texas Criminal Justice Coalition. She followed that up with a summer enrollment in the Ralph Bunche Summer Institute at Duke University in Durham, N.C. She came back to Houston to spend the second half of this summer participating in the UH Summer Undergraduate Research Fellowship program.
"I hope to eventually pursue a career in research work and these recent opportunities helped further cement my love for political science and the study of answering questions within this field," said Calderon.
Calderon arrived at UH with an Academic Achievers Scholarship from the  Center for Mexican American Studies. The scholarship program was established in 1994 to recruit underrepresented students and propel them towards graduation. Students who are accepted into the AAP program are eligible to receive a $12,000 four-year scholarship.
She also garnered funding to attend the Duke University's Ralph Bunche Summer Institute this summer from June 1 to July 3. Calderon was one of 20 students from across the country given the opportunity to look at the world of graduate study via the RBSI. As a participant, she took two transferable credit courses, one in quantitative analysis and one in race and American politics, and was introduced to the intellectual demands of graduate school and political science research methods.
Now, as a burgeoning researcher, Calderon is applying what she learned at Duke this summer, as well what she is learning in the classroom from CLASS's faculty, to her own research.
"I recently took a 'Women in Politics' course and was interested in seeing how the material I learned might be reflected in current campaigning. Luckily, I was able to meet Dr. Elizabeth Simas and she helped guide me into making this research topic a reality," said Calderon.
Calderon and Dr. Simas, assistant professor of political science, designed a research project for Calderon's SURF project that focused on the question of how gender stereotypes affect the way electoral candidate's campaign. This was measured by collecting the webpage data of 265 political candidates across seven states, and analyzing whether there is any gender bias within their campaign strategy.
"The results of the research helped show that Democratic women, unlike their male counterparts, discuss a significantly larger amount of women's issues. This finding is important in that it supports that candidates may use gendered campaigning strategies in order to stand out from other party members," said Calderon.
"Hadill is one of the most ambitious students with whom I have worked.  She is very intellectually curious and has a true interest in this subject matter," said Dr. Simas.
Her Texas Legislative internship last semester in Austin gave Calderon first-hand experience with politics and politicians. TLIP is an educational internship program sponsored by Senator Rodney Ellis which provides opportunities for undergraduate and graduate students to serve as interns in the Texas Legislature, various state agencies, and local government.
 "All of these experiences have given me a hands-on look as to what graduate school – and my future – may really look like," Calderon added.
"With her dedication and demonstrated abilities, I am confident that Hadill will be successful at anything she chooses to pursue," said Simas.
- By Monica Byars