Capital punishment abolishment advocate Sister Helen Prejean speaks Oct. 6
Prejean to deliver speech entitled "The Death Penalty and Prison Reform in Texas" in Honor Commons College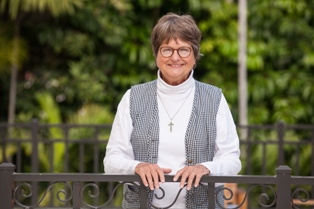 Sister Helen Prejean, whose book "Dead Man Walking: An Eyewitness Account of the Death Penalty in the United States" sparked a national dialogue about capital punishment, will discuss "The Death Penalty and Prison Reform in Texas" as part of the Hobby Center for Public Policy BB&T Speaker Series. 
The event is planned for 4 p.m., Monday, Oct. 6 in the Honors College Commons. The lecture is free and open to the public and is co-hosted by the Hobby Center for Public Policy and the Honors College's Phronesis Program.  
Sister Prejean is a Roman Catholic nun and member of the Congregation of St. Joseph religious order. She's a native of Louisiana and was living in New Orleans and working at Hope House, a center offering assistance to public housing residents when she began to correspond with death row inmate Patrick Sonnier. She later became his spiritual adviser.
Her book chronicling her experiences from meeting Sonnier through his execution is the basis for  an Academy Award-wining movie, an opera and a play.
Sister Prejean has since accompanied six death row inmates to their executions and continues to speak out against the death penalty as one of the great moral issues facing the United States of America. 
The BB&T Speaker Series convenes nationally renowned scholars and leading professionals to discuss timely policy and ethical issues.
For more information on the BB&T Speaker Series, visit: http://www.uh.edu/class/hcpp/civitas/speaker-series/
WHO: Sister Helen Prejean, death penalty opponent
WHAT: The Hobby Center for Public Policy BB&T Speaker Series
Featuring Sister Helen Prejean discussing "The Death Penalty and Prison Reform in Texas"
WHEN: 4 p.m., Monday, Oct. 6
WHERE: UH Honors College Commons, Second floor of the M.D. Anderson Library, Entrance One off Calhoun For directions and parking information, visit http://www.uh.edu/maps/buildings/?short_name=l