Tier One Medallion – sign of success at journey's end
CLASS student Katylyn Degner among the first Tier One Scholars to graduate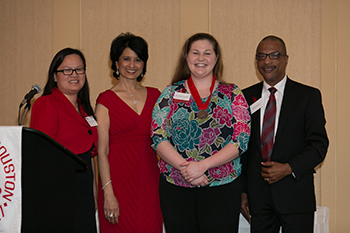 When Katylyn Degner graduates in May, she will have completed her bachelor's degree in three years with the help of one of the most prestigious scholarships the University of Houston awards to incoming freshmen. Degner is a member of the inaugural class of students who entered UH in fall 2010 with a Tier One Scholarship.
To mark her upcoming graduation, Degner was recently presented with a Tier One Medallion during the annual Tier One Scholars banquet held last month. The other three recipients of the Medallion that evening were students in the College of Pharmacy.
"The medallion is an award for their competitive selection as a recipient of the Tier One Scholarship and for their achievements as a Tier One Scholar," said Dr. Veronique Tran, Tier One Scholars Coordinator and Director, Learning through Discovery.
In 2009, UH received an anonymous $7 million donation to establish a scholarship program designed to attract high-achieving students. Chancellor and President Renu Khator used this opportunity challenge the community to also donate to this initiative, creating individual scholarship endowments of at least $50,000. The Tier One Scholarships are a result of these endowments.
In the fall of 2010, 39 freshmen – including Degner – had the opportunity to attend UH with all tuition and mandatory fees for four years of study fully covered as part of the Tier One Scholarship program. In addition, scholarship recipients receive two years of on-campus housing, a meal plan, a stipend to support undergraduate research, a stipend to support study abroad, and other benefits.
"I am not sure I would have been able to afford school without the scholarship," said Degner. "It made it possible for me to be able to just work enough to pay my personal bills. I could focus on school without incurring massive student debt."
The Tier One Scholarship is only available to first-time-in-college freshmen who apply and are admitted to UH the fall semester immediately following their high school graduation. Eligibility requirements include a ranking in the top 10 percent of their high school class, a minimum SAT score of 1300, and the student must be a U.S. citizen, permanent resident, or hold a temporary resident card.
The College of Liberal Arts and Social Sciences has had a number of Tier One Scholars since the program's inception in 2010. Ten of the 58 Tier One Scholars who entered UH in 2012 are CLASS students, with majors ranging from music education to kinesiology.
Degner majored in anthropology and minored in sociology through CLASS. Because she was part of an International Baccalaureate program in high school, Degner entered UH with 30 credits. She took 15 hours a semester in order to graduate in three years.
"Each semester I chose a balance of easier and more difficult courses and established early in the semester which classes needed more attention," said Degner. "I am also super organized and keep a master list of the readings and assignments due for each class on a spreadsheet each semester, so I try my best to worry about one thing at a time."
"Katylyn is someone who I found to be a diligent student," said Landis Odoms, Anthropology Academic Advisor. "She has been quite focused and determined. Her enthusiasm towards her degree has been exciting and she also is someone who makes her education a priority. Katylyn has been a pleasure to work with as one of my students."
In addition to being very organized, Degner also credits her husband for "picking up the slack" so that she could focus on her schoolwork as well as maintain a job to pay for her remaining expenses and financially contribute to their household maintenance.
With graduation approaching, finding a new job has been Degner's latest challenge.
"I am looking into jobs in community outreach, human resources and marketing," said Degner. "I would be open to going to graduate school, but since I am not sure yet what my career will be I thought that it would be silly to start graduate school without knowing what my focus should be. It is possible that after I begin my career I will start graduate school."
~ by Monica Byars