Raindrop Foundation honors Dean Roberts with Turquoise Award
Nonprofit founded by Turkish Americans salutes CLASS commitment to Turkish studies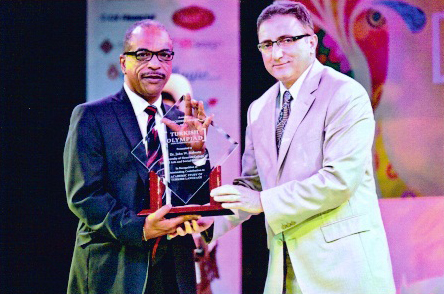 Dean John W. Roberts has been awarded by the Raindrop Foundation the Turquoise Award for his contributions to the academic study and promotion of the Turkish language.
The prestigious honor recognizes Dean Roberts efforts to grow the Turkish language and cultural studies offerings within the College of Liberal Arts and Social Sciences.
Previous recipients of the Turquoise Award are Chancellor and President Renu Khator, former Provost John Antel, Houston Community College System Chancellor Mary Spangler and Austin School District Superintendent Maria Carphastein.
Founded by Turkish-Americans in Houston in 2000, the Raindrop Foundation is a non-profit educational, charitable, social and cultural organization operating in eight states – Texas, Arkansas, Kansas, Louisiana, Mississippi, New Mexico, Oklahoma and Tennessee.
The foundation's mission is to contribute to global peace at the grassroots level by sharing Turkey's heritage of tolerance and understanding. It pursues this mission by organizing and sponsoring Turkish and English as a Second Language classes, study-abroad programs, cuisine courses, Turkic culture festivals and academic competitions.
The Turquoise Award was presented to Dean Roberts as the culminating event of the Turkish Language and Culture Olympiads of Southwestern States in America.
The Olympiads were started to motivate K-12 and college students to learn Turkish as a second or third language. Turkish is listed as one of the critical languages under the National Security Language Initiative, an interagency effort involving the U.S. Departments of State, Education and Defense and the Office of the Director of National Intelligence.
The winners of the Olympiads represent the United States in an international Olympiad held annually in Turkey. They spend two weeks in Turkey with students representing more than 135 countries.