Tell Me What You Want to Hear
CLASS communication students, faculty and staff featured in art exhibit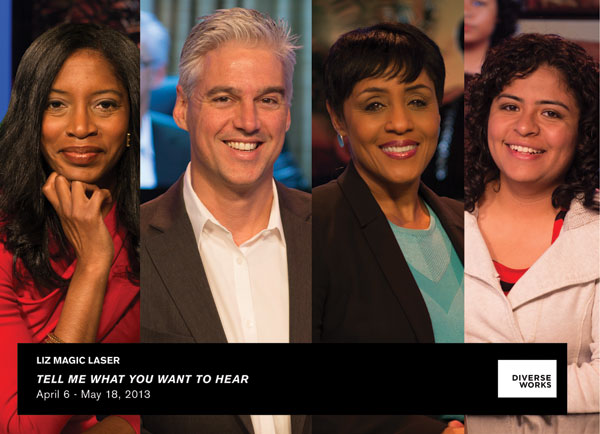 Contemporary artist Liz Magic Laser's latest installation, Tell Me What You Want to Hear, examines and dissects the television interview.
She uses the multi-channel video production to explore the differences between public speaking and performance, persuasion and manipulation, informing and influencing. The work will be on display until May 18 at DiverseWorks Art Space, 4102 Fannin.
To help her question television's ability to transform a person into a performer, Laser enlisted the help of CLASS communication students, faculty and staff.
Broadcast journalism major Lizette Garcia is featured performer in the piece, as well as CLASS Communication Director Shannon Buggs.
Students in Professors Keith Houk and Randy Polk's courses videotaped and edited in real time the performers at the Valenti television studios on camera and off, as well as a live audience in a separate location for the multi-channel video installation.
Each person involved in the project had work to do and a part to play in the piece's creation – and was videotaped at some point during the year-long creation performing that role.
Here, some of the participant performers from the Jack J. Valenti School of Communication  share their experiences in their own words:
Keith Houk, Instructional Assistant Professor:
I first heard about the project back in August when Karen Farber, the director for Cynthia Woods Mitchell Center for the Arts, invited me to meet with DiverseWorks and Liz Magic Laser last year. I was excited by the opportunity to work with Liz on an examination and deconstruction of the interview process. I knew that it would be a way to get my students to take their practical production knowledge and apply it in a manner that would be very foreign to them.
I enlisted a group of five students to enroll in a Media Production course structured around the completion of this project. Knowing what was going to be involved, I enlisted the help of my colleague Randy Polk.
The students dedicated themselves to the task with an enthusiasm and skill level that made me really very proud as a professor. It presented an array of challenges and they tackled them with true professionalism.
We managed to have a live conversation between a panel in the studios in the Jack J. Valenti School of Communication and an audience at the gallery space at DiverseWorks in midtown with no hiccups and little to no budget. It was an exercise in creative problem solving and innovative thought.
Professor Polk's work with a group of volunteer students at the Valenti Studios was invaluable and freed me up to worry about the remote location.
Then we were able to take all the footage shot on Wednesday night, edit it together, and create three individual HD projections by lunch on Friday. I encourage everyone to swing by DiverseWorks on Fannin and see the final installation of Liz Magic Laser's "Tell Me What You Want to Hear." Liz Magic Lazer has done several works involving an examination of Television and Television News. Her work has been seen internationally and I'm happy we could contribute to this project and that our students were such a major factor in the success of the final work.
The students involved were Mike Haimoto, Brianna Leigh Morrison, David Vaughn, Sahara Pecot and Arin Stephen.
Brianna Leigh Morrison, a senior majoring in Communications – Media Production:
As students in a special problems course directed by Keith Houk, five COMM seniors got to participate in Tell Me What You Want to Hear from the start.
We planned the visual layout for the initial conference/meeting. We had to execute the interview lighting and camera setup based on Liz's ideas. We did quite a bit of editing in between the first meeting and the live show. And finally, we were the live crew at the DiverseWorks location.
When we signed up for the class, we knew we'd be getting real world experience, but I don't think we understood the extent of how realistic this project would be.
I definitely learned a lot about communicating with people who don't speak the same "media language" that I do. There were plenty of situations that stretched my critical thinking and fast-paced problem solving, especially at the live show. This aspect was the culmination of Liz's project.
We knew in advance that there were plenty of things that could go wrong the night of the show. That's what makes the day of production so exciting! And yes, there were a few stumbles, but none of the technology failed, and every student did his or her job to the best of his or her ability. Tying everything together was successful and satisfying for the whole team.
Liz was excited about the end product, and it was our job to make that happen.
Randy Polk, Instructional Assistant Professor:
Our association with DiverseWorks and the artist Liz Magic Laser was a great opportunity for our students at all skill levels of Media Production at the Jack J. Valenti School of Communication.
We invited students from freshman and sophomore classes to observe the process for the shoot and, in many cases, we put them to work on the show in various production assistant positions.
Because this was a professional event that was above and beyond any regular classroom (or studio) assignment, the upper classmen and women served as my primary crew. They became very excited as we approached our rehearsals and production date.
There is something about an "event" taping, one that is going to happen just once and at a specific time that you only have one chance to get, as opposed to a classroom exercise that excites and focuses the mind like nothing else in this business.
It is terrifying and exhilarating all at once!  I have had many of the students involved come to me since we finished this project, saying that "it was so exciting working on something so real!"
DiveseWorks and Liz Magic Laser gave us this chance and I am very proud of how my students handled the opportunity. 
Lizette Garcia, a junior majoring in Broadcast Journalism:
I was one of the people selected to be the on-screen participants in the project. I talked about wanting to be a television journalist in a workshop session, again during media training sessions, and, finally, on a television set during a live taping.
The coolest thing of this experience was the actual filming because it gave me a taste of how my career can be once I graduate from UH.  It definitely left me with a stimulating boost of energy and the determination to be a television journalist.
I'm not going to lie – it was nice seeing myself in video. I can get used to that. I realize from this experience that I have to double the time I put into my studies so I can get where I want to be in my future career.
Overall, I really enjoyed participating in this project and meeting Liz Magic Laser, Mustafa, Nick, Shannon, Linda and Maurice. I'm really thankful that Professor Polk suggested me for this project and introduced me to everyone.
Tell Me What You Want to Hear
By Liz Magic Laser
April 6 – May 18
DiverWorks  Art Space
4102 Fannin, Suite 200
Houston, Texas 77004
(entrance on Cleburne between Fannin and Main)
Gallery Hours: Noon – 6 p.m., Wednesday – Saturday
Free admission         
Related Links