Summertime is the right time for research
CLASS undergrads spend summer conducting research projects with professors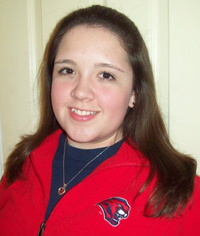 Rather than slow down their academic work during the summer, 18 College of Liberal Arts and Social Sciences undergraduate students spent their summers poring over research materials as Summer Undergraduate Research Fellows.
Among them was Katherine Teeters, a political science major who delved into the question of whether or not nationalism works with liberalism with guidance from Jeffrey Church, Assistant Professor of Political Science at CLASS.
"I was very interested in pursuing undergraduate research so I approached Dr. Church," said Ms. Teeters. "He was a fantastic person and was willing to allow me to work with him as he conducted his research on nationalism."
The Summer Undergraduate Research Fellowship program, known as SURF, is sponsored by the Provost's Office, the Division of Research, and the Honors College. This year a total of 56 undergraduates from across the university participated in the program.
"This type of student engagement has a positive effect on retention rates," said Karen Weber, Director of the Office of Undergraduate Research at The Honors College. "In fact, of the students who participated in a mentored research project between 2002 and 2005 supported through the Office of Undergraduate Research, 92% graduated within six years."
The program began nearly 10 years ago and was specifically designed for students in the early stages of their academic career.  Students who take part in SURF spend a summer performing inquiry-based research under the guidance of an experienced advisor.
Typically, the SURF participant serves as a research assistant, working on one part of a faculty member's larger research project. As part of the program, students also attend a weekly "brown bag" lecture series, where - over lunch - they learn about research ethics, the application process for graduate school, the mechanics of creating a presentation poster and other topics designed to help students succeed in academic and post-college careers. 
 "Having done an honors thesis as an undergraduate myself, which qualifies as faculty-mentored research, I know how important getting involved in research as an undergraduate can be," said Sarah Fishman, CLASS Associate Dean for Undergraduate Studies.
In addition to students establishing strong professional relationships with faculty members that can assist throughout their academic careers, Dr. Fishman noted other benefits of undergraduates diving deeper into their studies through research projects:
Students use the research methods they've learned about in their disciplines.
Through research, students either create new knowledge on their own or contribute to the advancement of knowledge by working on a faculty-led project.
Doing research as an undergraduate provides excellent preparation for the future, whether the student intends to move on to a job, professional school, or graduate school in the field. 
"The research experience requires a student to develop skills, work independently, problem-solve, figure out how to answer questions, where to find information, how to communicate those findings. These are skills beneficial to everyone," Dr. Fishman said.
SURF culminates annually in October, on Undergraduate Research Day, at an event where students present research posters and give oral presentations to other students, faculty and staff. This year, Undergraduate Research Day is Thursday, October 11. Presentations will be made in the Rockwell Pavilion in M.D. Anderson Library.
Ms. Teeters is preparing an essay and a poster to display during Undergraduate Research Day. However, summer does not mark the end of her research in this subject.
"It has been a great experience and involved a lot of reading," she said. "As far as conclusions, I'm not sure where I stand yet, but in the fall I am looking forward to doing another research project on this same subject."