David Phillips appointed Associate Dean of Faculty and Research
Professor of Philosophy to lead CLASS efforts to increase external research funding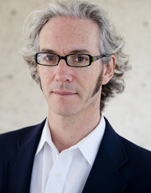 Dean John W. Roberts has appointed Dr. David Phillips to the position of Associate Dean of Faculty and Research for the College of Liberal Arts and Social Sciences.
"I am delighted that David Phillips has accepted this position," Dean Roberts said. "As a successful scholar and teacher in the College, he understands what it takes to be a successful academic. I know that he will work hard to create new opportunities for faculty to secure funding and other resources to support their research and to generally promote scholarly excellence among the faculty."
Dr. Phillips succeeds Dr. Kathleen Brosnan, who inaugurated the position in 2011 when Dean Roberts created it to increase the College's amount of external research funding. Dr. Brosnan, an environmental historian, left UH this summer to accept an endowed chair in the Department of History at the University of Oklahoma.
"As I see it, the role of the Associate Dean for Faculty and Research has three essential components: promoting the professional development of our faculty, helping build our research and funded research profile, and getting out the word about all the exciting scholarship going on in the college," said Dr. Phillips.
Last year, Dr. Phillips was the recipient of a grant from the National Science Foundation. The nearly $300,000 grant will allow UH to introduce a three-tiered science ethics program. The first stage is theoretical and details the moral issues and principals relevant to research ethics. The second tier is an exploration of famous cases studies in science ethics. The final level is an ethics seminar with an emphasis on peer review and human/animal experiments – two cornerstones of modern research life. The grant is funded through August 2014.
A native of Hereford, England, Dr. Phillips received in 1986 a bachelor's degree with first class honors in Philosophy, Politics and Economics from Lincoln College, part of the University of Oxford in the United Kingdom. He earned from Cornell University in Ithaca, N.Y. an M.A. in Philosophy in 1989 and a Ph.D. in Philosophy in 1993.
Upon completing his studies in upstate New York, Dr. Phillips moved to Houston to join the College's faculty as an Assistant Professor in the Department of Philosophy. He earned tenure and was promoted to Associate Professor in 1999. Earlier this year, he was promoted again to a full professorship.
Dr. Phillips' research on ethics focuses on the history of ethics and metaethics, the branch of ethics studies that seeks to understand the nature of moral reasoning.
His book, "Sidgwickian Ethic" was published by Oxford University Press in October 2011. His current work, "Sympathy for the Error Theorist: Parfit, Mackie, and Williams" is presently under review at Ethical Theory and Moral Practice. In addition, Dr. Phillips' articles have appeared in top journals including The Journal of Philosophy and Philosophy and Phenomenological Research.
~Written by Monica G. Byars