Sustaining Life
Houston premiere of red, black & GREEN: a blues presented by the Cynthia Woods Mitchell Center for the Arts, Nov. 4 & 5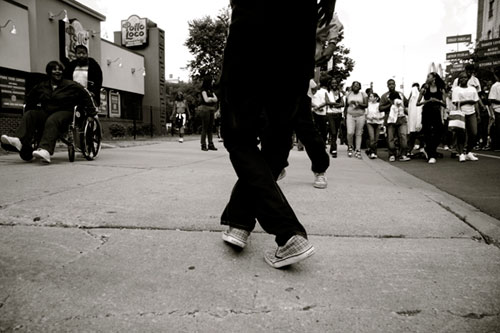 How do we sustain?
Our lives, our homes, our neighborhoods, and our planet – how do we sustain them?
Red, black & GREEN: a blues, a new multimedia performance work by poet playwright Marc Bamuthi Joseph, is an ever-evolving answer to the ecological questions consuming and challenging society.
Bamuthi brings his environmental experiment of visual art, film, spoken word and choreography to Houston November 4 and 5 at the UH Wortham Theatre on the main campus.
"I explicitly seek to present art that reflects and inspires transformation on personal and collective levels, and that constructs safe space for this transformation to take place," Bamuthi said in his artist's statement.
The performances are the culmination of a multiyear residency with the Cynthia Woods Mitchell Center for the Arts that began with conversations in 2007. In March 2009, Bamuthi presented at the Center's "Systemsof Sustainability: Art, Innovation, Action" symposium, which explored creative enterprise as an integral tool for cultural growth and social change.
Then, he and the Mitchell Center worked together to cultivate connections between Houston nonprofits focused on life-sustaining activities in under-resourced neighborhoods, including creative expression, organic gardening, health care, physical exercise, economic development, environmental advocacy and youth leadership.
Those community partners worked with Bamuthi and Youth Speaks, the San Francisco youth spoken-word organization where he serves as artistic director, to produce the eco-sustainability festival Life Is Living in Houston's Emancipation Park on Nov. 6, 2010.
Bamuthi has repeated the same grassroots arts activism in other cities to coordinate Life Is Living festivals in New York, Chicago, San Francisco and Oakland, Calif. The festivals use hip hop as an organizing metaphor to showcase traditions of recycling, reusing and revitalizing in communities of color.
It is those festivals – where folks celebrated "what sustains Life" in their own communities – that is the research and creative foundation for red, black & GREEN: a blues.
"rbG:b is a groundbreaking and powerful creation," said Karen Farber, director of the UH Cynthia Woods Mitchell Center for the Arts. "We at the Mitchell Center have been transformed by Bamuthi's amazing talent and energy over the past several years and cannot wait to see this project travel nationwide, carrying with it narratives and images of Houston."
The show tour includes stops at the Walker Art Center in Minneapolis, Museum of Contemporary Art Chicago and the Brooklyn Academy of Music in New York.  It had its world premiere in October at the Yerba Buena Center for the Arts in San Francisco.
The performance begins with an immersive onstage viewing of the installation/set designed by visual artist Theaster Gates. It is made entirely from found and recycled materials and each module/wall represents four cities where Life Is Living has taken place. The audience is invited to interact with and around the four walls that ultimately provide the framework for a small cabin when assembled together.
In addition to designing the set's modular architecture that is reminiscent of Third Ward's shotgun houses, Gates also performs in the show with Bamuthi, composer Tommy Shepherd and dancer Traci Tolmaire.
The four performers move amid the set, readjusting, rearranging and transforming the space into familiar and unfamiliar environments. The audience experience is intimate, authentic and sacred. It is clearly an honor to be an invited guest in this personal and fragile ecosystem.
A natural progression takes audience members to their seats and the performance continues as the cast tackles the complexity of sustainability. They search for meaning through passionately re-enacted narratives, conversations, songs and impressions of real life experiences with characters plucked directly from communities where an ecological crisis seems to threaten less than violent crime and inadequate education.
Some of Houston's most vibrant and vital community members shine through the words, video and choreography, including a legendary social activist, a kind-hearted patron of an urban garden network, and a man with an affinity for flowers.
The people who populate red, black & GREEN: a blues do not have quick solutions or ready answers, but they do have the will to sustain life in their communities, by any means necessary.
- Shannon Buggs and Nicole Laurent
red, black & GREEN: a blues
November 4 & 5, 2011 8:00pm (doors open for installation viewing at 7:30)
LOCATION: Wortham Theatre, Cynthia Woods Mitchell Center for the Arts, University of Houston, Entrance 16 off Cullen Blvd
ADMISSION: $20 general admission, $15 UH faculty and staff, $10 students
Information and tickets www.mitchellcenterforarts.org
Related Links