Physician and novelist gives the 2011 McGovern Lecture
Abraham Verghese's lecture helps to launch revitalized India Studies Program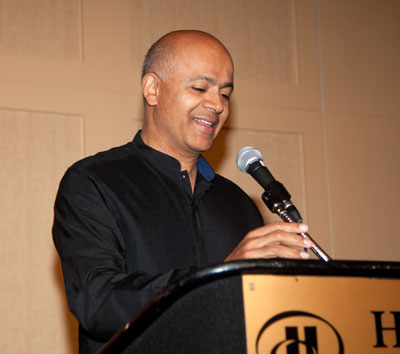 Sigmund Freud declared that "anatomy is destiny," but physician and best-selling novelist Abraham Verghese argues that "geography is destiny" for much of the world's population and that he's a good example of his thesis.
Born to Indian parents living and working in Ethiopia, Verghese grew up in Addis Ababa, worked as an orderly in the United States and completed his medical education in India. He's lived in American cities as dissimilar as Johnson City, Tenn.; El Paso, Texas; and Palo Alto, Calif.
"Like so many in the Indian diaspora, I don't just claim one country; I claim them all," said Verghese when he delivered on October 24 the 2011 John P. McGovern Endowed Lecture in Family, Health and Human Values in the grand ballroom of the UH Hilton Hotel.
"It is hard to think of anyone who crosses the boundaries between science, humanities and the social sciences — who occupies all of those countries — more fully and more influentially than Dr. Verghese," said Lois Parkinson Zamora, chair of the Department of Comparative Cultural Studies when she presented him with John P. McGovern Medal.
The McGovern lectureship was endowed in 1999 and allows the College of Liberal Arts and Social Sciences to invite speakers with notable expertise in the areas of family, health and human values to campus to provide a forum for discussion on these societal issues.
Using the Indian diaspora as the basis for his talk, Verghese charmed the audience with stories about his childhood and his formal education, which includes a medical degree and a master's of fine arts from the University of Iowa Writers' Workshop, the first creative writing degree program in the United States. In addition to serving on the faculty of the Stanford University School of Medicine, Verghese is the author of two memoirs, My Own Country: A Doctor's Story and The Tennis Partner: A Story of Friendship and Loss, as well as the novel Cutting for Stone.
"I'm a great fan of your writing program (at UH) and will now be a great fan of your India Studies Program," Verghese said. His lecture was the first major event hosted by the College's revitalized India Studies Program, which is housed in the Department of Comparative Cultural Studies.
"UH began the process of creating an India studies program almost six years ago," said Dean John Roberts. "The current initiative represents an attempt to revitalize the program due, in large part, to our continuing recognition of the importance of India as a civilization of both historic and contemporary significance in the development of world culture. It also represents the importance of the Indian community in Houston, a city with one of the largest Indian populations in the United States."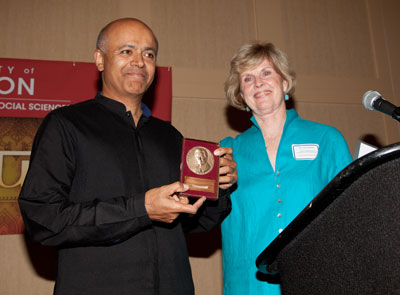 In his speech, Verghese spoke of St. Thomas building a Christian church in India long before St. Peter arrived in Rome to do the same. He drew laughs when he said Indian parents and Jewish parents present their offspring with the same career choices - "doctor, lawyer, engineer or failure."
However, he stressed that his endeavors to make sense of the globalization of Indian culture and his own multi-continental heritage does not make him anything more than a doctor trying to solve medical problems.
"I see myself completely as a physician," he said. "I see everything I do as medical, even if it takes the form of fiction or nonfiction."
Verghese is Professor for the Theory and Practice of Medicine at Stanford and Senior Associate Chair of the Department of Internal Medicine. He was the founding director of the Center for Medical Humanities & Ethics at the University of Texas Health Science Center San Antonio. And his research emphasis is on patient care.
"I'm actually scandalized by how poorly we exam patients these days," Verghese said. "Physicians are really not listening or examining well because we are so reliant on technology."
The lecture was followed by a question and answer session facilitated by award-winning poet and novelist Chitra Divakaruni, Professor of Creative Writing in the Department of English.
In attendance at the lecture were the Consul General of India in Houston Sanjiv Arora, who gave welcoming remarks, and Surajit Dasgupta, executive director of the Tagore Society of Houston and a member of the CLASS Dean's Advisory Board.
- Shannon Buggs
- Terence Yung, a senior earning double degrees in
English Literature and Piano Performance, contributed to this report.