Cowboy comedy 'Wild Oats' satirizes the Old West
Based on John O'Keefe's English comedy of the same title, John McClure's version has an American twist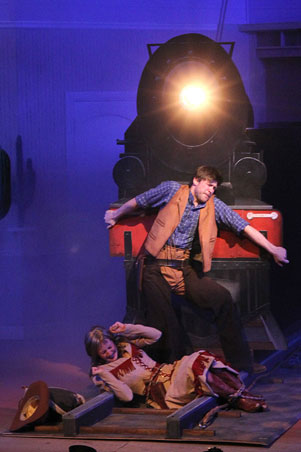 Houstonians love cowboys, but they haven't seen any boot scootin' characters like the ones occupying the town of Muleshoe, Texas. A collection of wild and wooly Western characters will come to life at The Wortham Theatre in the Cynthia Woods Mitchell Center for the Arts during the Houston premiere of James McClure's "Wild Oats."
Directed by guest artist Gus Kaikkonen and presented by the School of Theatre & Dance, "Wild Oats" will run from Wednesday, March 3 through Sunday, March 6 in the Lyndall Finley Wortham Theatre.
McClure's work is based on John O'Keefe's English comedy of the same title, but provides a very American twist to the work.
"Just as the original play satirizes Restoration-period England, this one satirizes cowboy movies and the Old West," Kaikkonen said. "We plan to really capture cowboy culture on stage. We'll have gunfights, a saloon, live music and a cast of nearly 30 actors."
"Wild Oats" follows the members of the Thunder clan as they're reunited by the whiskey-soaked death of Loftus Thunder. He's barely in the ground before scheming Pastor Ephraim sets his sights on the family's inheritance. He'll have to contend with Col. Croftus Thunder, the rowdy Mary Kate Thunder and the pretentious Harry Thunder. Adding to this cast of characters is a trusted Irish-Indian scout, a barnstorming actor, a crooked landlord, a local madam and quite a few cowboys.
While "Wild Oats" is a send-up of classic westerns, the behind-the-scenes crew has done its homework to ensure the cast captures the period's spirit.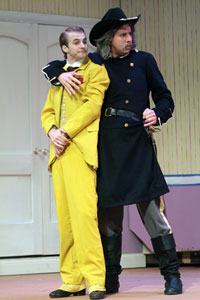 "Our terrific dramaturg has been providing everyone with historic photos of what saloons were like, the facts of how whiskey was made and what cowboys were like," Kaikkonen said. "Our costume designer has done incredible work researching the period to make sure the attire is accurate."
Showtimes for "Wild Oats" are 8 p.m on March 3, 4, and 5 and 2 p.m. on March 6.
The Wortham Theatre is in the Cynthia Woods Mitchell Center for the Arts building at Entrance 16 off Cullen Boulevard.
Tickets are $20, $15 for UH faculty, staff and alumni and $10 for seniors and students. To purchase tickets, call 713-743-2929. Additional ticket details can be found here http://www.theatredance.uh.edu/buy-tickets/information.asp
—Mike Emery
RELATED LINKS