Psychology major Rebecca Holman tops Spring 2011 Dean's List
Holman earns bachelor's degree with highest honors and the College's loftiest grade point average; Dean's List online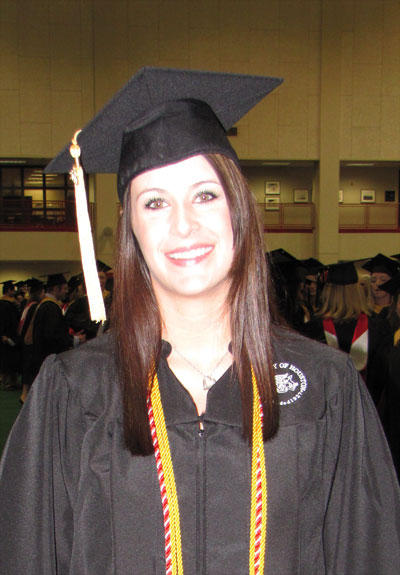 Rebecca Holman set a goal – to become the first person in her family to earn a college degree.Then, she set about achieving it by enrolling in the College as a psychology major, going to classes during the day and working nights and weekends at a restaurant in La Porte. She didn't know much about financial aid and never applied for grants and scholarships.
"Between school and work, I did not have that much time to do other things," she said. "The hardest part was juggling between the two. There were times I stressed out thinking that I would not have time to get my studying or a paper done in time."
Her investment in herself paid off this past spring when she graduated summa cum laude with a bachelor of science in psychology and the highest grade point average in the College of Liberal Arts & Social Sciences.
"I have always worked for everything I wanted and college was no different" she said. "Although it was hard at times, I am proud to look back and say that I did it all on my own."
Every semester she was enrolled in the College, Holman's name was on the Dean's List for high academic achievement. To qualify for the honor, CLASS undergraduate students must earn a 3.5 or better grade point average on a minimum of 12 semester hours of work during the semester.
Holman plans to pursue graduate studies in criminology at UH-Clear Lake this fall and says she hopes to find her calling after graduating with a master's degree.
To view the list of Spring 2011 and Fall 2010 Dean's List honor students, go to http://www.uh.edu/class/students/excellence/index.php.
- Luis Zelaya