An evening with Former Lieutenant Governor Bill Hobby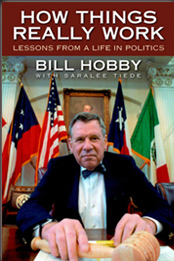 Please join us for an evening of conversation with Bill Hobby and Saralee Tiede about his new book How Things Really Work: Lessons from a Life in Politics.
William "Bill" Pettus Hobby is heir to a proud tradition of public service. Both his grandfathers, his mother and father were political leaders.
When Bill Hobby was asked why he entered politics, he ascribed it to a "genetic flaw." He served as the lieutenant governor of Texas for 18 years.
"Nostalgia is not my purpose," Hobby writes in the book's preface. "But I do hope to convey something of my admiration for the people that I had the honor to work with, the spirit of the times, and a sense of how things actually worked—at least in the legislative process."
Written with his former chief of staff Saralee Tiede, Hobby frankly discusses politics in Texas including remembrances of working with state leaders Ben Ramsey, Dolph Briscoe, Bill Clements, and Ann Richards.
Thursday, Oct. 14, 2010
7-8 p.m. Conversation
8 p.m. Book Signing and Reception
Hilton University of Houston
Conrad & Shamrock Ballrooms
4800 Calhoun Road
Houston, TX 77204
In May, the UH Center for Public Policy was renamed the Hobby Center for Public Policy, in honor of Hobby's public service.
The book signing and reception are open to the public.