History professor, Menil Collection present African visual cultures class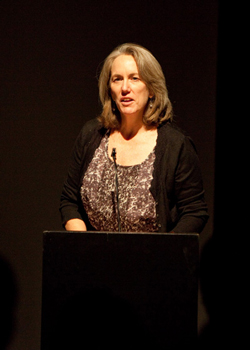 In the 1950s, legendary Houston arts patron Dominique de Menil set about the daunting task of documenting every visual representation of black people in the art created throughout Western world by the ancient Greeks through the 20th century modernists.
She followed that with the publication in the 1960s of "The Image of the Black in Western Art," a book series project being re-issued and updated by Harvard University this year.
But what of the Africans' art? How did the violence of the Atlantic Slave Trade impact the visual cultures of Africa?
Those are questions that history professor Kairn Klieman and art curator Kristina Van Dyke grappled with in a course they taught through the Center for Public History.
Van Dyke, associate curator for collections and research at the Menil Collection, had access to the rich African art collection at the museum named for Dominique de Menil and built in Houston's Montrose area.
Klieman and Van Dyke, who earned her doctorate in art history at Harvard, spoke often about working on a project research the Menil's holdings to learn how the slave trade had transformed African art and produce a scholarly volume on the topic, but time never cooperated.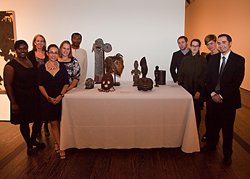 "So then we said, 'Let's make this our job and teach a class on this,'" Klieman said.
That happened this fall when Klieman and Van Dyke co-taught a graduate public history course that gauged the effects of the slave trade on the visual arts of Nigeria and Cameroon.
Half of the class was taught on the UH campus and the other half at the Menil. The students presented their analysis and the historical context of their findings in December at Menil event open to the public.
"The slave trade's violence produced an art that reflected violence," Klieman said. "It was used as a way of 'advertising' slave traders' power and provoking fear, ensuring that the flow of captives toward the coast would continue."
But she cautions against making assumptions about 17th and 18th century African cultures.
"It's an edgy project because you don't want to reinforce stereotypes about violent Africans," she said. "You have to think comparatively. The slave trade induced a great deal of violence on American soil as well. Texas itself witnessed a lot of lynchings that were public spectacles designed to induce fear."
The course allowed UH students to participate in a cross-institutional collaboration. They learned about the inner-workings of a museum and gained access to rare research materials. Klieman plans to pursue other such interdisciplinary and cross-institutional opportunities for students in the future.
—Shannon Buggs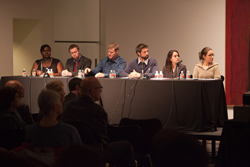 Read a press release about a panel discussion at the Menil Collection that the class participated in, written by Melissa Carroll.
See larger versions of the photos taken during the event, courtesy of the Menil Collection