Liberal Arts and Social Sciences led to more than a quarter century of foreign service for one diplomat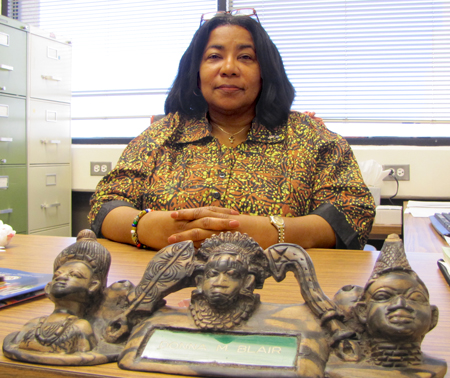 Donna M. Blair's love of history, art and culture set her on the path to becoming a diplomat for the United States Department of State.
"I wanted to not only read about those things, but live them," said Blair, the new diplomat in residence with the University of Houston's Political Science Department.
Her appointment within UH's College of Liberal Arts and Social Sciences underscores the broad range of careers available to students majoring in arts, humanities and social sciences.
A Minister Counselor and career member of the Senior Foreign Service, Blair shares her experiences to political science classes and at university events.
"When you're working overseas, you're usually in a mission where you get to see the big picture of international affairs," Blair said. "You're usually working with several other U.S. government agencies — and it's exciting because we're all there for the same reason: To represent America. And we all have to work together."
As a part of UH's International Education Week, Blair's presentation encouraged students to travel outside their comfort zones, as well as learn more about careers in the U.S. Department of State.
CLASS Dean John W. Roberts regards Blair's presence on campus as integral to the mission of getting more UH students to broaden their educations with overseas travel.
"I would like to see every CLASS student have a passport and at least one stamp in it by graduation," said Dean John Roberts. "Our goal as a university should be to make sure that all our students have an international experience before they graduate. We need to offer both more opportunities and scholarship support for travel and study abroad, especially in Asia and Africa."
A native of New Orleans, La, Blair holds a bachelor's degree in history from Dominican College in New Orleans and a master's in social sciences from the University of Detroit.
Her travel as a young person was limited to North America — "the New York World Fair, Mexico and Canada," she said.
But during more than 25 years of serving her country, she has lived and worked in Nigeria, Mexico, Kenya, Venezuela, Ghana, Nigeria, Spain, Argentina and Hong Kong. This is her first time living in Houston.
"When you start out in this business, you have to have the desire and commitment to live abroad in new and sometimes difficult environments and cultures in service of America," Blair said. "What I like best about my career is that it gives me the ability to make an impact on people's lives and to be a part of something bigger than myself. That's what the Foreign Service is all about."
Part of the main focus for her new assignment at UH, which she began on Sept. 9, is to encourage local university students to pursue internships and, later, the career opportunities that exist within the U.S. State Department.
"There is a summer 2011 internship program, and more than 11,000 students around the country have applied," Blair said. "The State Department Office of Language Services has accepted a UH student for the spring 2011 program."
Blair worked with other UH students on their summer 2011 internship applications and as well as helped students prepare for their Foreign Services exams.
"I'm hoping that several of the students we worked with are selected to internship programs," she said.
Blair said that as a U.S. Department of State diplomat, she has an open door policy up in Room 413 in Philip Guthrie Hall, and she said any student interested in learning more about a career in the Foreign Services is invited to visit. She can be reached at dmblair@mail.uh.edu. More information can be found at the Careers Representing America website, http://careers.state.gov
—Brandon Moeller