Classical Studies Student volunteers in Nepal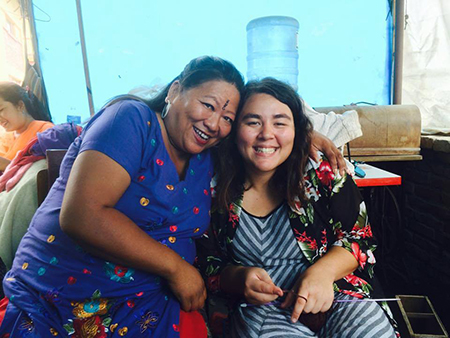 This past summer, Emily Johnson, recipient of the 2014 Renaissance Scholarship in Classical Studies, lived in Kathmandu, Nepal for two months. She helped to coordinate and manage a series of children's camps in ten different villages for students who were just starting to go back to school following the April 25 earthquake. She also worked with several Nepalese NGOs to establish projects for future international volunteers to make a positive contribution to Nepal. She had the opportunity to live and work with Nepali people as they were working to rebuild their country, and she reports that this experience was one that has truly impacted her life and mission in a very meaningful way. Living and traveling alone in a place that is so different from home was at first very challenging, and she says that in her first week she wondered how she was going to survive, but with the help of the wonderful Nepalese people, Nepal became her home. She was very sad to leave it at the end of the summer.
---
MCL Award Winning Professors:
Teaching is an important part of our mission and we are proud of our award-winning faculty:
Professor Alessandro Carrera, Italian Studies and World Cultures and Literatures received a 2015 University of Houston Teaching Excellence Award (Provost's Core). category.
Instructional Assistant Professor Jonathan Zecher, Classical Studies, received a  2015 University of Houston Teaching Excellence Award (Instructor/Clinical)
Instructional Assistant Professor Jing Zhang, Chinese Studies, is the 2015 recipient of the Ross M. Lence Teaching Excellence Award (Humanities) from the College of Liberal Arts and Social Sciences.
Photos
---
Photo Exhibit "Allies. 70th Anniversary"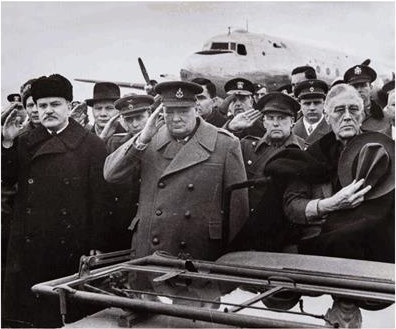 The year 2015 marks the 70th anniversary of Elbe Day, April 25, VE (Victory Europe) Day, May 7, and Victory Day, May 9, as it is known in the former Soviet Union. The dates mark the official end of World War II in Europe and the Allied Nations' victory. To commemorate these historic events, Russian Cultural Center presents the photo exhibition "Allies.70th Anniversary."
This exhibition consists of photographs from the archives of the Ministry of Foreign Affairs of Russia. They were taken during WWII by various Soviet photojournalists. These photographs depict political figures of the highest rank, such as President Roosevelt, Sir Winston Churchill, British Foreign Secretary Sir Anthony Eden and Soviet Foreign Minister Vyacheslav Molotov. These photos emphasize the diplomatic efforts of Russia, the United States, Great Britain, and France during the war.
Date: April 9 – May 30, 2015
Location: Houston Public Library
500 McKinney Street, Houston, TX, 77002
---
Faculty News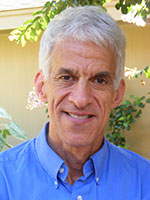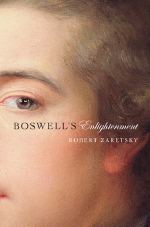 Boswell's Enlightenment by Robert D. Zaretsky, Professor of World Cultures and Literatures in MCL, just came out with Harvard University Press. It made the "10 best books of March" list of the Chistian Science Monitor!
"Throughout his life, James Boswell struggled to fashion a clear account of himself, but try as he might, he could not reconcile the truths of his era with those of his religious upbringing. Boswell's Enlightenment examines the conflicting credos of reason and faith, progress and tradition that pulled Boswell, like so many eighteenth-century Europeans, in opposing directions. In the end, the life of the man best known for writing Samuel Johnson's biography was something of a patchwork affair. As Johnson himself understood: "That creature was its own tormentor, and I believe its name was BOSWELL."
Few periods in Boswell's life better crystallize this internal turmoil than 1763–1765, the years of his Grand Tour and the focus of Robert Zaretsky's thrilling intellectual adventure. From the moment Boswell sailed for Holland from the port of Harwich, leaving behind on the beach his newly made friend Dr. Johnson, to his return to Dover from Calais a year and a half later, the young Scot was intent on not just touring historic and religious sites but also canvassing the views of the greatest thinkers of the age. In his relentless quizzing of Voltaire and Rousseau, Hume and Johnson, Paoli and Wilkes on topics concerning faith, the soul, and death, he was not merely a celebrity-seeker but—for want of a better term—a truth-seeker. Zaretsky reveals a life more complex and compelling than suggested by the label "Johnson's biographer," and one that 250 years later registers our own variations of mind."
---
Film Screening: Murder Book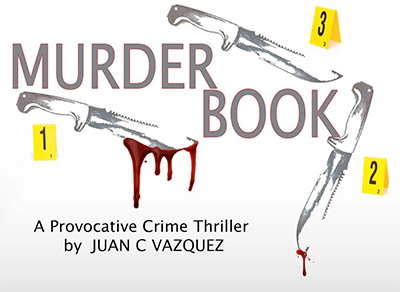 Filmed in Houston. In this crime thriller, detective Rick Rodriquez investigates the serial killings of young women active on social media sites, an investigation that leads him into the world of human trafficking. Your opportunity to preview this movie before it will be released commercially at Alamo Drafthouse later this spring.
Thursday, March 5, 2015
7:00-9:00 PM
AH Auditorium 2
---
Family Stories & the Making of History: A Historian Confronts the Holocaust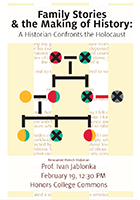 Renown French Historian Prof. Ivan Jablonka
February 19, 12:30 PM
Honors College Commons
---
Film Screening: Marína of the Zabbaleen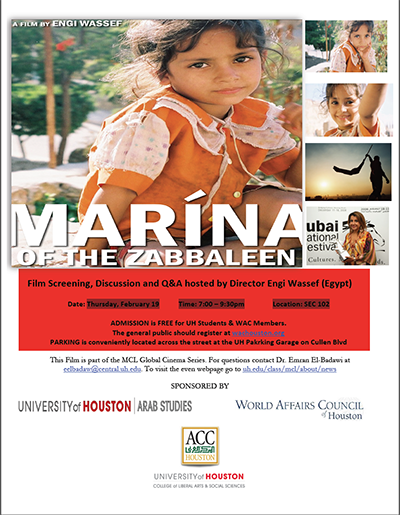 Film Screening, Discussion and Q&A hosted by Director Engi Wassef (Egypt)
Thursday, February 19
Time: 7:00 - 9:30pm
Location: SEC 102
---
Spirituality – The Next 50 Years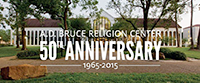 Panel Discussion
What is the future of spirituality in Hinduism, Judaism, Christianity, and Islam? Listen to a discussion and exchange of representatives from four different religious traditions.
---
Gayatri Chakravorty Spivak
Lecture: Lessons from My Travels
Thursday, January 29, 2015
5:30 PM
University Theater, Student Center, Room 103
University of Houston
Download Flyer for more information
---
POESIA CHE MI GUARDI (Poetry, Looking at Me)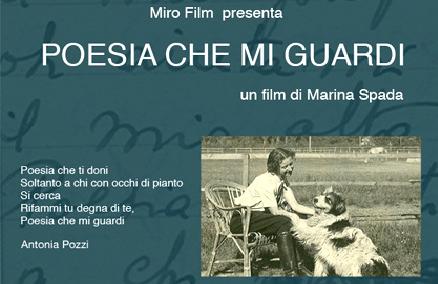 (in Italian with English subtitles)
Introduced by the film director
Marina Spada
Monday, February 9, 2015
5:00 PM
University of Houston, Agnes Arnold Hall - Room 15
Download flyer for more information
---
Italy's president knights Italian and Classical Studies professor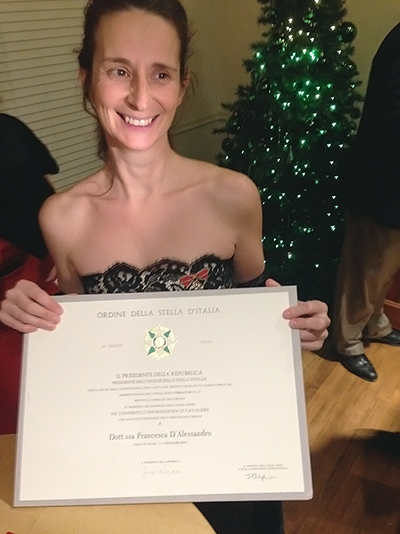 Dr. Francesca Behr, Associate Professor of Italian and Classical Studies, was bestowed the knighthood of the order "Stella d'Italia" by Giorgio Napolitano, president of the Republic of Italy, for her promotion of Italian culture. Congratulations!
---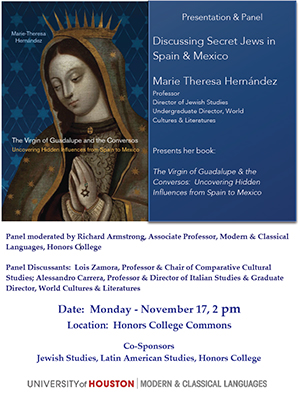 Presentation & Panel
Discussing Secret Jews in Spain & Mexico
Marie Theresa Hernández Presents her book: The Virgin of Guadalupe & the Conversos: Uncovering Hidden Influences from Spain to Mexico
Date: Monday, November 17, 2 pm Location: Honors College Commons
Download flyer for more information
---
Milatary Intervention and Human Rights in Iraq: A UH Perspective
Join a panel of distinguished UH faculty as they offer their perspectives on the conflicts in Iraq. Who exactly is ISIS? What human rights vi-olations are occurring? And what is the inter-national community doing to address these issues?
November 14th from 3-5 pm in the Honors Commons
Dr. Mient Jan Faber, mathematician and human rights activist
Dr. Cyrus Contractor, Assistant Director of the Center of International and Comparative studies and professor of International
Dr. Emran El-Badawi, Director of the UH Arabic Studies Program
Dr. Johanna Lutrell, Post-Doctoral Phronesis Fellow and professor of Political Philosophy
---
El Paso Corporation Lecture Series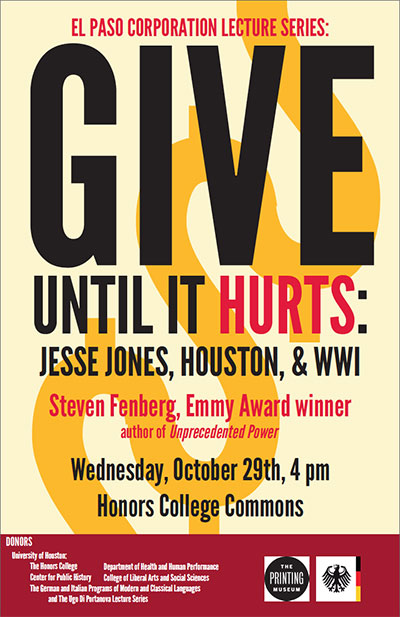 Give Until it Hurts: Jesse Jones, Houston, & WWI
Wednesday, October 29th, 4 pm
Honors College Commons
Steven Fenberg, Emmy Award Winner
Author of Unprecedented Power
Donors:
The Honors College
Center for Public History
Department of Health and Human Performance
College of Liberal Arts and Social Sciences
The German and Italian Programs of Modern and Classical Languages
The Ugo Di Portanova Lecture Series
Shell Shock & the Emotional History of WWI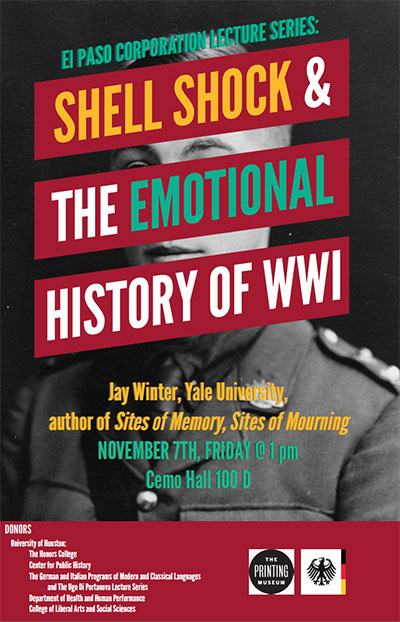 Jay Winter, Yale University,
Author of Sites of Memory, Sites of Mourning
Friday, November 7th, 1 pm
Cemo Hall 100D
Donors:
University of Houston
The Honors College
Center for Public History
The German and Italian Programs of Modern and Classical Languges
The Ugo Di Portanova Lecture Series
Department of Health and Human Performance
College of Liberal Arts and Social Science
American Music & the Great War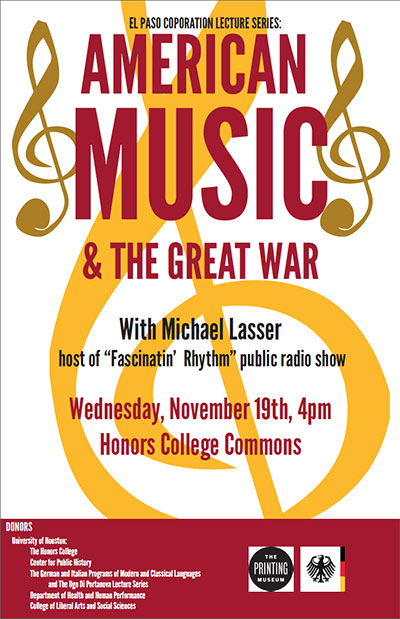 with Michael Lasser
host of "Fascinatin' Rhythm" public radio show
Wednesday, November 19th, 4pm
Honors College Commons
Donors:
University of Houston
Center for Public History
The German and Italian Programs of Modern and Classical Languages
The Ugo Di Portanova Lecture Series
Department of Health and Human Performance
College of Liberal Arts and Social Sciences
---
Alain Mabanckou
Award-winning French novelist and professor at UCLA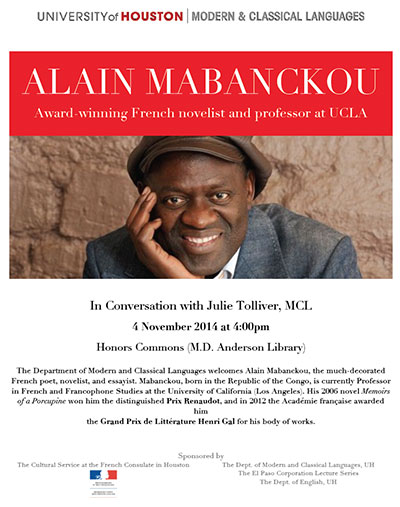 In Conversation with Julie Tolliver, MCL
November 4, 2014 at 4:00pm
Honors Commons (M.D. Anderson Library)
The Department of Modern and Classical Languages welcomes Alain Mabanckou, the much-decorated French poet, novelist, and essayist. Mabanckou, born in the Republic of the Congo, is currently Professor in French and Francophone Studies at the University of California (Los Angeles). His 2006 novel Memoirs of a Porcupine won him the distinguished Prix Renaudot, and in 2012 the Académie française awarded him the Grand Prix de Littérature Henri Gal for his body of works.
---
Film Screening – Global Cinema Series
The World Cultures and Literatures program in the Department of Modern and Classical Languages presents:
The Pipeline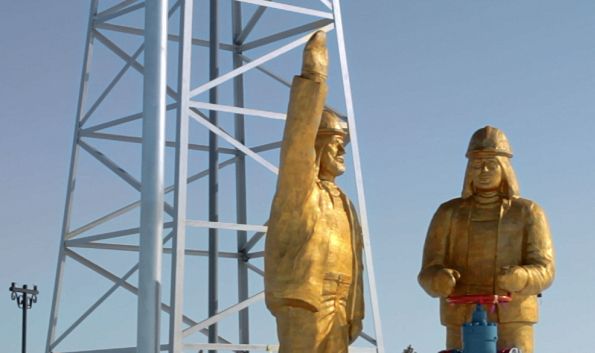 Director: Vitali Mansky, Russia-Germany-Czeck Republic (2013)
Date: October 31, 2014 | Time:2-4:30 PM | Location:SW 101 | Free Admission
This award winning documentary follows the Urengoy-Pomary-Uzhhorod pipeline from Siberia to Western Europe. In what has been described as a "different sort of road movie," the acclaimed Russian filmmaker takes a look at the people and communities  along the route: "PIPELINE is a film about modern Europe, about two of its edges, or to put it more precisely – two of its extremes. This is a film about Europe, which spans from the barren land of eternal winters of Siberia to the complaisant Bay of Biscay, where even the laws of nature form fundamentally different paradigms of human existence." (Deckert Distribution)
Introduction: Dr. Elena McGee
Director Vitali Mansky will attend the screening and will be available for a discussion of the film following the screening.

Event co-sponsored bythe Russian Cultural Center Houston
---
Film Screening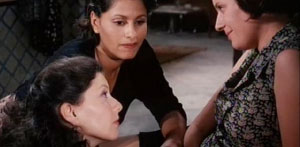 The Department of Modern and Classical Languages presents:
Bent Familia
Director: Nouri Bouzid, Tunisia 1997
Date: October 14, 2014 | Time: 6-9 PM | Location: UC Theater | Free Admission
In late 20th-century Tunis, three women - Amina, Aïda, and Fetiha - are haunted in different ways by their relative powerlessness in a world dominated by men. But the friendship and solidarity that unite them help them find ways to resist and to define their independence.
Introduction: Dr. Julie Tolliver, MCL French Program
Event co-sponsored by the: Council of Ethnic Organizations
---
Faculty News - Dr. Wen
Dr. Xiaohong Wen, Professor of Chinese and Chinese program director in MCL, is the invited keynote speaker at the upcoming conference on "Educating Teachers of Chinese Language – Creating a Coherent Approach" which will be held at the University of Melbourne Graduate School of Education. Her talk is titled: "Constructing Meaning through Interactive Activities: Teaching Chinese as a Constructivist Process." While in Australia, she will also be visiting a Chinese immersion school and other Chinese programs in the Melbourne area.
---
Study Abroad and Research Opportunities in Germany
Thursday, October 2, 2-3 PM, Room 210 Agnes Arnold Hall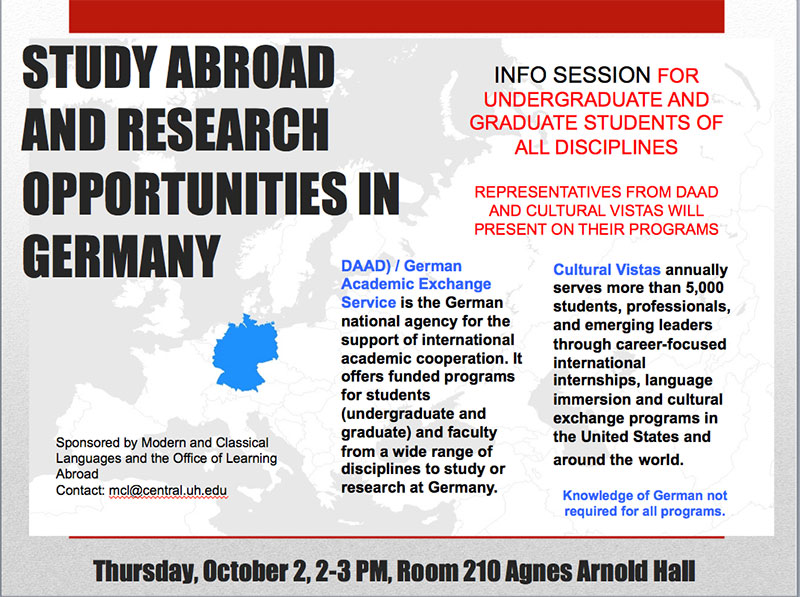 Info session for Undergraduate and Graduate Students of all disciplines
Representatives from DAAD and Cultural Vistas will present on their programs
(DAAD) / German Academic Exchange Service is the German national agency for the support of international academic cooperation. It offers funded programs for students (undergraduate and graduate) and faculty from a wide range of disciplines to study or research at Germany.
Cultural Vistas annually serves more than 5,000 students, professionals, and emerging leaders through career-focused international internships, language immersion and cultural exchange programs in the United States and around the world. Knowledge of German not required for all programs.
---
Lecture Dizionario delle collocazioni
WEDNESDAY, OCTOBER 1ST, 2014 – 3:30PM AGNES ARNOLD HALL, ROOM 444
Paola Tiberii
Author of Dizionario delle collocazioni. Le combinazioni delle parole in italiano
In linguistics, "collocation" means a combination of lexical items that regularly occur together and sound natural in speech and writing. The way words combine in a language is not determined by rules of syntax or grammar but instead is established through repeated context-dependent use within the language community.
This Dizionario delle collocazioni is specifically designed to help choose the right words to express ideas in an effective way. The dictionary's selection of approximately 200,000 collocations makes it a useful tool to develop an increased range of vocabulary and facility of expression in idiomatic Italian.
200,000 collocations - 6,000 entries - 640 pages - Includes a DVD Rom with the complete dictionary and Assistente Linguistico. Exclusive USA-CAN distributor: Edizioni Farinelli
Paola Tiberii has studied musicology and linguistics at the University of Bologna. Her Dizionario delle collocazioni is the result of ten years of work.
Event sponsored by:
The Department of Modern and Classical Languages
The Italian Cultural and Community Center
The Ugo Di Portanova Lecture Series
The Italian Studies Program in the Department of Modern and Classical Languages
This event has been made possible by the generosity of Ugo Di Portanova
Refreshments will be available
---
Remembering World War I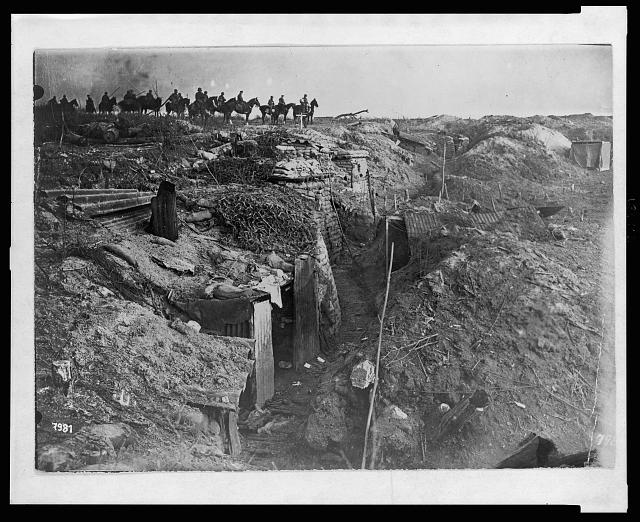 Library of Congress Prints and PhotographsDivision
Washington, D.C. 20540 USA
An exhibit commemorating the 100th anniversary of the First World War through the art created by ordinary soldiers in the trenches.
Exhibit runs from October 23, 2014 – February 14, 2015 at the
The Printing Museum
1324 W. Clay St.
Houston, TX 77019
713-522-4652
Co-sponsored by The German and Italian Programs of the Department of Modern and Classical Languages
---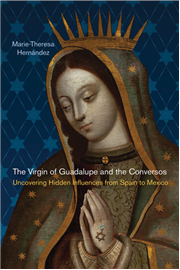 Dr. Marie-Theresa Hernández's new book
Dr. Marie-Theresa Hernández's new book on The Virgin of Guadalupe and the Conversos. Uncovering Hidden Influences from Spain to Mexico has been recently published with Rutgers UP in the "Latrinidat: Transnational Cultures in the United States" series.
---
Fall 2014 Exhibit:
An exhibit commemorating the 100th anniversary of the First World War through the art created by ordinary soldiers in the trenches.
---
"The Family: A Journey into the Heart of the Twentieth Century"
DATE: Sep 4 2014 7:00 pm
Location: Brazos Bookstore
2421 Bissonnet St
Houston, TX 77005
"In tracing the roots of this family—his own family—Laskin captures the epic sweep of the twentieth century. A modern-day scribe, Laskin honors the traditions, the lives, and the choices of his ancestors: revolutionaries and entrepreneurs, scholars and farmers, tycoons and truck drivers. THE FAMILY is a deeply personal, dramatic, and emotional account of people caught in a cataclysmic time in world history.
A century and a half ago, a Torah scribe and his wife raised six children in a yeshivatown at the western fringe of the Russian empire. Bound by their customs and ancient faith, the pious couple expected their sons and daughter to carry family traditions into future generations. But the social and political crises of our time decreed otherwise.
The torrent of history took the scribe's family down three very different roads. One branch immigrated to America and founded the fabulously successful Maidenform Bra Company; another went to Palestine as pioneers and participated in the contentious birth of the state of Israel; the third branch remained in Europe and suffered the onslaught of the Nazi occupation.
With cinematic power and beauty, bestselling author David Laskin brings to life the upheavals of the twentieth century through the story of one family, three continents, two world wars, and the rise and fall of nations."
---
Defending Their Own in the Cold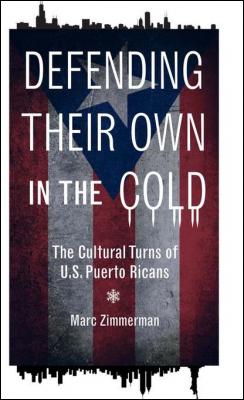 Marc Zimmerman, Professor Emeritus in the World Cultures and Literatures program of MCL and Director of Global CASA/LACASA Books
Defending Their Own in the Cold. The Culturan Turns of U.S. Puerto Ricans (Urbana: University of Illinois Press, 2011) by Marc Zimmerman was very positively reviewed in CENTRO Journal (Vol. 26:1, 2014) by Richard Perez. The review essay concludes:
"In Zimmerman's learned text the "everyday and remarkable" inter-animate each other in order to reveal the unremitting cultural production of Puerto Ricans over the last century. Defending Their Own in the Cold, in short, awards the reader with novel hermeneutic understandings of the aesthetic forms and vocabularies created by Puerto Rican artists. The result is the story of a people who have resorted to their imaginations as an enabling mechanism through which to gain political empowerment and social recognition. Zimmerman, in beautifully rendered prose, captures the largesse of this tradition with the empathy of an insider and the expertise of an accomplished theoretician. His text is more than a defense, as the title may imply, but literary, artistic, and social analysis at its very best." (202)
---
Poets of the Italian Diaspora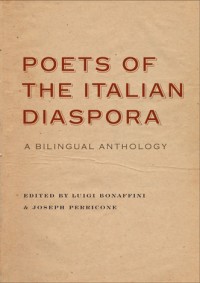 Alessandro Carrera, Director of Italian Studies and Graduate Director of WCL, is one of the 80 Italian poets included in the recently published anthology, "Poets of the Italian Diaspora" (Fordham University Press, 2014). For the anthology, the editors have selected 80 Italian poets living and writing outside of Italy, in eleven different countries. Alessandro Carrera is one of the poets representing the United States. A selection of his poems appears with a critical introduction and facing English translation.
---
Congratulations Dr. Julie Tolliver
Dr. Julie Tolliver, who joins us this year as assistant professor of French and Francophone Studies, has guest-edited, together with Monica Popescu and Cedric Tolliver, a special issue of the Journal of Postcolonial Writing (Volume 50, Number 4, August 2014). The special issue, titled Alternative Solidarities: Black Diasporas and Cultural Alliances During the Cold War, explores the intersection between diaspora studies, postcolonial literary criticism, and Cold War theory.
---
Congratulations Dr. Bernice Heilbrunn
Jewish Studies lecturer Dr. Bernice Heilbrunn was one of only two foreign scholars invited to lecture at Goethe University in Frankfurt, Germany in May 2014. Marking the one hundredth anniversary of Goethe University, the symposium focused on Jews' critical role as the university's founders, funders, and distinguished scholars. Heilbrunn's address focused on Jacob H. Schiff, the American Jewish philanthropist and community leader who funded the Chair in Semitic Philology which became the core of Goethe University's Near Eastern and Jewish Studies programs. The well-publicized symposium attracted people in the greater Frankfurt community as well as the community of scholars at the university and received media attention.
---
New Faculty for Fall 2014
Julie-Françoise Tolliver, Ph.D., Assistant Professor of French and Francophone Studies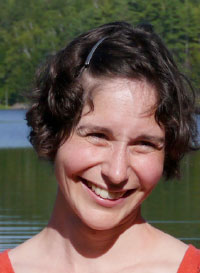 Julie-Françoise Tolliver earned her PhD in Comparative Literature from the University of Pennsylvania. She has worked as a visiting professor in French and Comparative Literature at Hamilton College and as an instructional assistant professor of French right here at the University of Houston. She spent last year as visiting scholar at McGill University (Montreal), and she re-joins the faculty in MCL as assistant professor of francophone studies. Her current research project reads independence-era francophone literature as constructing a transnational French-language literary solidarity. Related to this work is her co-editing of a special issue of the Journal of Postcolonial Writing (forthcoming fall 2014) entitled Alternative Solidarities: Black Cultural Alliances during the Cold War. Her teaching interests include twentieth- and twenty-first-century francophone literature, culture, and film.
Nelly Noury-Ossia, Ph.D., Instructional Assistant Professor of French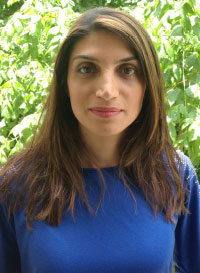 A French native from Paris, Nelly Noury-Ossia earned her Ph.D. in French Studies at Rice University. Prior to her journey to Houston, she also completed a B.S (''Maîtrise'') in British civilization at Paris-Sorbonne University. Her research focus is on twenty-first century Francophone postcolonial studies with a special interest in the Maghreb. She is particularly interested in examining the various ways in which Francophone-Arab women writers and visual artists have expressed their opposition to the manufacturing of an orientalized ''Other.''
Dr. Noury will be editing a special issue on the Algerian woman writer: Assia Djebar, for the CELAAN (Center for the Studies of the Literatures and Arts of North Africa) review in January 2015. At the University of Houston, she is joining the French and Francophone Studies programs in the Department of Modern and Classical Languages.
Duy Lap Nguyen, Ph.D., Assistant Professor of World Cultures and Literatures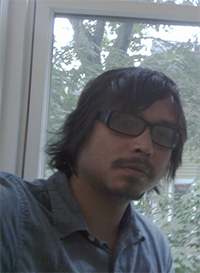 After completing a one-year Carol G. Lederer Postdoctoral Fellowship at the Pembroke Center at Brown University, Duy Lap Nguyen is starting his appointment as Assistant Professor of World Cultures and Literatures in Fall 2014. Dr. Nguyen earned his Ph.D. in comparative literature at the University of California, Irvine. His current book project explores works by the Vietnamese philosopher, Tran Duc Thao, and develops a reading of Thao's materialist critique of Edmund Husserl's phenomenology. His second project, entitled, The Postcolonial Present: Redemption and Revolution in Twentieth Century Vietnamese Culture and History, examines Vietnamese cinema, literature and mass culture from period of the Vietnam War. Nguyen's publications include, "The Universal Province: A Critique of Provincializing Europe" (Interventions, 2013), "The Commodity Fetish and the Angel of History: Walter Benjamin's Philosophy of History and the Marxian Critique of Political Economy" (Telos, forthcoming), and "Le Capital Amoureux : Imaginary Wealth and Revolution in Jean Genet's Prisoner of Love" (Historical Materialism, 2010).