UH Healthy Start Program Leaders Highlight National Infant and Maternal Health Month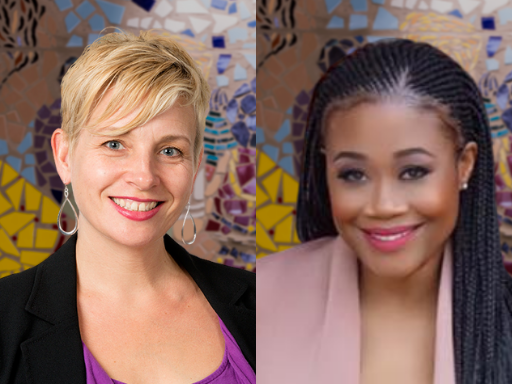 September 1, 2021
(HOUSTON, TX) - We spoke with Associate Professor McClain Sampson and Eulalia Gillum during National Infant Mortality Awareness Month to discuss the increased number of challenges women of color face surrounding pregnancy and how the UH Healthy Start program hopes to address these issues through community outreach. 
----
Name: McClain Sampson
Title: Associate Professor and Healthy Start Principle Investigator
Pronouns: (she/her) 
 ____ 
Name: Eulalia Gillum, LMSW
Title: Program Director of the UH Healthy Start Program
Pronouns: (she/her) 
____
September is National Infant Mortality Awareness Month. What things would you like people to be aware of when it comes to infant mortality in this country?
Infant mortality is the death of young children under the age of 1. The infant mortality rate (IMR) in the United States hovers around 5.7 deaths per 1000. In Harris County, the rate is estimated at 6.1 per 1000. But Black infants and Black women continue to face the most significant risk of death during the perinatal (pregnancy, childbirth, and the year following birth) time. Infant mortality is a sentinel indicator of a community's health.
The most common causes of infant death are perinatal conditions like premature rupture of membranes, prematurity/low birth weight, and sudden unexpected infant deaths (SUIDs). 
Every baby deserves to celebrate their first birthday! During National Infant Mortality Awareness Month in September, we focus on bringing awareness and calling for change regarding the rate of infant death and the racial disparities in infant death.  
Can you share some of the highlights of the work UH Healthy Start has done over the past two years?
We have hit the ground running since our program received funding in 2019! We onboarded our coordinated care case managers, outreach specialists, and a fatherhood involvement coordinator. But, the COVID-19 pandemic slowed the number of enrollments. This time presented challenges for the "newbie" site, including community outreach and recruitment and program awareness within the communities we are committed to serving. However, we continued to provide visits via a virtual platform. In April 2021, we began providing our education in person by following COVID-precautions. Despite numerous challenges to enrollment, we have been able to reach 132 women, and we currently have about 123 women, infants, and fathers in the program. Each baby benefits from nurse and case management visits in the safety of their home. 
Many women who belong to the Millennial and Gen Z generations have become parents amid a pandemic and rising maternal and infant deaths statistics in the United States. Is there any advice you would give to those who may be apprehensive about taking the next step into motherhood? 
All research points to the importance of good physical and mental health during pregnancy to help ensure healthy childbirth and postpartum. Health is affected by where we live and work, access to quality healthcare, poverty, housing, and mental health. Seeking support is critical at this time when pregnant and postpartum women have to weigh the desire to be with friends and family and the risk of COVID-19, thus putting many women at risk for loneliness and isolation during pregnancy and postpartum. At Healthy Start, we seek to decrease infant and maternal mortality by having a registered nurse and staff trained to screen for perinatal depression and help connect mothers to clinics and hospitals that treat all mothers with dignity and respect. 
Healthy Start is hosting an upcoming "Equity Before Birth" luncheon in September. Why is equity essential to consider when trying to address infant mortality?
All babies deserve a healthy and happy first year of life, and, unfortunately, all babies do not have an equal chance. Infants who are Black die at twice the rate of White infants before their first birthday. Social service providers, healthcare workers, and mental health professionals who work with families must be aware of the disparities in infant health. And we, as the Graduate College of Social Work, must raise awareness among women and families about their potential risks and opportunities to improve health at the community and individual level. 
Why are programs like Healthy Start necessary for the GCSW's mission to achieve its vision of social justice?
The UH Healthy Start is in the community, connecting with the community and leading the most prominent community effort to reduce these infant deaths and improve the health and wellbeing of families in the greater Houston area. This effort aligns with the GCSW's mission to achieve social and racial justice, including health justice, through meaningful community engagement. UH Healthy Start currently serves ten zip codes with infant mortality rates almost twice the national average rate, underscoring the influence of community on health. When we begin to peel back the layers of factors contributing to infant mortality rate, such as poverty, crime, housing, food deserts, etc., we can and will genuinely influence change at a mezzo-level (community level). 
Is there anything else you would like to share? 
The University of Houston Healthy Start project goes to the community and establishes relationships with families and community members, builds trust, collaborates, works with formal and informal leadership, and seeks commitment from community organizations and leaders to create a process for mobilizing the community. The federally funded Healthy Start initiative is a program in over 100 communities throughout the United States to reduce infant and maternal mortality. It recognizes the importance of fathers in healthy birth outcomes.