Meet Frances Fisher, GCSW student behind Envisioning 2023
With the long-term goal of becoming a therapist who specializes in trauma and somatic (body-based) interventions for adolescents and adults, GCSW first-year student Frances Fisher aims to provide students with the opportunity for creativity and self-expression.  
The idea to create a vision board here at the GCSW came to Fisher last semester when she was drawing on her past work as a Recreation Therapist. She has years of experience facilitating vision board sessions with groups and adolescents. With the help of staff, the idea has become a reality.  
"The support of Amber Mollhagen and Kennedy Henderson helped to refine the idea and bring it to fruition," Fisher said. "I want the vision board to honor the unique perspectives, experiences, and identities that make up the GCSW as well as show that we are interconnected and interdependent."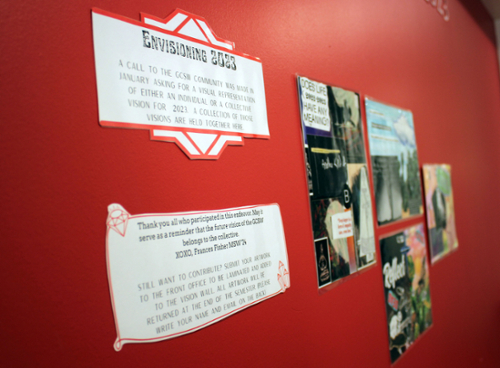 The Envisioning 2023 display is located at the first floor of the GCSW next to the Administrative Offices. Students can choose to create a visual representation of the vision they want to personally embody in 2023 or the vision they want the GCSW community to carry forward in 2023. Students can keep their artwork or submit it to be displayed.  
"I think creating visual representations is important for taking things out of our head into the world and so I wanted students to have an experience of that. I also wanted to build community. Even though everyone has different individual visions, at the end of the day we're a collective and I really wanted to represent that in a visual way," Fisher said.  
Rest for the Heart – Gentle Stretching and Meditation 
Healing and nourishing herself through teaching and practicing yoga and meditation for nearly 4 years, Fisher is offering 20-minute meditation sessions Thursdays in February from 12:30 p.m. to 12:50 p.m.   
"We start with guided breathwork and gentle stretching movements for about 10-15 minutes and end with a 5-minute silent mindfulness practice. We do this on the floor in Room 219 with low to no overhead light to help with grounding and relaxation," Fisher said.  
---
"I hope that the people that cross my path as a social worker feel seen and understood in their full humanity."
Frances Fisher
---
Fisher is bringing her ideas to life as first-year student on the clinical track. She has also had the privilege of learning from and working with many social workers, but the profession also runs in her family. Her grandmother, aunt and cousin are all social workers.  
"I hope that the people that cross my path as a social worker feel seen and understood in their full humanity," Fisher said.  
If you would like to submit your vision board, please contact Fisher at FFisher@Cougarnet.UH.edu