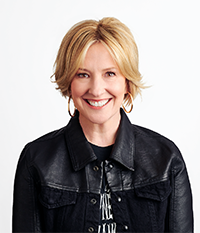 Research Professor of Social Work | Licensed Master Social Worker
Contact: www.brenebrown.com
Room: 307 Social Work Building
Personal Statement
Dr. Brené Brown is a research professor at the University of Houston where she holds the Huffington Foundation Endowed Chair at The Graduate College of Social Work.  Brené is also a visiting professor in management at The University of Texas at Austin McCombs School of Business.
She has spent the past two decades studying courage, vulnerability, shame, and empathy, is the author of five #1 New York Times bestsellers, and the host of the weekly Spotify Original podcasts Unlocking Us and Dare to Lead.
Brené's books have been translated into more than 30 languages and titles include: Dare to Lead, Braving the Wilderness, Rising Strong, Daring Greatly and The Gifts of Imperfection. Most recently Brené collaborated with Tarana Burke to co-edit You Are Your Best Thing: Vulnerability, Shame Resilience, and the Black Experience.
Her TED talk – The Power of Vulnerability – is one of the top five most viewed TED talks in the world with over 50 million views. She is also the first researcher to have a filmed lecture on Netflix. The Call to Courage special debuted on the streaming service in April 2019.
Brené lives in Houston, Texas, with her husband, Steve. They have two children, Ellen and Charlie.
Education
PhD, Social Work, University of Houston Graduate College of Social Work, 2002
MSW, University of Houston Graduate College of Social Work, 1996
BS, Social Work, The University of Texas at Austin, 1995
Licenses & Certifications
Licensed Master Social Worker - Texas State Board of Social Worker Examiners
Mediation Certification - Dispute Resolution Center
Courses Taught
Advocacy Based Social Work Research
Critical Issues in Political Social Work
Feminist Practice
Global Justice: Problems, Patterns and Perspectives
Nonprofit Fiscal Management and Budgeting (Distance Education Instructional Television) Social Welfare Policy Analysis
Women's Issues
Research Interests
Brené has spent the past ten years studying vulnerability, courage, worthiness, and shame. Brené spent the first five years of her decade-long study focusing on shame and empathy, and is now using that work to explore a concept that she calls Wholeheartedness. She poses the questions:
How do we learn to embrace our vulnerabilities and imperfections so that we can engage in our lives from a place of authenticity and worthiness? How do we cultivate the courage, compassion, and connection that we need to recognize that we are enough – that we are worthy of love, belonging, and joy?
Brené is the author of The Gifts of Imperfection (Hazelden, 2010), I Thought It Was Just Me (Gotham, 2007), and Connections: A Psychoeducational Shame Resilience Curriculum.   
Brené's current research focuses on authentic leadership and wholeheartedness in families, schools, and organizations.
Web Sites
Dr. Brené Brown's events are managed by https://www.speakersoffice.com/speakers/dr-brene-brown/
Personal website www.brenébrown.com