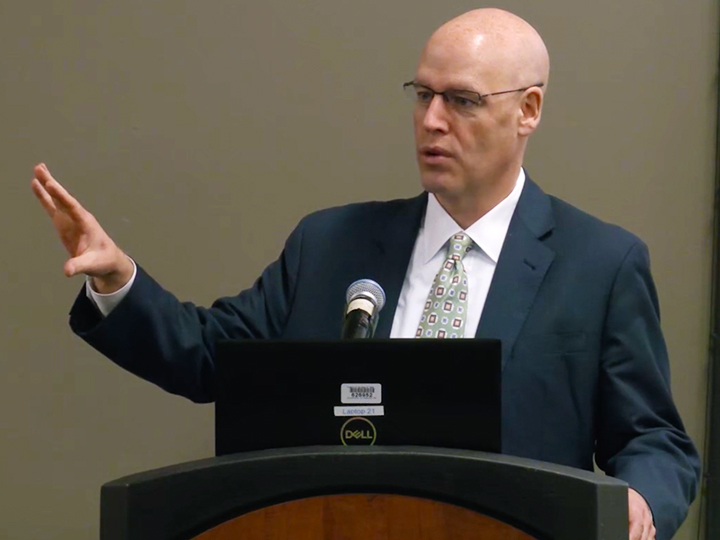 Watch the video of this event (UH Login)
McAllister & Quinn (M&Q) is UH's DC-based major proposal development and research intelligence partner working toward the goal of aligning UH's research goals with federal priorities. On April 22, representatives (Managing Partner Andy Quinn, Vice President of Research for Universities Practice Kellianne Lauer, and Managing Director of Grants and Federal Affairs Cameron Clemence) from McAllister & Quinn held a town hall to update UH faculty on upcoming opportunities for funding out of Washington.
After an introductory presentation by vice president/vice chancellor for research and technology transfer Amr Elnashai, Andy Quinn gave an overview of M&Q's engagement with UH.
McAllister & Quinn is now supporting UH's new intellectual capacity building project: The Presidential Frontier Faculty program. The hiring initiative is a prime example of how to build interdisciplinary research teams and what dividends this will pay. So far, the Division and the Provost's office have hired cross-disciplinary faculty in the areas of health, sustainability, security, energy and data science, many of whom are cross-colleges.
McAllister & Quinn prepares and engages faculty in writing carefully curated proposals for funding. Between 2020 and 2022, they supported CLASS, NSM, the College of Education, the Cullen College of Engineering and the College of Technology, in addition to the Division of Research as a whole. Their strategy is to position faculty proposals to win more funding by paying close attention to shifts in the federal agenda. Advanced technology, for instance, and homeland security, are both areas with significant potential. But the funds are granted quickly. The firm wants to get UH faculty ahead of the curve by anticipating the country's most pressing needs. This involves lining UH faculty up with federal research priorities, strengthening UH by awarding more seed funding for diverse projects, facilitating the creation of interdisciplinary teams to submit center-level proposals and to support the development of multimillion dollar proposals.
More outreach events will be planned in the future, so that researchers will have opportunities to engage with McAllister & Quinn as subject matter experts. On the horizon is a workshop focused on the American Rescue Plan Act 2021 (ARPA) grants, which require a special approach unlike grants researchers may be familiar with. ARPAs center on infrastructure funding, clean energy R&D and equitable workforce development.
There is bipartisan support for research and development in a number of areas now: national security, COVID-19 response, and there will continue to be big investitures in technologies that fight cancer and infectious diseases. The United States Innovation and Competition Act of 2021, which recently passed the Senate, establishes additional priority areas in high performance computing, artificial intelligence and advanced manufacturing— particularly in semiconductors and batteries.
High risk/high reward seems to be the wave of the future in Washington, according to McAllister & Quinn, UH's research partner on the Hill.