This course is 100% online.
Gain the skills and credentials to break into the high-demand field of information technology.
Prepare for the CompTIA Network+ Certification Exam
Did you know that according to the International Data Corporation (IDC), 96% of human resources managers use information technology (IT) certifications as screening or hiring criteria during recruitment?
Stand out with the CompTIA Network+ certification, which validates the technical skills needed to securely establish, maintain, and troubleshoot the wired and wireless computer networks modern businesses rely on. It is internationally recognized and serves as an important stepping-stone for many IT and cybersecurity careers. You will leave with the skills needed to take the next step in your career and the knowledge required to pass your Network+ certification exam and prove your value to employers.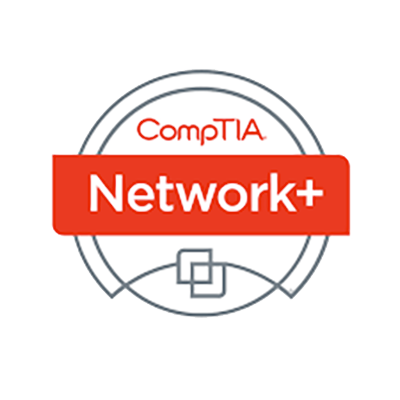 Job Outlook for CompTIA Network+ Certified IT Professionals
CompTIA Network+ certification is widely considered the industry standard for initiating a career supporting IT network infrastructure. Skills such as configuring, deploying, and troubleshooting networks are highly valued by premier employers in the business, nonprofit, and government sectors.
At the entry level, CompTIA Network+ certification holders often work in data centers, user support departments, and network troubleshooting shops. With experience, many CompTIA Network+ professionals advance to become systems administrators, network engineers, and IT managers.
According to the U.S. Bureau of Labor Statistics (BLS), network administrators earn $72,400 per year on average.
Choose Your Course
We offer two types of online training options designed to help you earn your CompTIA Network+ certification: Self-paced, online courses and live, immersive boot camps. Find out which learning format works best for you.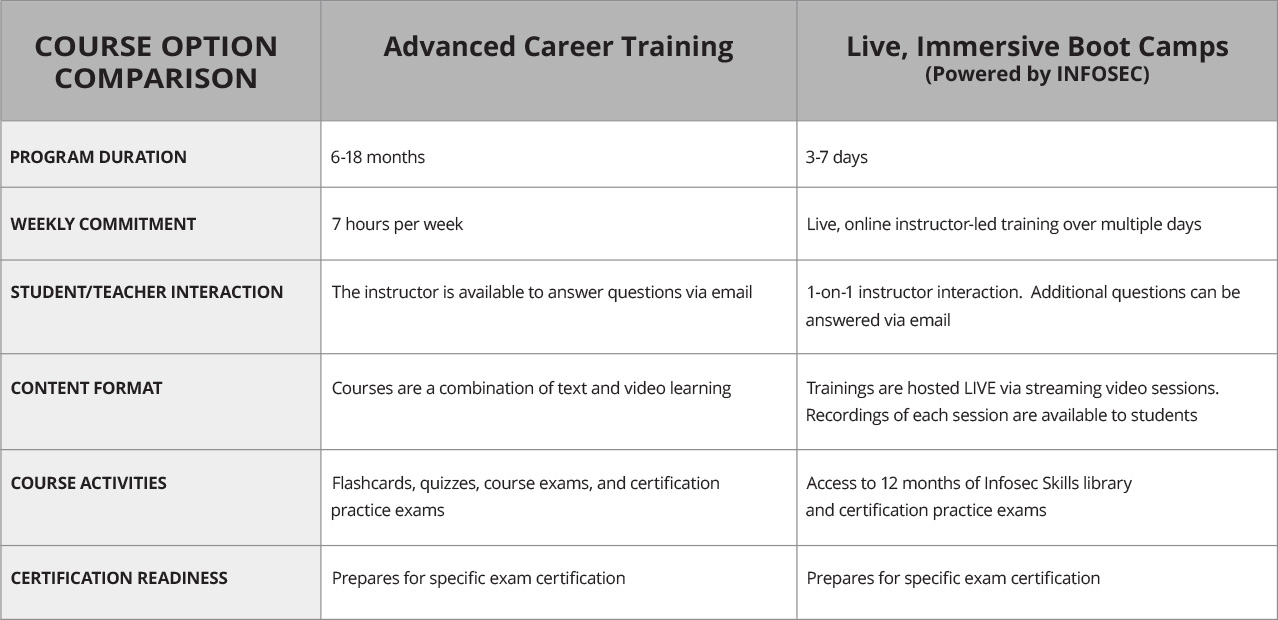 Online CompTIA Network+ Self-Paced Training Course
If you prefer a flexible learning format, the go-at-your-own-pace model can be a great option. This course consists of a structured outline to guide you through comprehensive, thorough training. Although not taught live, you can interact and correspond with a subject matter expert instructor and participate in a chat room of students taking the course at the same time as you.
The benefits of self-paced Network+ training include:
Train when you want: Choose your start date and your training schedule, whether that is daily on your lunch break or cramming all weekend long. For further motivation, you can join a study group or connect with others who are preparing for the exam.
Build an individual training plan: Avoid wasting time learning what you already know and getting tied to a group. Here, you can spend more time focused on the areas you need to learn most.
Prepare at your own pace: With on-demand training, you can take your time preparing for your Network + exam. You will have 9 months to complete the estimated 190 course hours.
Take the Online CompTIA Network+ Self-Paced Training Course
Enroll Now
CompTIA Network+ Live, Online Boot Camp
Ready to hit the ground running and upskill quickly? CompTIA Network+ Boot Camp is a comprehensive, five-day training that teaches you important networking administration and support skills. The ever-evolving networking capabilities of organizations require more advanced skills than the A+ certification. This boot camp builds on your existing knowledge by teaching you fundamental IT concepts, including the design and implementation of networks, using routers and switches to segment traffic, troubleshooting network problems, and more.
The benefits of a live Network+ Boot Camp include:
Live, expert instruction: A live instructor may be able to get you over that initial hurdle much quicker than studying on your own.
All-in-one package: This boot camp comes with everything you need: instruction, exam vouchers, books, practice exams, hands-on labs, and 1-year access to all boot camp video replays and materials.
Prepare to pass the Network+ certification exam: The course includes the voucher to sit for the exam and prepares you with unlimited practice exam attempts.
Take the CompTIA Network+ Live, Online Boot Camp
Enroll Now
CompTIA Network+ Certification Training FAQs
WHAT IS COVERED IN THE COMPTIA NETWORK+ CERTIFICATION PROCESS?
A thorough CompTIA Network+ Certification training course will prepare you to take the CompTIA Network+ certification exam. The exam is a comprehensive validation of the knowledge and skills required to set up, deploy and manage a hard-wired or wireless IT network.
It tests for professional-level competency in the following areas:
Designing and implementing IT networks
Configuring, managing, and maintaining network devices
Using devices such as switches and routers to segment network traffic to create resilient networks
Reviewing existing network configurations for their strengths and weaknesses
Implementing and managing network security standards and protocols
Troubleshooting problems with hard-wired and wireless networks
Since the CompTIA Network+ Certification is considered a leading-edge credential, the exam covers cloud and virtualization technologies.
WHAT JOBS CAN I GET WITH A COMPTIA NETWORK+ CERTIFICATION?
According to CompTIA, the Network+ certification is ideal for establishing a career deploying and supporting network infrastructure. Professionals who hold the Network+ certification commonly hold positions that include:
Junior Network Administrator
Computer Technician
Network Field Technician
Help Desk Technician
Junior System Engineer
System Engineer
IS Consultant
Network Support Specialist
Network Field Engineer
Network Analyst
HOW SOON MUST THE COMPTIA NETWORK+ CERTIFICATION BE RENEWED?
Because the IT industry is subject to constant and rapid change, CompTIA encourages its certification holders to pursue an aggressive schedule of continuing education (CE) once they achieve Network+ certification. The Network+ certification is valid for three years after the date of your exam. After expiration, CompTIA certifications can be renewed through CE for additional three-year intervals.
IS THE COMPTIA NETWORK+ CERTIFICATION GOOD FOR A REMOTE CAREER?
Although many IT network support positions involve hands-on work with networks, devices, network software, and troubleshooting, CompTIA notes that many companies are opening user and customer support jobs to work from home (WFH) status.