When: Friday, 10/21/22, 2:00PM—5:00PM
Where: 232 PGH & Zoom 
Direct links to the videos can be found here.

What is the Meet and Greet?: This event is for all Undergraduate Math Majors, including Mathematical Biology, Math Graduate students, Departmental Faculty and Staff. The purpose of this social is to create a pleasant and comfortable environment among faculty and students. 
This Fall the Meet and Greet will be hybrid . 
This Information session is meant to introduce students to Corebridge Financial's employment opportunities (full-time, part-time, internships), culture and involvement with our summer/winter actuary camps. Our Math Alumni Panel are alumni who have graduated from our undergraduate and graduate programs, wanting to share their experience beyond the degree. Danielle Brager will discuss her experience in TeachHouston and how the program prepared her for her current career at Nasdaq.
The speakers will discuss the following:

Speaker Biographies:

Which steps were taken to acquire their current positions?

What was their process like and what was involved in their preparation to find a position?

Which opportunities did they take advantage of that proved invaluable during the application process.

Perspectives on "life beyond the degree"

Their roles at the company

What a typical day looks like

About us (goals, objectives, who they serve and what they represent)

Job/Internship overviews- opportunities/descriptions

Q & A Session
---
Corebridge Financial Speakers:
Brandon Wright

 

[Deputy Chief Finance Actuary - Life US @Corebridge Financial (formerly AIG Life & Retirement)]: Actuary with 20+ years of experience in the life insurance industry. In-depth knowledge of various aspects of life insurance and annuities with special focus on life insurance products, valuation, and finance. Passionate about increasing diversity in the actuarial profession and other STEM fields. Specialties: Team leadership; navigating complex organizations; financial services software & computer programming; life insurance illustrations and quotes
Alexander Suyarov [ADP Actuarial Associate - Institutional Markets Pension Risk Transfer Pricing Team @Corebridge Financial (formerly AIG Life & Retirement)]: A UH Math alumnus, Alexander received a Mathematics, BA in 2018. He began his career at Corebridge Financial (former AIG Life & Retirement) as an Intern in the summer of 2017 and then returned as a Full time Analyst in 2018. Within the ADP Rotational Program, he gained experience in the Institutional Markets Valuation, and PRT Pricing. He is currently pursuing his SOA ASA credentials.
TeachHouston Mathematics Alumna - Danielle Brager, PhD (Business Intelligence Analyst at Nasdaq): Danielle Brager earned a Ph.D. in applied mathematics and is currently halfway through a National Research Council postdoctoral fellowship at NIST — but that's not the career path she set out on initially. Nearly every step of her success has involved an element of personal discovery, plus the advice of good mentors who saw her talent and encouraged her development. To follow her journey please see here: https://www.nist.gov/news-events/news/2022/07/spotlight-danielle-brager-move-mathematics
UH Alumni Panel Speakers:
---
Schedule: 
(2:00—3:00 PM) Meet and Greet Luncheon/Cougar Mathletics Mini Bake Sale & Merch Giveway. (Cougar Mathletics will also host a larger bake sale from 2—5PM in the PGH breezeway. The flyer is posted below.)
(3:10—3:40 PM) Corebridge Financial (accepting resumes prior to the event via email. Corebridge Financial promotional s.w.a.g. will also be available.)
(3:45—4:05 PM) Math Alumni Panel Discussion 
(4:10—4:40 PM) Danielle Brager - TeachHouston (Virtual via Zoom)
(4:45—5:00 PM) Scholarship award recipients  & PME Induction Ceremony
---
Cougar Mathletics Bake Sale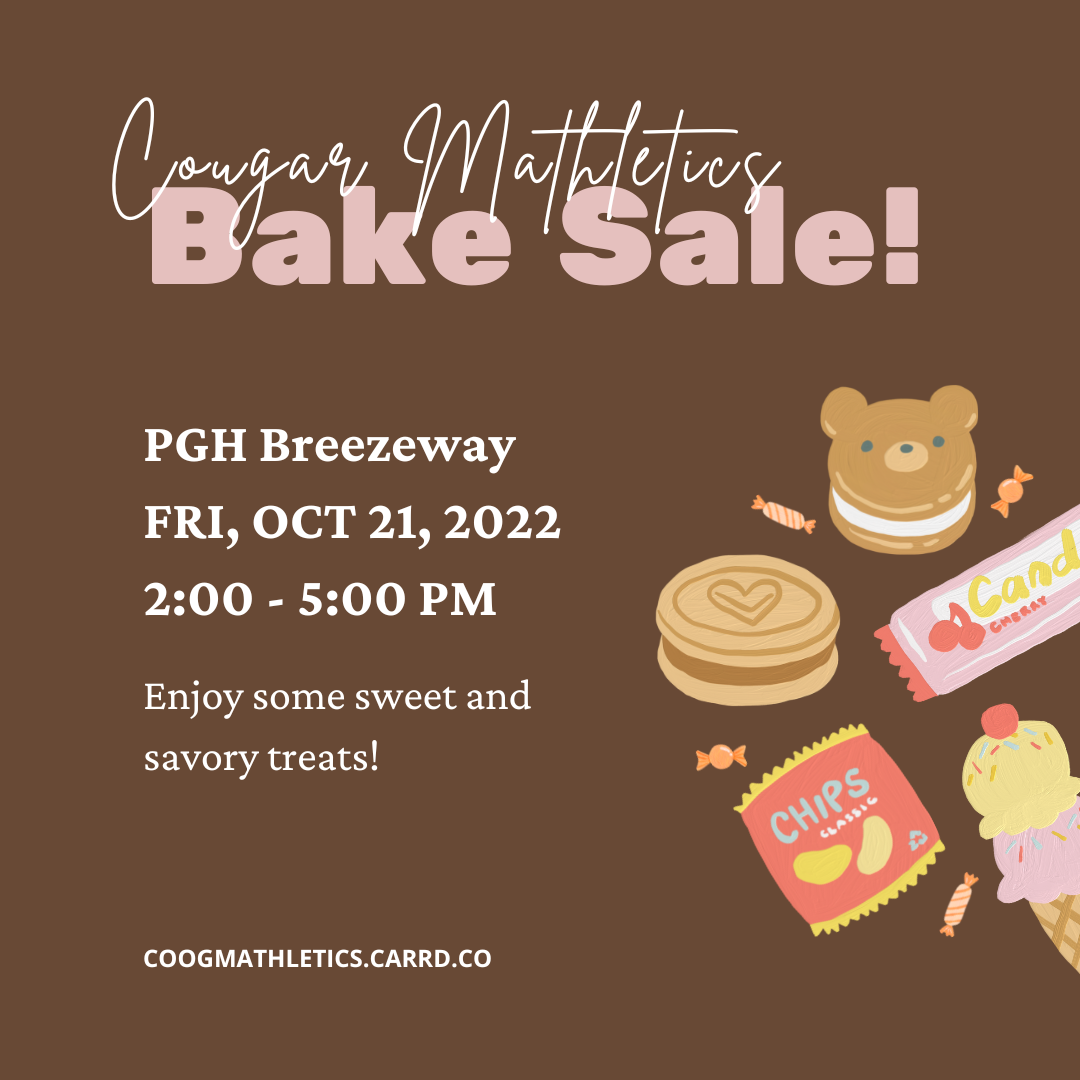 ---
(Part 1: Corebridge Financial & UH Math Alumni Panel)
(https://youtu.be/xkre3xtj6Ek)
Meet and Greet (Willis Towers Watson) 
---
Meet and Greet Video 
(Part 2: Danielle Brager (Nasdaq - TeachHouston Math Alumna)
(TBA)
---
Fall 2022 Scholarship recipients
| | |
| --- | --- |
|    Charles P. Benner Scholarship    |    Nathan Acosta   |
|    Charles P. Benner Scholarship |    Christian Montemayor   |
|    Charles P. Benner Scholarship |    Randy Pham |
|    Blanche B. Grover Scholarship |    Nidhi Gongati |
|    Blanche B. Grover Scholarship |    Nyah Matthews   |
|    Blanche B. Grover Scholarship |    Matthew Nolan |
|    Mathematics Education Scholarship   |    Theresa Pham |
* "Something Special About Me" statements *
---
Please see below for our FY 2023 PME Inductees:
| | | |
| --- | --- | --- |
|   Benjamin Lucas Key   |  Michael David Lee   |  James Liao   |
|   Ricardo Lopez Jr.   |  Matthew Nolen |  Patrick Van Tran |
| |  Daniel Viray | |
Certificates (PDF) 
---